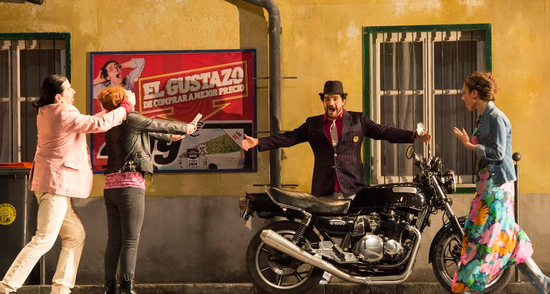 Jamie Spencer Churchill - a convicted burglar and drug addict - recently became the 12th Duke of Marlborough. Jamie has highlighted that - in Britain at least - those traditional medieval values of looting and pillaging don't have to bar your progress in life. It's a reminder that a class that has not done a huge amount to earn its place, other than being born, still exists.
An opera like The Barber of Seville, replete with its cynical servants, savvy bourgeois operators and clueless noblemen isn't as distant as we first might think. L'Opera Bastille is currently hosting Damiano Michieletto's fantastic adaption of Rossini's opera, originally devised for the Grand Théâtre de Genève in 2010.
The Libretto for Barber is based on Pierre Beaumarchai's biting satire from 1775. The comedy ribbed and undermined the world of the Ancien Régime. 'Opera Buffa' - of which Rossini is the master - developed, smirking and impishly - in opposition to the grander style of Opera. Handel's Julius Caesar enhanced and flattered the nobility, while Buffa poked fun and mocked it. Beaumarchai, as Napoleon pointed out, highlighted a 'revolution already in action' before a single shot had been fired.
And where better to consider the upper class than at the L'Opera Bastille? France may have long-ago dealt with the issue of nobility, but from all the expensive suits and over-the-top shoes on display, it's not a huge leap to mentally replace a clueless count with an out of touch banker or over paid lawyer...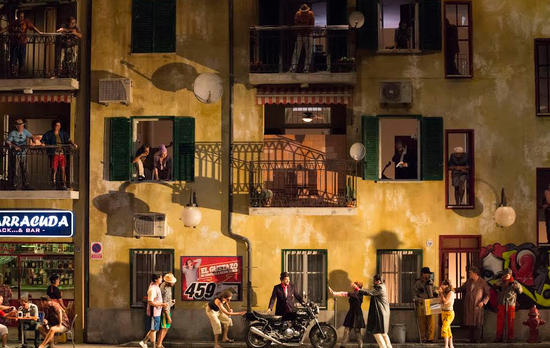 Michieletto's staging of Barber is joyous - a chrome clad, neon lit visual delight set amidst the streets of a vibrant inner city. Dirty satellite dishes jut out from the graffiti covered walls as housewives hang limply out of windows smoking cigarettes. It could be Seville or Havana. Either way, it's a bold and arresting idea for the opera. The staging is shown off at its best with the entrance of Figaro, played by a charismatic and cheeky Florian Sempey who revels in the role. Michieletto's vision of Figaro's opening aria is tremendous. There can hardly have been a better one to date. It's intoxicating, rich, and inventive fitting perfectly with a lively and pacey performance led by Carlo Montanaro.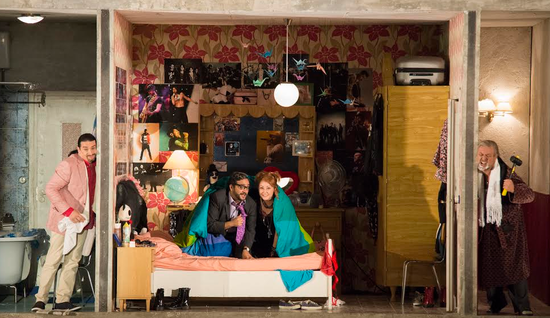 This is also a genuinely laugh out loud performance. The slapstick humour and sheer physicality of it, especially from Carlo Lepore as Bartolo - is great to watch. And the attention to detail is fantastic - a sleeping Bartolo springing up during a music lesson; the stropping senoritas that strut across the stage; Figaro's ridiculously flashy entrance - more like something out of CSI Miami than an opera; Rosina's use of a box of 'Opera Flakes' cereal...
This is a breathless and excitable staging of Rossini's classic, and well worth a visit.
Related