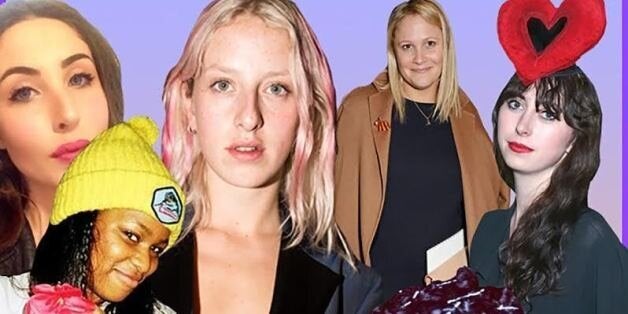 I bet you can't remember the last time you sat across from someone at dinner and neither of you reached for your phone. The last time you sat through an episode of something on Netflix and didn't find yourself double screening. Well, if the truth be told, I couldn't either. We all know that life should me more about flitting between five different platforms for five seconds at a time on your mobile. Which got me thinking, where's the place that girls my age can get real advice from their peers about how to be successful, amazing and sisterly? There wasn't one, so using my position as Deputy Fashion Editor at ASOS Likes, I decided to establish ASOS's My Big Idea Panel Talks.
I'm a keen feminist (as everyone in the office is already aware) and my love of all things girl-gang related is well documented. Way back when in September of last year, I managed to wrangle the main tent at Somerset House (thanks to the lovely people over at the British Fashion Council) over fashion week and also managed, even more jammily, to gather some of my peers-come-idols to have an hour and a half-long chat about their own career journeys.
The first person I reached out to was now-Fashion Features Editor Pandora Sykes who had given me one of my first breaks as a journalist (you could say she'd been integral to me getting my job at ASOS), commissioning me on everything from Lidl's fashion range to how not to look like a tool at Carnival. Needless to say she was on board. We also bagged Sharmadean Reid of WAH Nails, Mel Ashley of Digi Fairies, and now-Kanye West's BFF, SHOWStudio's Lou Stoppard. Not a bad line-up, I'm sure you'll agree. Well, tickets sold out in like, two minutes, it was live-streamed to our 59,000 YouTube followers and featured questions tweeted in from around the world. No. Biggie.
Naturally I was desperate to get the ball a-rolling again, and I'm now proud to tell you that it's fully a-rolling and this Saturday ASOS Likes is throwing the biggest, baddest series of panel talks at the V&A's beautiful lecture theatre (it's ceiling is total Instagram fodder, FYI).
It's actually five panel talks (I'm quite tired, yeah) featuring a very exciting gang of seasoned and just-starting-out fashion industry professionals and academics, some friends, some people who I've yet to meet. We're being graced by world-class fashion lecturers Hywel Davies and Roger Tredre; bright young designers Mary Benson and Clio Peppiatt are on the list (check their SS16 presentations, now). We're hosting i-D's Managing Editor Lynette Nylander, as well as in-demand journalists Tilly Macalister-Smith, Bertie Brandes and Harriet Verney.
We're also lucky enough to have PR guru Liz Matthews on hand, plus Style.com's Jane Gorley, stylists Mischa Notcutt, Siobhan Lyons and Char Roberts, Condé Nast's Katy Copland and ASOS' very own Head of Fashion, Zeba Lowe. Basically, the panels bring together some of the fashion industry's most active and influential individuals working today, and you can be in attendance at all four talks for just a tenner.
If you don't live in London or you can't make it down, we're of course streaming the whole thing. That's really the beauty of ASOS, and one of the many reasons that I'm proud to work here - the reach. I'm excited to think that girls sat in their bedrooms in Manchester, or at their desks at uni in Edinburgh, will be able to tune in and get involved by clicking onto www.likes.asos.com. It's one big girl-gang really.
Disclaimer to any family and friends: if you don't hear from me next week, that's because I'll be asleep. With my phone on silent.
Buy tickets for the event here