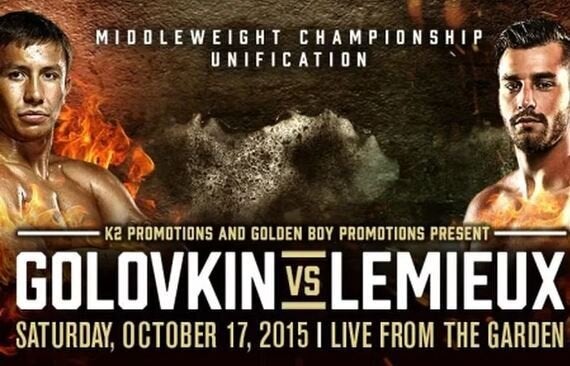 This Saturday's mouth watering middleweight title shootout between Gennady Golovkin and David Lemieux represents the meeting of two of boxing's most dangerous, concussive practitioners in the game today.
Yeah, Saturday night at Madison Square Garden has all the makings of a compelling throwback, old school championship fight, where two elite level athletes will look to dish out genuine carnage on one another.
Here's six reasons why this 160lbs unification could be a fight of the year contender:
Both men are renowned for their fighting spirit. Although Golovkin might be the slightly more skilled boxer of the two, make no mistake, Lemieux certainly knows his way around a ring.
In his heart of hearts though, I think he'll know deep down that there's no real value in trying to outbox GGG. Potentially, he could come out blasting right from the get go as a consequence.
The result of which you just know is going to appease frenzied boxing fans.
Both men can undeniably bang. With a combined total of 61 professional knockouts between them - the proof is in the pudding.
Golovkin has the highest knockout percentage of any middleweight champion in history, at a staggering 91%.
If numbers don't lie, this could be one of the biggest punching brawls in history, pound for pound.
Style wise, this could gel quite nicely.
Both guys come forward and even when opting to box, still do so in a very attacking manner. Golovkin's jab is a real ramrod of a thing, not just a set up tool by any means, a punch that's a genuine weapon and carries power on it's own merit.
Lemieux might need to break threw this jab early on, and not allow Golovkin to set the pace. The early rounds will be crucial in terms of who gets control of the fight. The battle for this early control could be quite frantic.
Both are sensational hookers, arguably two of the best at the weight. If jabs go out the window and if the fight becomes a battle hooks, expect for some gruesome viewing as long as it lasts.
In the build up to this, both men who are normally quite reserved and mild mannered have in recent weeks, began to show their true warrior colors the nearer the moment of truth edges.
The genuine enthusiasm displayed by both men in a recent sit down with Max Kellerman of HBO when questioned pertaining to how they thought the fight would play out, should act as a true barometer of who these guy's really are at their core.
The excitement and smiles on both boxers' faces when mentions of this being an almost street fight, shootout type affair, shows that these two pit bulls can't wait to be let off the leash.
The fans have voted with their wallets on this one. Gennady Golovkin vs David Lemieux set the all time record at Madison Square Garden in New York for fastest pre-fight ticket sale for a boxing event (more than 6,000 in 48 hours).
Quite the feat, when you consider some of the legendary nights that have taken place at the Garden down through the years.
Despite GGG being a favorite with most bookmakers, the reality is David Lemieux represents by far his most dangerous test, and is without doubt the biggest fight of his career to date.
He'll step into the ring with a man who has the one punch power to knock any middleweight in the world out, including him.
If this fight does play out like a Hagler-Hearns type brawl over a maniacal intensity for a few rounds on Saturday night, fights like that, genuinely can go either way.