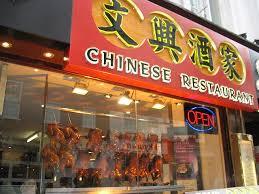 (source: wikipedia.org)
The growing influence of China has been a hot topic of discussion for several years now, as the economic powerhouse of the East has emerged as a legitimate contender to the USA's supremacy as the world's most powerful nation.
Chinese influence in Britain has a long history. The first Chinese immigrants are reported to have arrived on these shores in the early 19th century, and more recent waves of immigration have cemented the British Chinese community as a central part of the national landscape.
As a result, Chinese food has long since been a familiar part of the UK's culinary culture. However, the quality and authenticity of the food has progressed significantly in the last 20 years.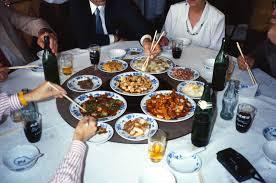 (source: wikipedia.org)
My memories of Chinese meals from my childhood in the 1980s are decidedly mixed. I recall some great family dinners out, in plush surroundings, with the 'Lazy Suzan' spinning tables in the middle, and the fascination of exotic sounding dishes like 'Deep Fried Crispy Seaweed', 'Lemon Chicken' and the fabulous shredded 'Peking Duck' being prepared at our table, by the waiter with super-fast hands.
I also remember the Chinese take-out we had as a family when we were living in New York. There was something about getting it all served in cardboard boxes and eating the food directly out of the box that appealed to me. It still does, although all too often these days I find myself confronted with an uninspired plastic container of squashed noodles and not those nostalgic cartons from my youth.
On the other hand, as I got older, I can also recall picking up some decidedly dodgy looking, sweet and sour dishes from my local take-away restaurants on the way home from the pub. It was often glowing, and although it seemed like a good idea at the time, in the morning I would feel a deep sense of regret about having wolfed it down with such gusto in the small hours.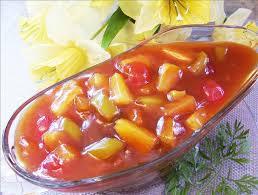 (source: food.com)
Fast forward to the present day and I think it's fair to say that the availability of good quality Asian food in general has improved noticeably. It's been interesting to observe the change, even in the relatively short space of time that I've been writing about food.
Purists may curse noodle chains like Wagamama as producing a mass-produced, bastardised version of a venerable cuisine - or set of cuisines - but I, for one welcome their presence. We've come a long way since the best thing you could hope for in terms of an express lunch option was a soggy sandwich or a bag of greasy chips. You can always rely on these restaurants for a reasonably priced lunch, and their child friendly policy means that my two year old daughter is very much welcomed in with open arms- which, as any parent will know, isn't always the case when you're eating out.
And the quality of these generic Asian restaurants is improving too. As a case in point, I discovered The Noodle House in London's West End a few weeks back, and found myself polishing off several tasty plates of food from Thailand, Malaysia and, of course, China. Their Peking Duck, in particular, was superb.
This is the kind of good eating that we take for granted now in the capital, but there are some of us who remember a time, not so long ago, where even in London, you just couldn't stumble upon food of this diversity and quality. You had to seek it out.
As far as British Chinese food is concerned, that too has moved on since those heady days of grand banquet style meals and dubious late night takeaways.
A recent lunch with Andrew Kwok, the proprietor of The Good Earth restaurants, gave me a great insight into the kind evolution that is taking place with British Chinese cooking. The Good Earth was founded by Andrew's father over 30 years ago. They now have four restaurants in the London area and are a great example of a Chinese family coming to this country and carving out a successful family business.
According to Andrew, at the higher end of the market, the food they're producing has changed. Yes, you can still get a great 'Beef in Black Bean Sauce', but they're making new, original dishes (some of which I was fortunate enough to taste and can heartily recommend) created here in the UK. Dishes like, 'Wasabi Prawns' with an edible caramelised crispy skin, 'Dry-Fried French Beans with Dry Shrimps' or 'Tangarine Kaaragee Chicken' (a healthy, high quality re-boot of sweet and sour) with flakes of sweet potato and mango puree are a far cry from the style of Chinese food I grew up with.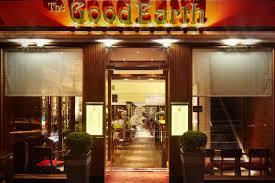 (source: The Good Earth group)
Despite the fact that Chinese students still continue to come to these shores en masse to pursue an education, Andrew says that it is far harder to get the top Chinese chefs over to Britain these days. As living standards in their homeland have increased so much in the last decade, they no longer want or need to come to the UK to make a living.
However, those who have remained, and made this country their home, are producing their own take on classic recipes, and the results are out there for everyone to taste. This kind of cooking is exciting and new, proof that Chinese food in Britain is moving forward in the right direction. So next time you get the craving, don't just settle for that generic, Chinatown, touristy fare - find the good stuff instead, you won't be disappointed.