Forget about all the hype surrounding Superman vs. Batman, Alien vs. Predator or Hilary vs. The Donald... there's a much more terrifying confrontation brewing in theme park land this summer.
The battleground for this 'clash of the titans' of children's entertainment is Paultons Park on the edge of the New Forest in Hampshire, where, since 2011 - when Peppa Pig World first opened to the public - arguably the world's most famous pig has ruled the roost. However, this summer Peppa has got some pre-historic competition. Let the battle of Pig vs. Dinosaur commence.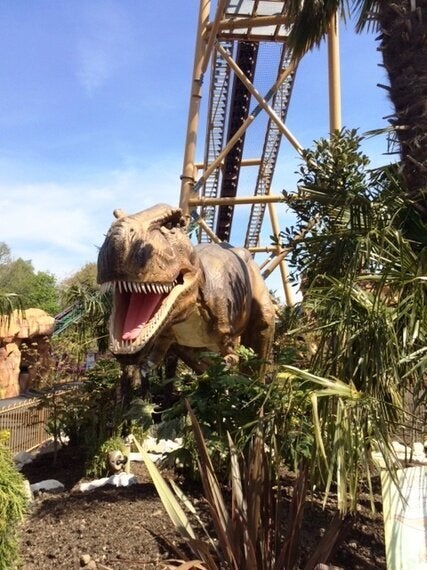 Lost Kingdom is the new £9m attraction, transporting families back in time to the days when dinosaurs ruled the world. The new area is set for launch next week, but I was fortunate enough to be one of the lucky few to get a sneak preview earlier this month.
The addition of Lost Kingdom will mean that older kids (and grown up ones like me) will now find a trip to Paultons Park much more appealing than they did before. Both the new roller coasters, 'Flight of the Pterosaur' and 'Velociraptor', offer a ride with considerably more bite than anything you will find in Peppa Pig World... which isn't hard, to be honest, as the rides are aimed at smaller children.
Everyone loves dinosaurs and there are plenty of them at Lost Kingdom, of all shapes and sizes, and they are pretty realistic. There's even a friendly T-Rex in captivity that you can meet - which may scare the bejesus out of the littler ones in your party, but I'd call it pay back for all those hours being traumatised by episodes of Peppa Pig on repeat.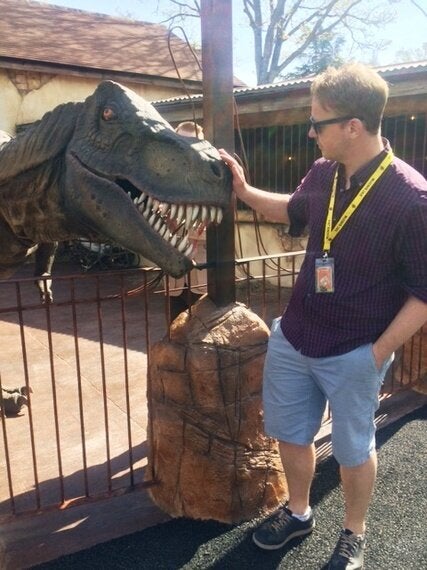 If you have a mix of, say, four year olds and younger, along with six year olds and older to cater for, you might find yourself with a bit of a challenge on your hands. Even though there are some good new dino-rides aimed at the younger ones ('Dino Chase' and 'Boulder Chase' to name two), the draw of the great pink one is so strong that it could cause a conflict of interests - which, when amplified by sugar-laden foods, may trigger a meltdown or two.
Indeed, having already met a few dinosaurs on 'The Dinosaur Tour', it wasn't long before my own pink piggy acolyte started pulling on my shirt and asking when we could go and see Peppa, George and the gang.
I dug my heels in. I'd only been on the Velocirpator twice... I wanted another go. It wasn't fair, I told my other half, whilst resisting the temptation to stamp my foot, petulantly. Fortunately, it was a hot day and so I bribed my daughter with ice-cream so we could stay a bit longer.
Nevertheless, it wasn't long before the call of the mighty pig was too strong and soon we found ourselves, once again, surrounded by the sound of snorting and giggling and that oh so familiar theme tune on repeat.
Parents with children of a certain age will know exactly how painful that soundtrack can be after a while, but there's no doubting that the kids love it. That's why thousands upon thousands make the pilgrimage to see the world's favourite pig every year. It's going to take a lot to shift Peppa off her perch.
But for us older children, the dinosaurs will certainly come out victorious. After doing my duty and spending a few hours doing what my four year old wanted, Daddy Pig was keen to get back over to the Lost Kingdom and get thrown around in the air a bit more. So I persuaded my wife to let me go on the 'big rides' one last time before we left... all in the name of research, of course.