Leoville Las Cases 2005 (St Julien, 2eme Cru Classé) has continued to follow the rest of the Classed Growth Bordeaux wine market down in the last 12 months. These declines stem from the entry into the market of China - specifically, the immensely wealthy elite who started buying in the big names in the 2000s driving prices inexorably higher and culminating in an investment bubble. In the summer of 2011 it dutifully burst, and the price of First Growths (and all the other wines that had been pulled along by their price rises) fell.
Leoville Las Cases 2005 performance USD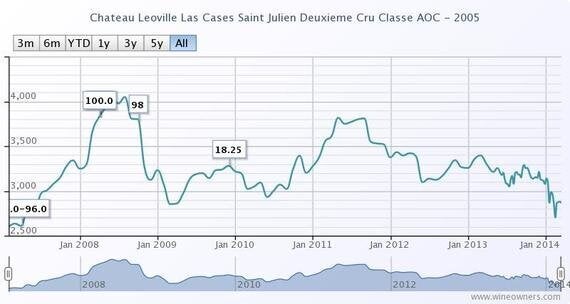 Leoville Las Cases 2005 performance GBP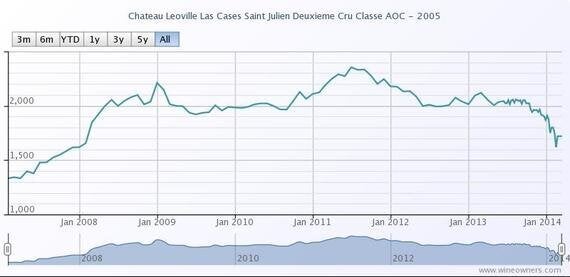 2005 was a sensational Bordeaux vintage, and along with 1996, 2000, 2009 and 2010 can be considered among the very best Bordeaux years ever produced. Leoville Las Cases not a home run, with Robert Parker describing it as 'Another titanic effort from the Delon family, the 2005 Leoville Las Cases is probably the greatest wine made at this estate since Jean-Hubert Delon's father produced the 1986 and 1996. Only 37% of the production made it into the 2005, a blend of primarily Cabernet Sauvignon with less than 13% Merlot and Cabernet Franc'. The Wine Spectator awarded it a perfect score of 100 points and gushed 'this is breathtaking. Black in color, with incredible aromas of crushed blackberry, mineral, licorice and lead pencil. Full-bodied, with a mind-blowing texture of seamless tannins that coat every millimeter of the palate. Goes on and on, with licorice, currant and flowers. Time will tell if it's better than the 2000.'
So why such poor performance? Lest we forget, great Bordeaux estates are huge. Leoville Las Cases sprawls over 97 hectares. Even though only a third of the grapes made it into the 'Grand Vin' in 2005, that still amounted to 20,000 cases. That's an awful lot of wine, and very little of it from more recent vintages will have been consumed as yet. In fact the critics suggest that Leoville Las Cases 2005 will only start to drink from 2017. Secondly, when greed gets the better of a market, and prices rise too far, sentiment can turn ugly. Consumers do not want to buy into a product/ asset that is perceived as over-valued, at least until they believe the market has hit bottom again. Typically, Bordeaux prices have benefited from a great new vintage when it is first released. With 3 average-to-awful vintages on the trot since the superb 2010, no such catalyst exists in the market currently.
Recent falls of Leoville Las Cases 2005 suggest one of two scenarios: either the acceleration in declines points to the proverbial last of the bath water draining away (in which case value has returned to the market and those who snap up Classed Growth Bordeaux now can expect to see solid returns over the next 5 years+), or we haven't yet seen the end of market readjustments and the waters will remain choppy for some months to come. Either way, surely, excellent buying opportunities can't be far off?