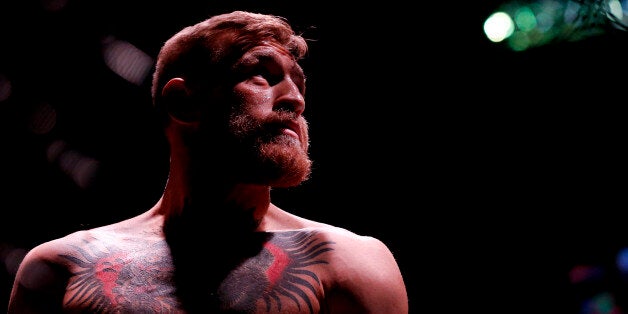 Conor McGregor, the UFC's first simultaneous two-weight world champion, continues to deliver on all his daring bluster. But should we really believe suggestions that he is set for a sensational showdown with the legendary Floyd Mayweather?
Almost a month has passed since McGregor lit up the grandest night in UFC's rich history with his mesmerising dismantling of Eddie Alvarez. It was a career-defining performance from 'The Notorious One' and it was confirmation that his glittering career is already reaching iconic status.
The lure of the 'McGregor show' smashed Madison Square Garden's attendance record of 21,000 (held by Muhammad Ali and Joe Frazier) and its gate record of $13.5million (held by Lennox Lewis and Evander Holyfield), and his dazzling display satisfied the bloodlust of the wealthiest crowd the UFC has ever assembled. As the superstar secured the lightweight title to go with his featherweight crown there was an unrestrained chaos that swirled around the arena. Yet in the aftermath of his spectacular performance it was clear that he had business on his mind.
McGregor had teased that a "major announcement" was on the way and the green hordes that continue to follow the Irishman around the world have deliberated over many different ideas. Last week's reports that he had been granted a boxing licence in the state of California is likely to fuel speculation that he is about to swap the octagon for the more traditional virtues of the boxing ring. So could McGregor v Mayweather really be in the offing?
It is certainly the most commercially appealing fight for both stars and it would generate a record-breaking torrent of cash. Both men's business deals are as calculated as their tactics in the ring and nobody in the modern era has been able to manufacture theatre and excitement quite like them. For lovers of drama and razzmatazz it is a tantalising match made in heaven. It's impossible not to be seduced by the idea of a colossal clash between the two.
Purists will be dissatisfied if one of the greatest boxers to have graced the ring returns to challenge an MMA fighter, but the boxing fraternity can no longer ignore the unstoppable rise of the UFC. Mayweather's temptation to take his cut of the income could prove too strong. He will know that his place at the summit of boxing's pantheon is already assured, but the spotlight that has beamed on his empire for so long is beginning to fade and McGregor is the new superstar lighting up the world of combat.
Mayweather's impertinent refusal to respect McGregor's achievements and standing in sport is preposterous, but it is clear that he believes there is too much awe and too little critique surrounding his rival. Boxing's modern marvel would like nothing more than to prove that McGregor's image reigns over any substance and he must dream of wiping the mischievous grin from his face. If a fight was to happen it would almost certainly be under the Queensbury rules and Mayweather will know that his pristine 49-0 record would be in very little jeopardy.
McGregor is an ultra-talented fighter with many strings to his bow, but nobody ducks, dives and twists like Mayweather. He he has carved a career in deploying his technical brilliance with interminable caution. He is one of the sport's most revered counter-punchers and he will recognise the physical, and reputational, risk of receiving a stiff left punch from his far more aggressive rival. Many of the people that suggest a defeat could be on the cards for Mayweather are insulting one of the game's true defensive legends and, even in gentle decline, there would be little risk to his legacy.
Nothing will affect McGregor's bulletproof confidence though. He is all about huge risks for huge rewards and he will be adamant that he can stun fight fans and bookmakers, who make Mayweather a 1/20 favourite, with another jaw-dropping success. He is a champion of positive thinking and it is hard to believe that he shares many moments of diffidence with his masterful trainer, John Kavanagh, at their Straight Blast Gym in Dublin. He will be ruthlessly prepared for any potential brawl but the real competition could take place outside of the ring.
Not since Muhammad Ali revolutionised the art of self-promotion has there been two superstars like it. Both pugilists have smashed pay-per-view buys and gate receipts with transformational figures. The novelty of the bout would make it a phenomenon, especially in an era where the quality of the show is more important than the fight. Who would reign supreme in a mesmerising mental and commercial war between the two exceptional salesmen?
Almost all the talk in the build up to a potential showdown would be about possessions and money. So let's take a look at the most significant statistics:
McGregor's achievements are impressive, but they are still a far cry from the astounding figures that Mayweather proudly paraded in his nineteen-year domination of boxing. The American has been setting pay-per-view records since 2007, smashing his own record twice, he has career earnings of $410million and there is a suspicion that no boxer will ever match the $180million he generated for one night's work against Manny Pacquiao.
Mayweather's fans will argue that the numbers don't lie, but the UFC does not have a platform in place that allows fighters to attain such substantial paydays and McGregor's impact on his chosen sport looks certain to be far greater. It has been reported that he has amassed a fortune of $40million so far this year and a document leaked early 2016 confirmed claims that he is responsible for 25% of UFC's pay-per-view revenues. It is no surprise to see that he now wants a slice of WME-IMG's $4.2billion organisation and they will do well to hold off his demands. The value of the company continues to move at a frantic pace and McGregor is the man behind the wheel.
He is raising the bar in self-promotion to dizzying new heights and the product he provides leaps off the shelf. He is far more than a brash warrior with flashy fists - his charming Dublin accent, rich vocabulary and conceited candour make him very easy to like. The world pauses for every riddle and quip he delivers and his spirited allure has helped propel him to superstardom.
His following also extends far beyond the usual boundaries of the fight game and he has embraced the age of social media expertly. The blood-drenched videos from his training camp are becoming one of the most viral products on the internet and some of his excessive shopping trips take up more column inches than his fights. Indeed, a report by the Retail Excellence Ireland (REI) confirmed that the 'McGregor effect' has had hugely positive influence on the success of men's fashion retailers in recent months.
Mayweather has rightly been described as an innovator and his unblemished record and unparalleled wealth ensures he is the most successful star in modern boxing, but there is a new luminary lighting up the Las Vegas Strip. If the two are to clash under the more restrained rules of the boxing ring then Mayweather will have the opportunity to flaunt his significantly superior talents, but the real magnetism of a budding face-off arises from a potentially fascinating commercial war. The flair with which they cash their cheques is the battle that fight fans crave - and McGregor will revel in the chance to prove why he is sport's box office pound-for-pound king.
You can get all the latest boxing news and expert tips ahead of all the major fights at Bettingpro.com.