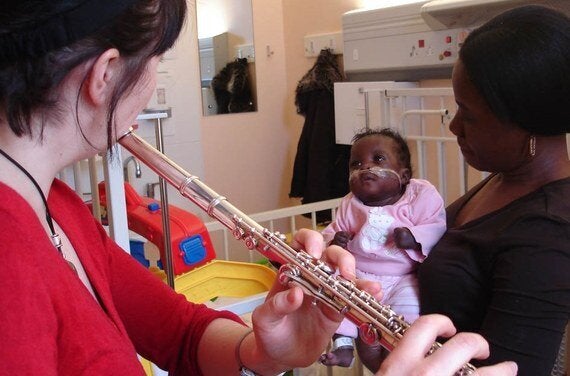 For the thousands of children who end up in hospitals each year due to illness and injury, hospitals can be intimidating places. Finding themselves in an unfamiliar environment, removed from home, school and friends, these children are at risk of feeling anxious and alone. Can the incorporation of music and performance positively shape their experiences?
A national survey conducted by the Care Quality Commission in 2014 reported that out of 19,000 children, 40% complained about the lack of opportunities to play in hospital. At the charity I co-founded, Create, the young patients we work with talk about what they find difficult about hospital visits, with one parent summing it up to me:
'One of the things my daughter has found the hardest is boredom. The children spend a lot of their time being quiet due to consideration for others on the ward.'
Hospitals are there to make us better when we're unwell and, as is becoming more widely acknowledged, music can play an important role in speeding up this recovery and making our time in hospital more effective.
We've just launched a new series of music and storytelling workshops with our professional musician Graham Rix and playwright/actor James Baldwin in children's wards in Reading, Basingstoke, Oxford and London. These are some of the reasons why we think all hospitals and hospices should embrace music and enjoy the health benefits it can bring.
2. Music can help prevent nausea and sickness - Listening to music has been found to be an effective adjunct to antiemetic treatment and can significantly reduce nausea and vomiting in patients who are receiving high-dose chemotherapy.
7. Singing can help patients with asthma to breathe - Young patients with conditions such as asthma and emphysema can learn how to control their breathing and train themselves to breathe at a pace that suits them. Singing is a fun and communal form of physiotherapy!
10. Playing music is fun! - When a young patient is too unwell to leave hospital, music sessions offer a much-needed hour of carefree joy and laughter.
Last year, Create reached 666 young patients across London and the South but needs your help to bring smiles to the faces of young patients during 2016. Please support this project by visiting createarts.org.uk or text CREA28 £amount to 70070.
Follow Create on Twitter: @createcharity
Facebook: https://www.facebook.com/create.transforming.lives
Popular in the Community