Let's face it, no one prepares you for becoming a mum.
Overnight, when your little one comes along, everything changes.
You're less able to go out and do the things you used to, and after a year or sometimes even earlier, you're faced with the conundrum as to whether to return to work.
With a need for an income into the household, it's a necessity for many, and equally a choice for others, as to how many days and which hours are worked.
And here the juggle begins. The juggle that means you now wear even more hats than before.
You're now a mum - soother and comforter, book-reader and inspiration.
A wife or partner trying to keep your house free from the never-ending mountains of washing, somehow keeping the fridge stocked with food, and the house as clean as possible.
And you also have a career, where you need to juggle all the competing demands that everyone else faces on a daily basis.
The added element of being a mum and the pull on your time should not be underestimated.
In younger children, you have small people unable to completely fend for themselves - they need you.
With older children, they just need time with you. Time, where you can nurture and guide them.
Since I started The Working Mum Association, I've come into contact with so many mums who complete this three way juggle every single day, quietly and steadily, without saying anything.
They feel torn between trying to keep everyone happy; by how things will be viewed by their employer when their little one has a bout of a contagious disease and they can't go to nursery, but most of all by wanting to be the best mums they can be.
The thing that everyone forgets, they included, is that they're already doing an amazing job.
Their children will grow up knowing that it's important to work hard to get to where they want to be in life.
That anything is possible if you set your mind to it and take consistent action to get there.
In their mums, this next generation is seeing the role models of strong women, who are caregivers and career driven at the same time.
And somewhere in between the sleepless nights, the vomiting bugs and the chicken pox outbreaks, mum is also there - making the most of the nap times, switching back on her laptop long after all her other colleagues are out enjoying a pint or two in the pub. It means they're able to hit the ground running the next day.
But we shouldn't forget, that they too need support, encouragement and to be inspired themselves.
Because ultimately they need to know they're not alone on this journey and are appreciated for all they do.
They also need to know that all the other working mums who are going through the same thing are with them.
One step at a time, they're supporting each other, every step of the way.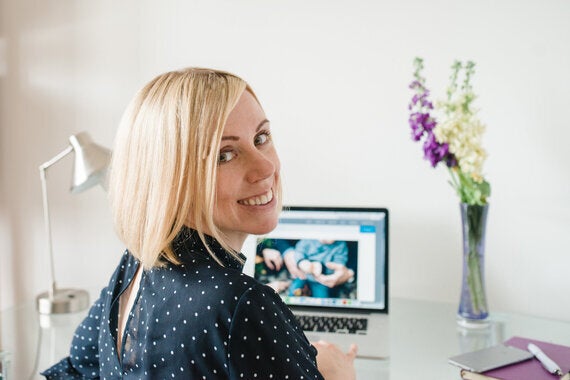 Image courtesy of Hannah McClune Photography
Children's Author Nicola J Rowley is the founder of The Working Mum Association, which aims to support, encourage and inspire like-minded mums throughout their journey.
Nicola's debut children's picture book, James and the Amazing Gift is available to buy on Amazon and her new book James and the Birthday Balloon, with a FREE audio recording from TV's Dr Ranj, will be published on 1st November 2017.