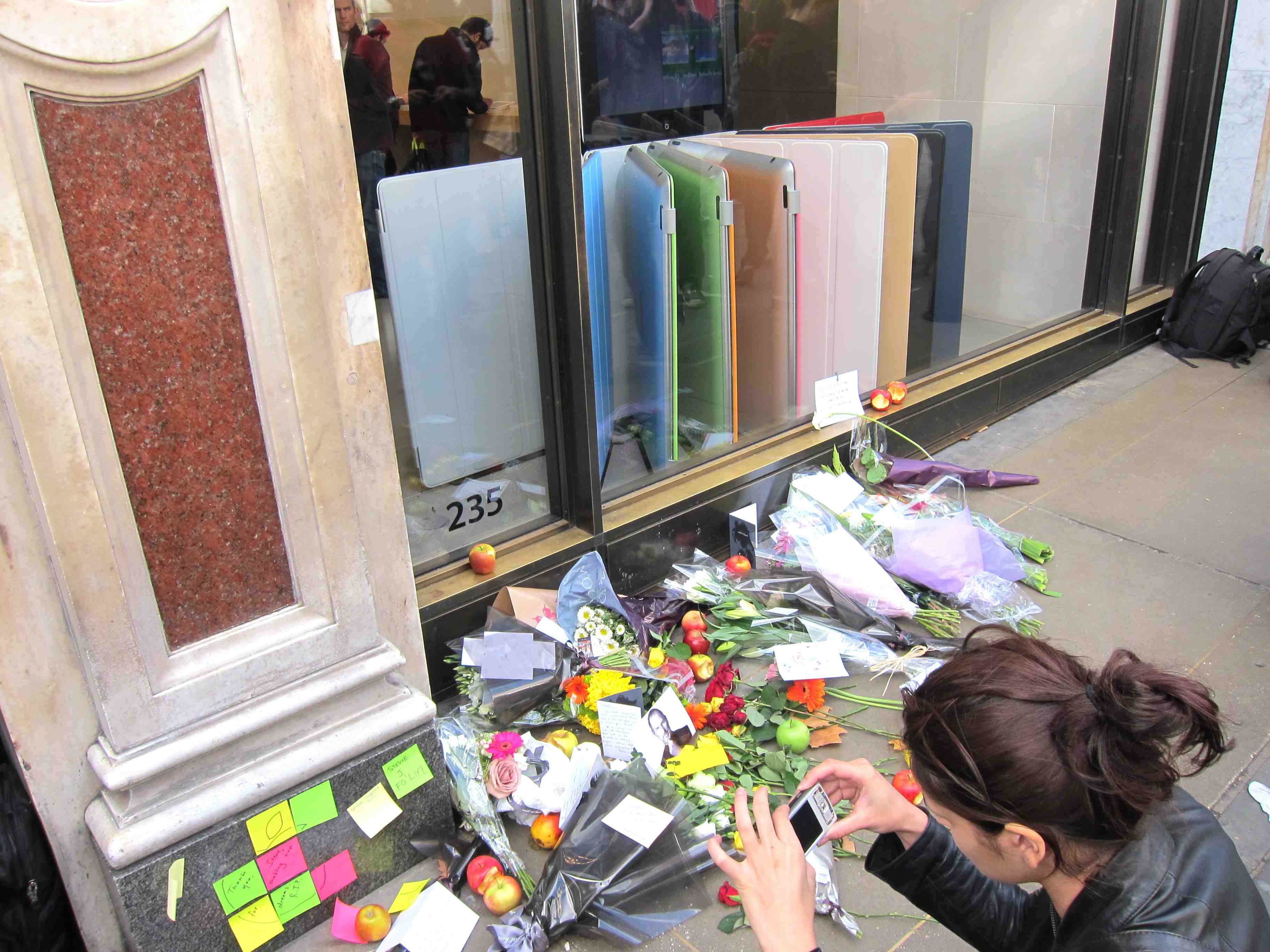 Onlookers at the Apple Store on Regent Street examine tributes to the late Steve Jobs.
People gathered outside Apple Stores around the world this Thursday the 6th of October to mourn the loss of Steve Jobs, 56. Though Apple's shares increased in value and stayed strong throughout the day, people seemed more shaken at the news.
I visited the London Apple Store on Regent's Street in order to gauge what the British reaction has been to his death. Britons, as far as I can tell, were initially resistant to Apple products, but soon followed their American cousins in adopting the iPod, Apple Mac and, recently, the iPad.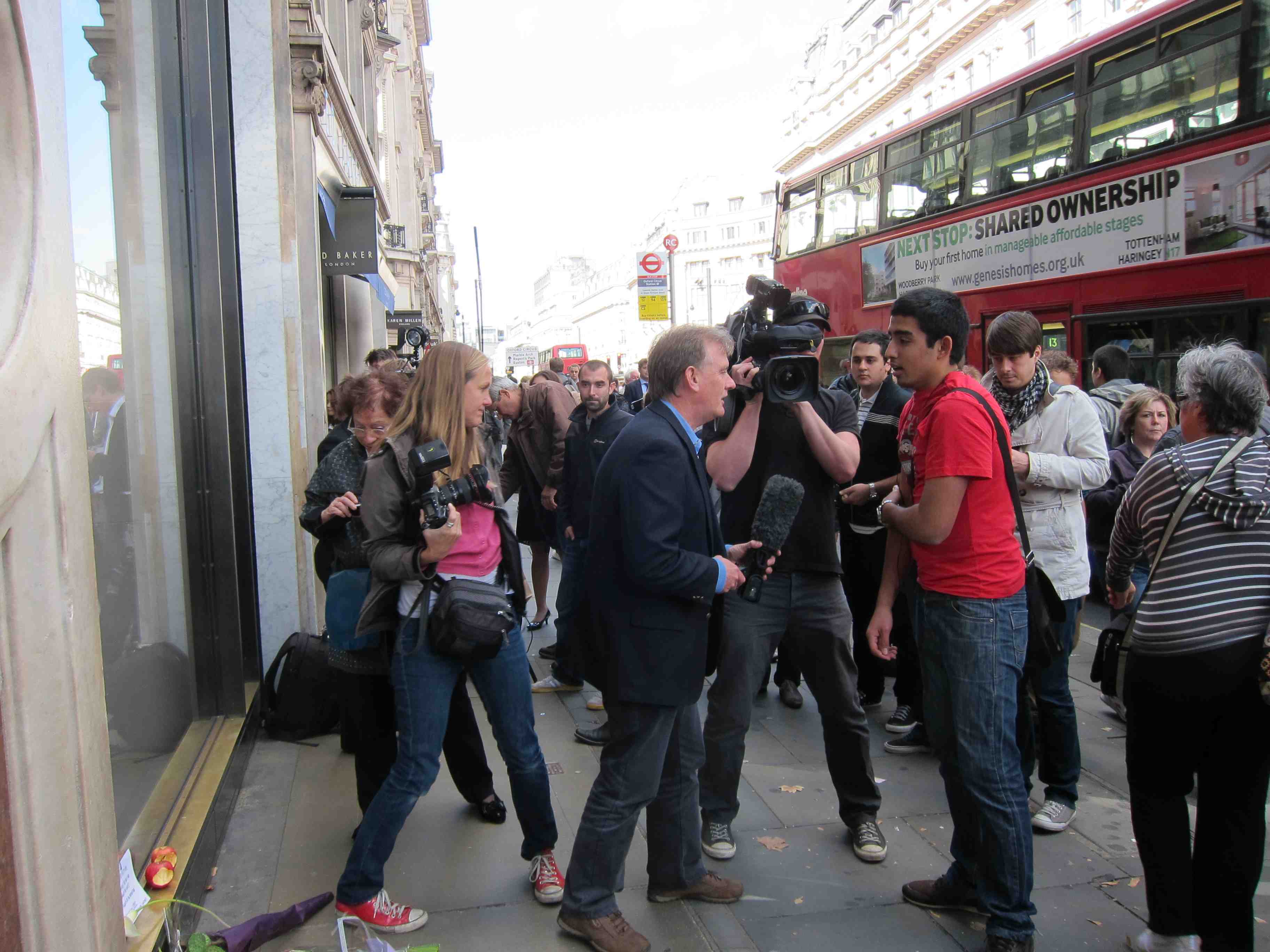 Reporters interview mourners outside the Apple Store.
At the store, a small crowd af about 40 onlookers had gathered outside by the front window, where a small shrine of bitten apples, flowers and cards had been erected.
Many were tourists who were passing by and then remembered Jobs's death and came to pay their respects.
Bruno Amaral, a Portuguese Technology and Strategic Public relations expert said he had been passing by and had come to visit because of his admiration for Jobs.
"He was a great man," he said. "As a CEO, he did great things with Apple and Pixar."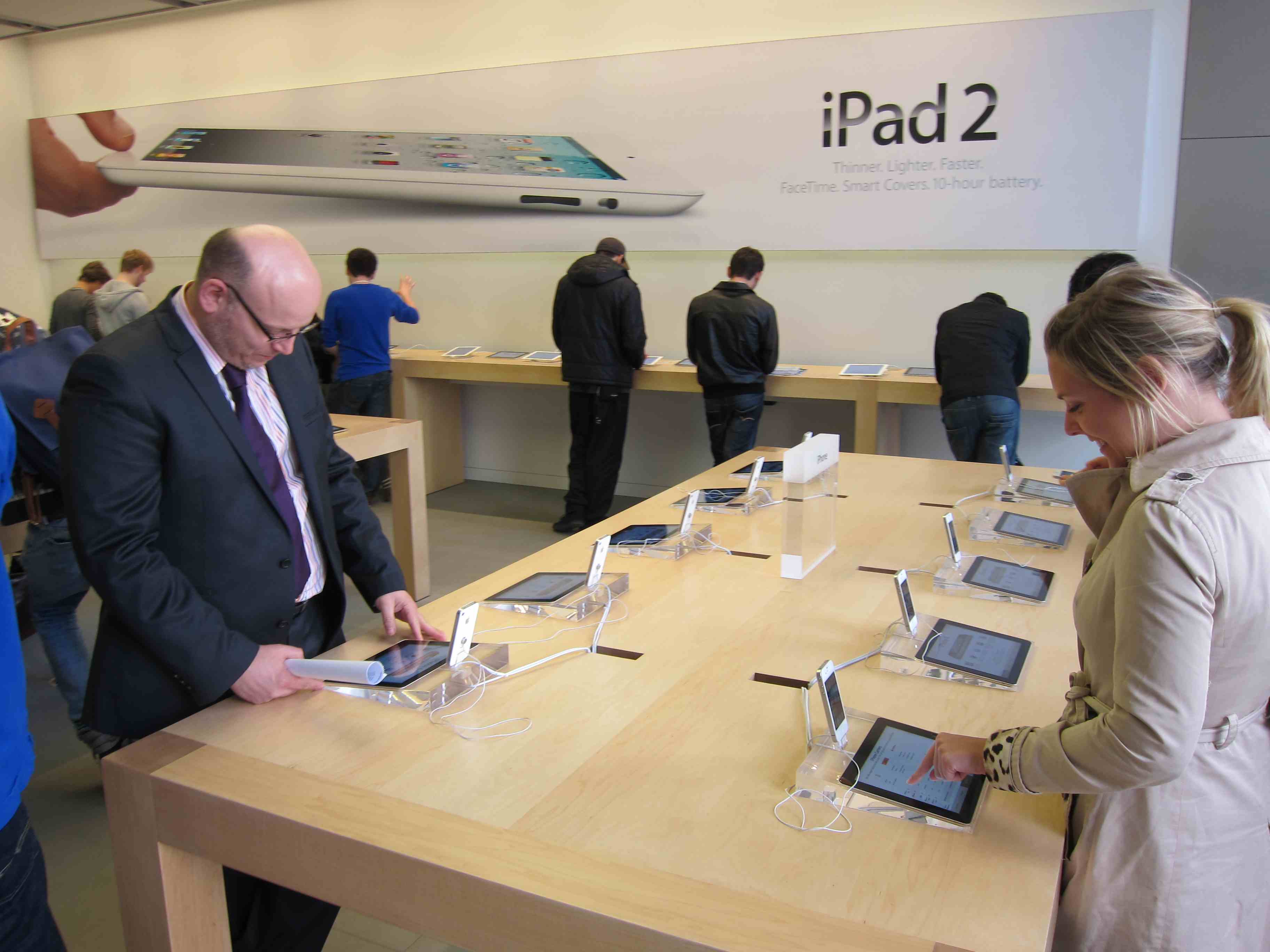 Business as usual in the Apple Store as customers browse through iPads and iPhones.
Inside the store, however, it was business as usual as customers perused the offerings of new Apple products on show and legions of blue-shirted shop assistants waited to help them make their decisions.
It seemed that this was the road that Apple wanted to be taking - sorry for the death of their driving force, but continuing to innovate and sell their products.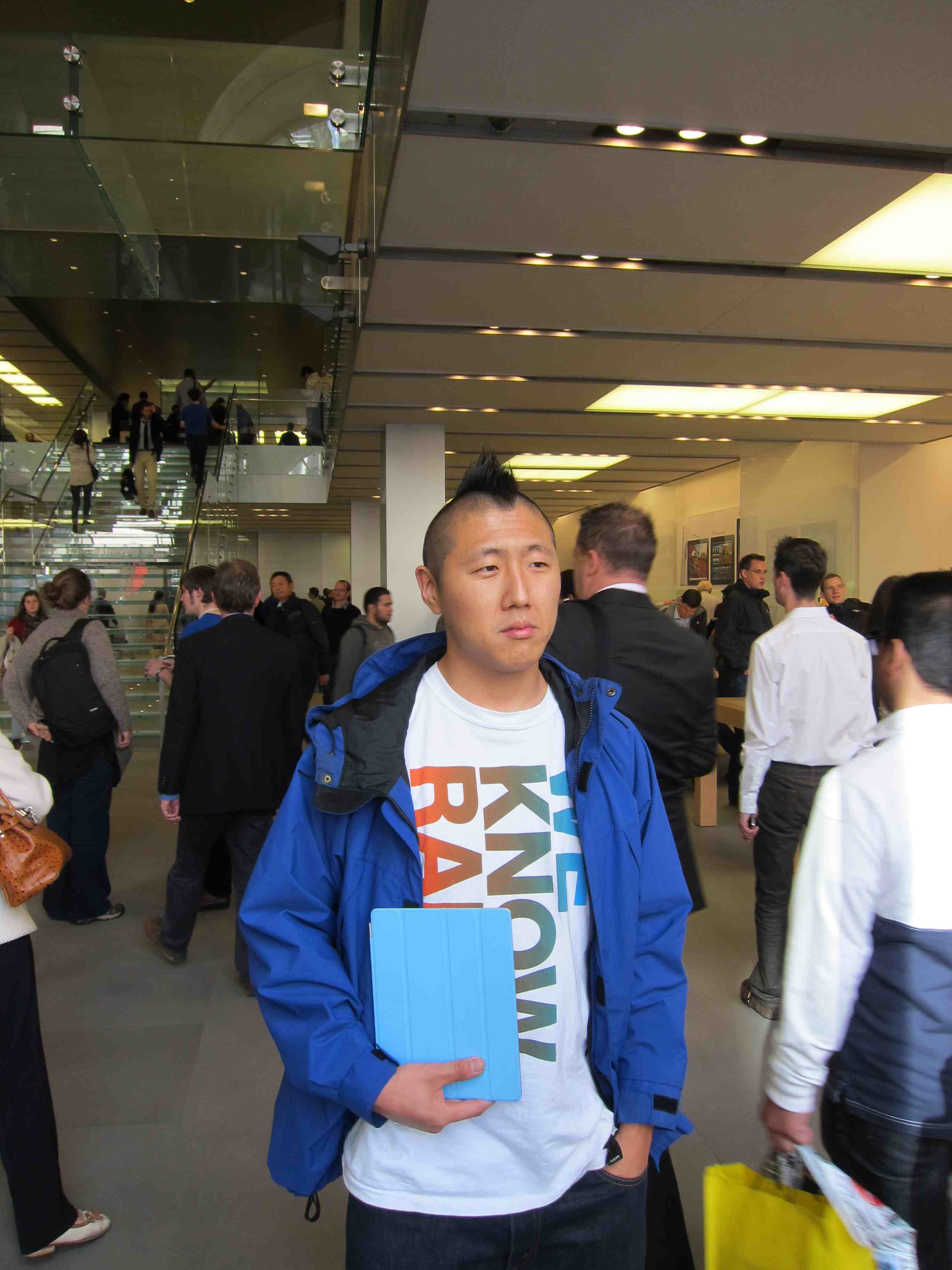 Digital Strategist Yoshinori Kawamura didn't know that Jobs was dead when he approached the Apple Store, but stayed to pay his respects when he found out.
Yoshinori Kawamura, a Japanese Digital Strategist was also in the crowd outside the store, taking pictures on his iPad and sporting a Mohawk hairdo. Kawamura, who works in Germany, said he had been in a meeting and unaware of Jobs's death before he passed the Apple Store, but that he had come to investigate the gathering outside the store out of curiosity. Though he praised Jobs, who he said was a "person who could do everything himself - business strategy and activation", someone who "had "motivated thousands of people" and "had thousands of ideas", he didn't think Apple would suffer.
"Overall, one man has died - it's business as usual", he said. "Maybe it [Apple] will stay the same, why not?"
Kawamura is probably right for the time being. Indeed, as I watched customers browse the stock inside the store, I understood that the legacy that Steve Jobs had left could stand the shock of his death, but also that Apple will quickly need to find someone with Jobs's powers of innovation and motivation to propel it into its next phase if it is to continue that legacy.