I was very often late simply because my mornings were slowed down by my inability to select an outfit with speed and efficiency from my cluttered wardrobes. There was no order but clothes were generally thrown in the night before without any thought. I would think I ought to do something about the chaos that lay behind each closed door or drawer, but it just looked to me beyond salvation. However, with Christmas and the new year coming up I decided it was time for a transformation, but I knew I could not brave this alone. I called upon Sara Segal, founder of Personal Style London, after hearing that this woman could perform miracles with spaces.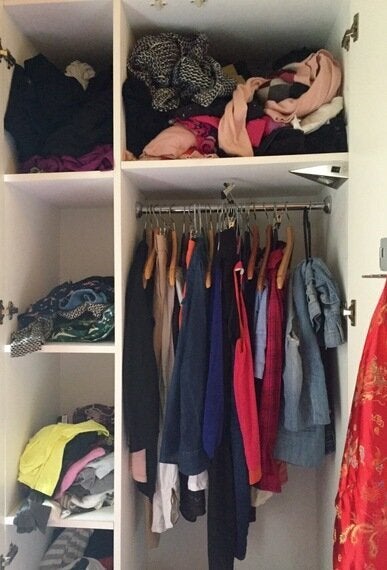 Sara Segal entered my apartment looking effortlessly stylish - a no nonsense kind of woman, she rolled up her sleeves and was ready to put a plan into action. She had five hours to complete the mission of transforming my bedroom that permanently looked like the aftermath of a burglary, into a space that would reflect order and calm.
Sara started by taking all of the contents out of my wardrobes and drawers, until no surfaces could be seen; the floor, bed and dresser were piled high with clothes, bags, shoes, scarves and belts. Much of it I did not even recognise, as I would find myself lazily reaching for the items of clothing that could be found at the front of my wardrobes, whilst the rest had been neglected for years. Now unfamiliar garments were being drawn to the light of day and at times I was thrilled with the rediscovery. At other times, I wondered at what stage in my life I had ever thought certain items should be seen in the outside world. Sara did not cast judgment but she had an efficient system; each item was evaluated and placed into three piles; keep, giveaway or sell. The rule was, if it looked good and flattered it could be kept and even if it had not been worn for years Sara encouraged giving it a new lease of life. However, if it had "seen better days" then she insisted I should "let it go". As a hoarder, I found this a great challenge with many moments of, "what if I miss it?" or "what if it comes back into fashion one day?" As a fashion stylist, Sara was quick to know what was passé and what colours and styles did not suit me, so I let her lead in most of the decision making. It was like survival of the fittest, only the clothes had no idea they were locked in a fierce battle, competing for space. Sara's cool assertiveness was necessary, as it is generally the indecisive that would end up with wardrobes in such a hideously, disorganised state.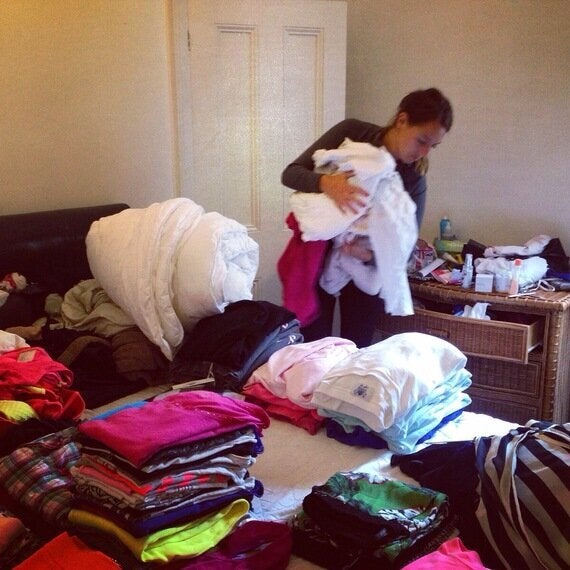 Three and a half hours later, we had nine bin bags filled with clothes and accessories, which Sara would later whisk off to a charity shop. I still could not understand how those that survived would fit neatly into the wardrobe spaces - this was not to be my concern as Sara was about to work her magic. It was like watching Mary Poppins - I felt as if I simply turned around and every style of clothing had a designated home whereas before they lived all jumbled up together in one space.
As Sara took me on a tour around my newly organised wardrobes and drawers, I looked on with delight. Shirts and jumpers were colour coordinated and hung side-by-side. Trousers and dresses had their own rail, t-shirts were neatly folded together and shoes were lined up as if they were in a boutique. As we were in the height of Winter, Sara neatly stored Summer clothes on the shelves above, instead of them being screwed up for the next couple of seasons. Space had been used wisely and some had even been saved for new additions.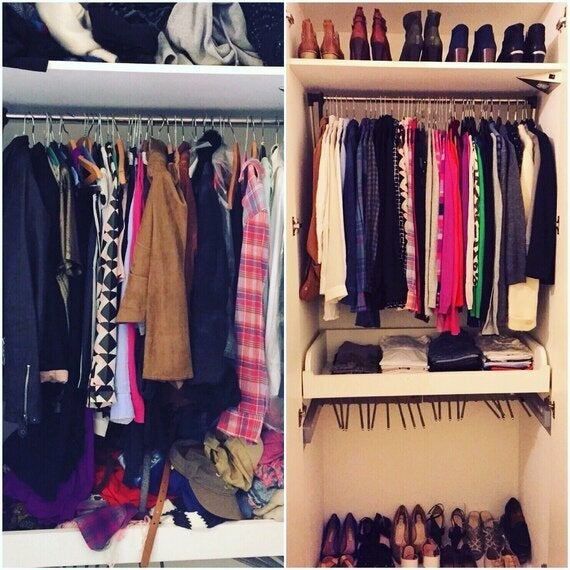 I thought that our mission was complete but Sara did not want to leave a surface or drawer untouched and was now ready to attack my bedside table and dressing table. Thirty-three years worth of memories came pouring out of one cupboard in the form of photos, old magazines, journals and many bizarre items that I must have collected on my travels which I did not remember shutting away. I wondered what the point was in hanging on to all of these possessions that I never even look at, but then I resolved that all of this was a part of my journey and some clutter you just cannot let go of. So the photos and trinkets were saved but in true Sara style placed in labeled boxes and if I do have a nostalgic moment I will know exactly where to find them.
"Sorting and organising your wardrobe, eliminating the unflattering and tackling the impulse buys will ensure you are left with a bedroom that is chaos free and a space that brings calmness and peace of mind every time you open your wardrobe doors." Sara Segal, Founder of Personal Style London
It is easy to ignore the mess that exists behind closed doors, but once you acknowledge, confront and attack it, only then can you declutter both your physical surroundings and more importantly your mind. Several weeks later and my bedroom has remained a clutter free zone - a peaceful haven to retreat in. In the morning it is a pleasure to open my wardrobes and I can speedily locate clothes for any occasion, leaving me with time to eat breakfast, walk the dog, practice yoga and still be on time for work.