We are lucky it wasn't a school day.
Many schools are closed due to fear of aftershocks and pending damage assessments, while others are being used as temporary shelters.
For a country as poor as Nepal, this is going to have a lasting impact on the girls and boys affected if education isn't prioritised quickly. This is an important test for donors and the international community; can we meet this emergency with the attention and resources needed to meet immediate needs and to build back the country's schools?
According to the UN, Nepal's government is in need of support to construct and maintain temporary learning spaces for children. These places are important not just for education continuity, but also as safe spaces to help children regain a sense of normalcy and respond to their immediate psychosocial needs. These spaces also protect children from the increased risk of trafficking and child marriage - common practices in some of the areas worst hit, especially for girls.
Nepal has made enormous progress in education in recent years: more and more new schools were being built, enrolment rates for basic education were going up (from 76% in 2010 to 90% in 2014) and drop-out rates were going down.
But the 7.8 magnitude quake has put these gains at risk and rebuilding will take time. Research tells us that once children are out of school for one year, they are unlikely to return.
Ten-year-old Asmita, from Central Nepal, lost her home and all of her belongings during the earthquake. But her main worry is how she will go back to school.
"I was really frightened, thinking that everything and everyone around me was going to die. The ground was shaking all around...it made such a loud noise. I couldn't sleep the whole night," she said. "I now worry that I won't be able to study or go to school, because all of my books were destroyed, and buried within my collapsed home."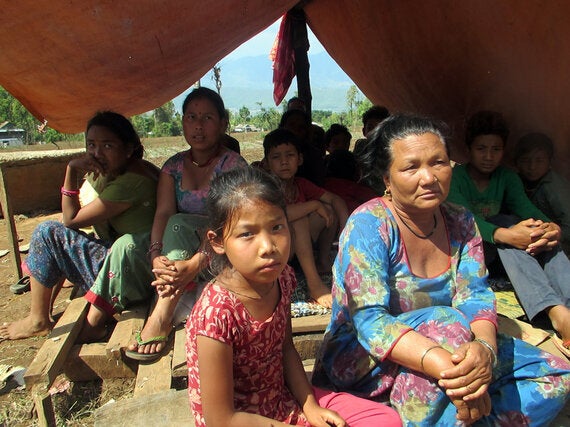 Asmita's home was destroyed by the earthquake and now the young girl and her family are seeking shelter under a tarpaulin. Photo credit: Plan International
Interventions are needed now so that children like Asmita can keep playing and keep learning, even in times of crisis.
However, the current education financing architecture fails to safeguard schools, preserve education continuity and protect children and young people.
In 2014, just 1% of humanitarian funds deployed went to education, and there is currently no mechanism to fund education of refugee children or those affected by disaster; the limitations of the current international financing architecture for education are woefully clear.
Nepal now stands before us as a test of commitment to this fundamental human right.
The international community must mobilise a response with the speed and scale this education crisis demands. And in the coming weeks, leaders will have an opportunity, and an obligation, to make this a reality.
Governments gathering at the World Education Forum in Korea this month, the Oslo Summit on Education for Development and the Third International Conference on Financing for Development in July must set out a greater ambition for the funding of education and agree specific contributions that will turn the tide on chronic underinvestment.
Countries such as Nepal have worked for years to put disaster preparation measures in place. It is essential the international community does the same.
To donate to Plan International's Nepal Earthquake Appeal, please click here.