Sitting in neat rows on desks salvaged from their fractured classrooms, the boys and girls are back in school. Not the one which existed for 50 years with its baroque charm - now a twisted mangle of rubble and metal - but one built in five days in time to beat the monsoon. It is made of salvaged wood and old doors and topped off with a gleaming silver roof of corrugated metal - a kind of educational Mecca. Plan International has helped make this happen, providing funds to partners and procuring vital materials.
I join the boys who are studying science, which involves a lot of scary maths. I tell them it was never my strong point and they laugh as we flip through a page of algebraic equations. Maike Roettger, the National Director from Plan International Germany, and Lynne Hudson from Plan International Canada are interacting with the girls from Year 10 exploring their favourite subjects and ambitions for the future - to be doctors, and scientists and journalists and teachers. We ask if anyone wants to be a politician - there are no takers. We leave buoyed up by their energy and love of learning.
Their temporary learning space may be far from temporary. In the district of Dolakha, high in the hills of Nepal and some five hours way from Kathmandu by road, most houses have been reduced to rubble and their secondary school, rendered unsafe, is being demolished by the Nepali army. The scale of the damage contrasts terribly with the beauty of the valley, the lush pastures and the riot of flowers. Most of the houses in this district were made of stone, held together in good times by mud and sand. Constructions of this kind is no match for earthquakes of the kind which hit Nepal in late April and early May.
Further down the hillside, Plan International Nepal has established a child friendly space which is bursting with over a hundred children. Games are being played and songs sung and all the children gather together in lines to sing the Nepali national anthem, hands on hearts. Nepali people are proud, patriotic and resourceful. Some have begun to rebuild their homes in time for the rains, using the tarpaulins Plan International has distributed and salvaged material from their former homes. But the long term challenge is to build back better and stronger, with concrete pillars which can withstand another major earthquake. The risk is that by the time the blueprints are ready, families will have settled for the old ways of construction and be too weary or preoccupied with other jobs to build a second time.
Finally we get to the food and shelter distribution point where Plan is handing over tarpaulins, hygiene kits, cooking oil and heavy 25kg bags of rice to families who wait patiently to collect these precious goods. So far we have reached 150,000 people with our programmes of immediate relief. A bag of rice could last a family a couple of weeks at least as they work to make the most of what could be an early autumn post monsoon harvest. But the earthquake has meant a loss of stored food for themselves and their animals, and vital seeds for future planting. It will take cash relief to bridge the gap, to fund families to purchase food from local markets where prices are inevitably higher than normal.
It is a long way back for these families, both today as the women and girls haul the kilos of rice down the hill, and in the longer term to rebuild their homes and villages. And emotions are never far from the surface. We come across a woman, tears pouring down her face. The heat, the weight of the tarpaulins and other goods, the trauma of the earthquake, and perhaps lost family, and the resulting lack of sleep and home comforts have just become too much. The officer in charge of the Nepali Army brigade and Plan International staff offer water, and a comforting helping hand.
It seems to be the women who are doing the heavy lifting literally. We pass many of them on the roads carrying huge baskets of silage - food for the animals - and water for their families.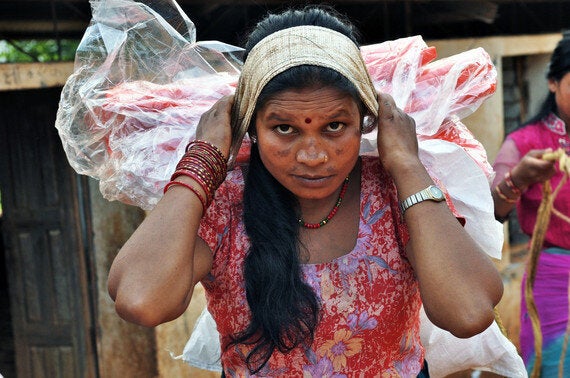 In Nepal, it is women who are carrying the supplies home to their families. Photo credit: Plan International.
In our short visit, we accumulate a kaleidoscope of images from a major natural disaster. Happy children in school, demonstrating how a return to normality can begin to vanquish bad memories of shaking houses and the rumble of local landslides, and adults who have a different and arguably less optimistic perspective. With the monsoons due soon, it will take a lot of Nepali stoicism and determination to get through the next three months.
By then the recovery phase can begin. Let us hope the world pledges and delivers what Nepal needs when it meets this month to review the National Plan. Nepal was one of the poorest countries in Asia before the earthquakes. There is an opportunity to strengthen so much, not just the physical buildings, but the institutions of government nationally and locally, and reinforce social cohesion and the Nepali national spirit. It must not be wasted.
Related