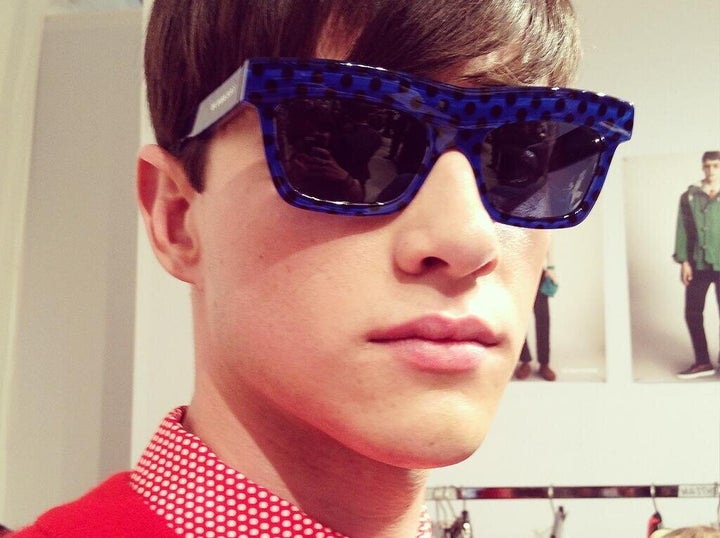 Granted it was the most hyped show of London Collections: Men, mostly in part to the fact that the Burberry men's wear had moved over to London after a decade of showing in Milan and in line with the fact that the brand has the innate desire to outshine every other designer on social media (note: the Vine last week featuring the brand "coming home" and unveiling the new venue was pretty phenomenal), but when it came to innovation of product, I suppose that I was expecting more.
The venue itself was beyond incredible; Kensington Gardens served as the perfect setting to showcase the 'Writers and Painters' vision of the brand for Spring/Summer 2014. The mere walk from Bayswater Road to the greenhouse tent of dreams itself helped to set the tone, along with the acoustic (albeit predictable) guitar soundtrack. It was something you'd want to bask in forever. The experience of attending a Burberry show in London, let alone the men's wear comeback is an honour in itself, which is why I feel that I'm focussing on the heritage of the brand more than anything else. But the collection didn't scream "innovation", neither did it challenge or push the boundaries. It felt almost too safe. The Wave Dot Sunglasses were certainly a highlight, but for a brand that has pioneered innovation for the last decade to shift perceptions, the collection itself felt (dare I say it) slightly underwhelming.
On the digital front, however, the brand just introduced Burberry Kisses - a charming initiative in collaboration with Google + to send digital kisses around the world (probably would have made more sense in February), this coincided with the news that CEO Angela Ahrendts' annual salary was £16.9m (yet another PR coo receiving mixed opinions and commentary), but this season the brand did intelligently tap into the YouTube demographic by inviting and heavily publicising the arrival of YouTube twin(k) sensations Jack and Finn Harries who have a collective social reach of millions.
So Burberry managed to own yet another fashion week, but did a collection as a standalone without the hype stand up for itself? Probably not.