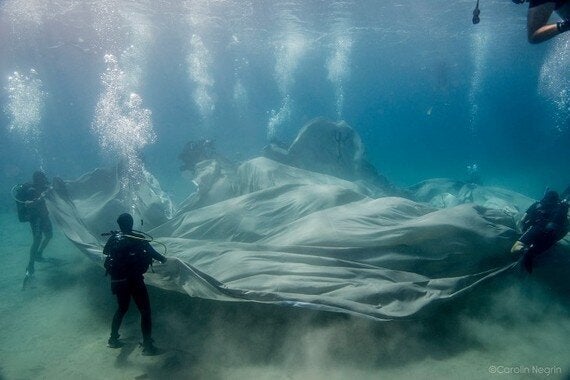 Photo: Carolin Negrin for Drops of Breath
There are few artist or performance collectives that can boast the ideals of true diversity - particularly in the realm of dance. Drops of Breath is a cultural, educational and community project which involves people with disabilities (children or adults) and professionals from many artistic disciplines to co-create an immersive underwater visual performance. I met the collective this weekend and it truly changed my perspective on what an immersive experience is, and could potentially be with the right investment from talent and cultural bodies.
The weightlessness of submersion allows those with disabilities to embrace their "inner mermaid" and express themselves in ways that could never be possible on land. Having opened with this, I have to admit that Drops of Breath is so much more than just a diversity performance, it is artistry in its purest form and an immersive experience that allows viewer engagement through scuba diving or snorkeling in the clear waters of the Aegean Sea - specifically in the space where Aegeus, King of Athens, leapt to his death in Greek Mythology - now known as Cape Sounio.
I've experienced countless immersive experiences with brands such as Pepsi (for the launch of their recent cherry flavour) to Louis Vuitton's current Series 3 exhibition at 180 Strand - I have even created one of my own with Ada + Nik Spring Summer 16; but Drops of Breath really stays true to form in the sense that the only way to truly experience it is to literally be involved and immersed underwater. The music, composed by Trifon Koutsourelis for example, it primarily strings based resonating through underwater speakers vibrating through your entire form as the choreographed movements take place under the sea amongst the ruins, bespoke set design symbolic of the mythology associated with the area and the natural marine life.
The creative artist set behind Drops of Breath prides itself on the ideal of being multi-disciplinary, going far beyond defending peoples' differences and working on the exploration of humanity's similarities, sharing a common breath and a common heartbeat.
The values of equality, respect, transparency, clarity, simplicity, human rights and environmental protection are highly projected in this manner, since everybody is equal under the water. This includes the audience - who are participants in the overarching movement and add value to the experience through their presence. It really is quite the most surreal art experience you could imagine!
One of the founders Apostolia Papadamaki from Greece made it very clear that art and artistry was at the forefront here through which they have amassed the support of enterprises and companies including Grecotel, The Creative Europe Programme of the European Union and Ile De France to name a few.
The initiative is also consistently seeking collaborator, volunteers and partners - currently consisting of fourteen performance artists there is definitely the opportunity to grow and broaden this and be a part of the movement whether you have a disability or not - performers, dancers, actors, musicians, sound artists, designers, painters, sculptors, new media artists, digital artists, internet artists, software and app developers, video artists, installation and technology artists, architects, social and community artists, writers are all being invited to be a part of the initiative and help grow what is essentially becoming the epitome of immersive art.