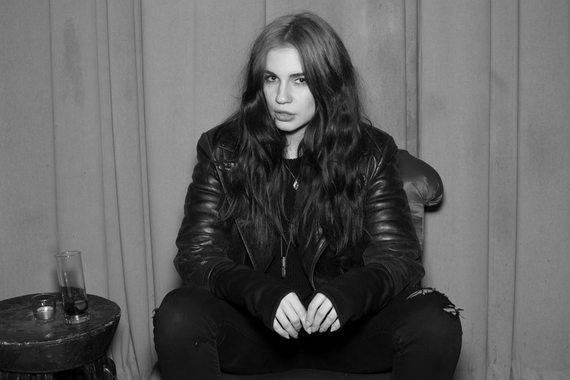 Androgyny in fashion has existed since the beginning of time, granted. However, the resurgence of the boyfriend biker has become somewhat of a 2014 trend to watch. Tastemaker girls from London to New York and Tokyo to Hong Kong have been embracing the oversized leather biker jacket, coupled with a simple black or white t-shirt, plaid shirt and a pair of skinny jeans. As a brand, Ada + Nik has experienced this first hand, as we've been inundated with requests from girls all over the world to wear and purchase our menswear bikers.
It's not a matter of buying a womenswear piece in a larger size, authenticity is key - and makes a legitimate statement, model and illustrator Nikita Andrianova (pictured below) told me, "To me the leather jacket is the item that symbolises wildness, youth and freedom. I always liked oversize jackets as they give the look a bit of roughness, I also love how it can give a sexy, feminine look an edge due to its straight cut and texture. I think throughout history women loved to apply the use of menswear garments in womenswear - I guess there is simply something empowering about 'stealing' a piece of menswear clothing and making it your own."
My good friend and pop star Natalia Kills has recently been spotted donning a leather jacket with a silk nightgown at her performances in Los Angeles - further cementing Nikita's rationale or edge versus femininity.
Nicola Formichetti's recent capsule collection for Diesel once again solidifies the aesthetic of an oversized biker for girls, as modelled by Daisy Lowe.
Adri Murguia, creative producer at VICE tells me, "it adds an element of mystery to an outfit and I like that juxtaposition", showcasing the rebellious nature of the modern and empowered woman. Fashion stylist and DJ Alexis Knox added, "it's a great way to emphasise your petiteness and adds a rock and roll edge".
Transversal style icon Munroe Bergdorf commented that, "Boyfriend Bikers are perfect for adding a touch of edge to a casual look, or equally they can be teamed with something elegant and statement for an effortlessly cool feel," and Jay Best Fashion Director of The Arcadia Online says, "wearing oversized menswear is the equivalent of modern day power dressing, it feels rebellious by not conforming to the girly sexy stereotype."
On a global scale, you only need to look at Angelina Jolie's recent deconstructed Saint Laurent tuxedo look at the BAFTAs, Madonna's appearance in Armani at the 2014 Grammys, Ellen's white tuxedo at the 2014 Oscars - and even the digital resurgence from blogs such as Girl In Menswear, The Man Repeller (which heroes this perfectly) and even an editorial in Teen Vogue this week where you can learn How To Pull Off The Menswear Look.
Friday saw a private party for Ada + Nik at the Sanderson in London hosted by Patrón Tequila where countless female muses and models dressed in boyfriend bikers from the brand's Autumn Winter 2014 collection. Photos by Gabriel Love feature models Ella Catliff and Nikita Andrianova, and creative influencers Nisha Grace Smith and Tabby Richards (with Rev from The Howling) - all pictured below. DJ sets were by Andrew Armstrong of Monarchy (watch the video for their track 'Disintegration' featuring Dita Von Teese here), and Sebastian Bartz (watch his latest video with Jack France here).