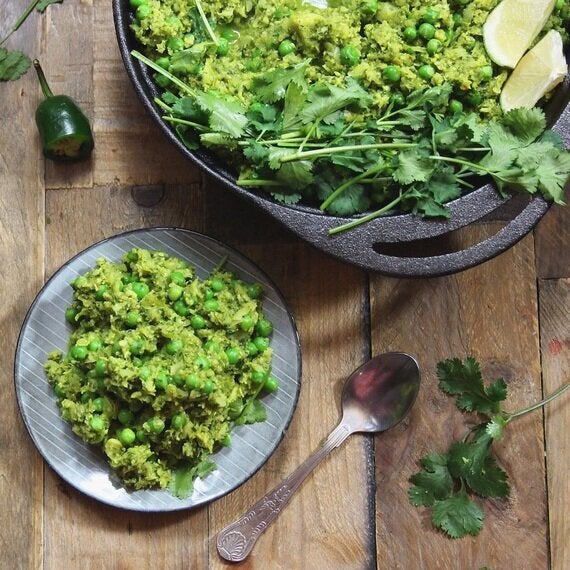 I'm pretty excited about this recipe.. Firstly because it contains so many of my favourite curry ingredients ie cauliflower (I always have gobi at Indian restaurants), sweet peas and spinach. This is one to the quickest and simplest curries to make, I find that making a paste speeds things up and really enhances the flavour. It's as simple as throwing all the ingredients into a blender and pulsing for a couple of minutes. In this one I added 4 big cups of organic spinach and a whole bunch of coriander including the stalks for tons of flavour.
I love the gorgeous green colour from the spinach and peas and you're getting some great nutrients from the iron in the spinach, protein rich peas and the high levels of vitamin C in cauliflower. Better still, it tastes delicious!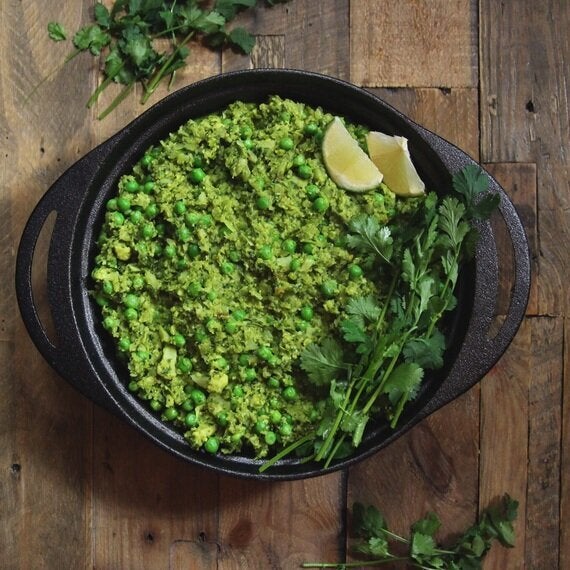 1 bunch spring onions chopped
1 bunch coriander (including stalks)
4 cups spinach
1 knob ginger
4 garlic cloves
1 tsp coriander
1 tsp cumin
1 tsp cumin seeds
1 tsp turmeric
Pinch asafoetida
2 tbsp oilive oil
1/2 green chilli
1 small head cauliflower grated
3 cups water
2 tbsp coconut yogurt or coconut milk
Juice 1/2 lemon
1 tsp Himalayan salt
Black pepper
1 tsp chilli flakes (optional)
Blitz all the paste ingredients and then fry in a frying pan on a low heat for 5 minutes (no need to add oil but add a little water if it gets too to dry).
Add the water and cauliflower. Stir well them simmer for 30 minutes until the cauliflower is cooked and soft.
Add in the peas, coconut yogurt, lemon juice, salt and pepper and chilli flakes. Stir to combine and simmer for 1 -2 minutes until the peas are warm.
Serve with flatbreads.