1. Pale pink liner is the secret to looking doe-eyed.
"For a wide-eyed, youthful look, use a pale pink-toned eyeliner to perk up your waterline. This will subtly create the illusion of bigger eyes far better than white or beige. Dot and blend along the brow bone and inner corners of the eye for a further brightening effect."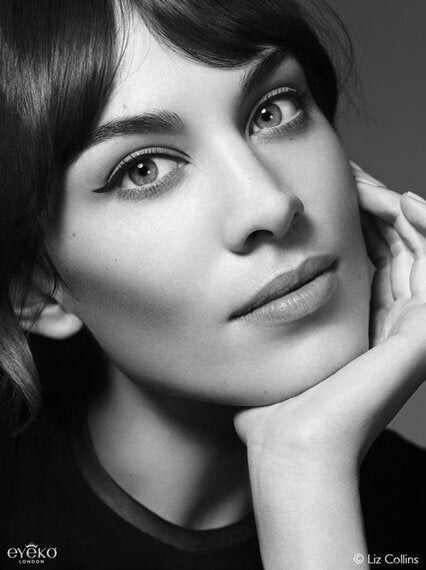 2. For cat eye beginners, play connect the dots.
"Starting midway along your lid, lay the tip of the liner on to the lid creating dashes close to your lash line. Then simply join them together to create the perfect cat eye. Looking straight into the mirror, mark where you want the end of your flick to sit - that way, you can judge the symmetry to create perfectly even wings. Make sure the line appears to extend up from the lower lash line for a look that flatters every eye shape. Use a Q-tip to create a finer flick and clean up any mistakes. And remember practise makes perfect!"
3. Build a mascara wardrobe for the lushest lashes possible.
"To make the most of your lashes, it takes more than one mascara! Call it mascara wardrobing or cocktailing, but it's the only way to create a bespoke lash look. I have shortish, straight lashes so I always start with a lengthening mascara on my top and bottom lashes before going in with a curling formula to lift and tease out lashes for extra volume and curl. Believe it or not, one mascara doesn't do it all - and any make-up artist will tell you that using two or three different mascaras makes all the difference to your look. Lock the style in with a light coat of waterproof mascara to stop smudges and hold the curl."
4. Avoid annoying mascara marks on your eyelids.
"As mascara is often our last makeup step, one of the biggest eye blunders is getting mascara marks on your lids - especially annoying when you've just created the perfect smoky eye! Our mascaras include the Eyeko shield, which you just pop behind your lashes as you apply for smudge free lids. Looking down into a compact mirror as you apply works too."
5. Not all black mascaras are created equal.
"Be sure to buy one with a carbon black finish for extra definition and an intense sooty stare - perfect for after dark as well as creating standout lashes in photos! There's nothing worse then seeing dusty grey lashes to spoil your selfie!"
6. Blue mascara is the secret to hiding a late night.
"Blue was a strong catwalk look so don't dismiss the power of navy as a great daytime alternative to black. You get all the definition of black but softer - great for the morning after, as blue really brightens the whites of your eyes, belying lack of sleep."
"Different mascara wands do different things. Skinny brushes are ideal for shorter lashes as you can get right into the roots, allowing for a better grip to not only lengthen lashes, but to get even root to tip coverage as well. Curved wands - especially ones with nylon bristles - act as Velcro curlers to lift and curl your lashes. This is great if you have straight lashes or are irritated by your lashes hitting your glasses. If you have a medium length lashes, then any brush size will work for you - especially a bigger, bolder brush to add volume to your flutter."
"Fake lashes can be fiddly, which is why it's much easier to use sections to add a little oomph to your natural lash look. Apply mascara first, then lashes. Put the glue across the band and just below it for extra staying power. Look down, and push the lash up on to the lash line. One eye is always easier to do then the other. Make sure you get the position just so before pushing and pressing into place. Add a little bit more mascara to blend lashes with your own, and fill in the seam and the gaps with liquid eyeliner."
9. Curling your lashes is a must if you want to make the most of your mascara.
"Check your curler before use to ensure the pad is in place and the cage lines up. Gently ease the curler over your lashes, getting as close to your lid as possible, then squeeze and HOLD. Don't pump the curler, which can cause breakage. Simply hold for at least 15 seconds, then gently open, removing the curler with care. It's not generally recommended to use curlers after mascara application, but as my lashes are well conditioned I always do a two-second squeeze when my mascara has dried as it really holds the curl all day and beyond!"
10. However partied out or tired you are, removing your eye make-up before bed is a must.
"If you are wearing waterproof eye make-up be sure to use a specifically oil-based or bi-phase cleanser for gentle and efficient removal. Soak a cotton pad and hold it over your eye for 20 seconds to loosen up eye makeup before wiping away. Make every effort to minimize rubbing, which can cause premature aging by tugging at the delicate eye area."
11. Try a mod throwback look.
"The '60s are my favorite source of inspiration for eyes: Twiggy lashes, a Francoise Hardy flick, Sophia Loren's exaggerated cat eye, Penelope Tree's 'banane ouverte.' I'm so happy that the mod look is back in. Cat eyes and kitten flicks are classics, and it's fun, quick ,and easy to update the look for fall. Use a fine brush tip liquid liner to paint on bottom lashes--make up artist Lisa Eldridge did this on Alexa Chung at our shoot. Give a 'banane ouverte' a go if you have a steady hand by expanding on a basic cat eye: Try taking the wing up into the inner socket. Instead of a smoky eye, use pencil or shadow to create an exaggerated wing a la Edie Sedgwick for intense drama. It's foolproof and looks even better worn in as the night goes on!"