Day 3, Shira Camp 1. 11,500 feet.
I got out of the tent at 6.15 am to see the cloud had dropped away from the mountain revealing her in the stark, early morning light. Up until this point, because of bad weather we hadn't caught a glimpse but there she was. Magnificent. The peak gleamed in the distance and I excitedly woke Dan and Lauren so they could share in the moment. I was greeted by two very puffy people. It appeared that both of them had sunburnt their faces and hands the day before. Sexy. We discussed our rotten nights sleep over breakfast as the sun broke over the peak. It was apparent that we still had miles to go and the day ahead would prove to be one the toughest yet.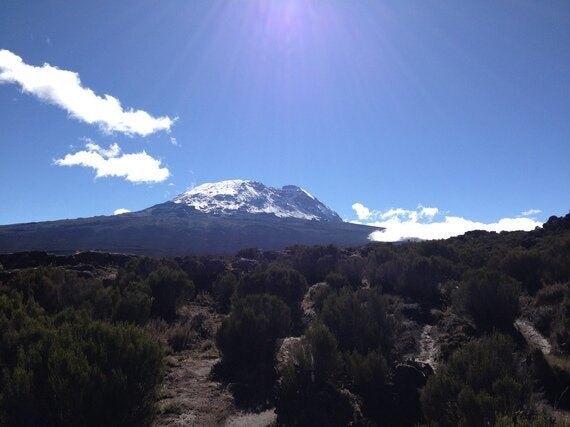 I spent the first hour or so of the trek slightly ahead of the group. Walking across the Shira plateau, It was nice to just be alone with my thoughts in such beautiful surroundings, it becomes quite meditative, just the sound of your footsteps in the silence. It was like scuba diving, something about being alone in the vastness of nature that makes you feel very small and very alive. Soon, the cloud closed in on us and the beautiful view was replaced with grey, which mirrored the approaching mood. Lauren had a tremendous headache as did Dan, they weren't complaining but you could tell by there faces that they weren't enjoying themselves. Despite the heavy cloud cover you could feel the heat of the sun radiating through. It was an uncomfortable morning.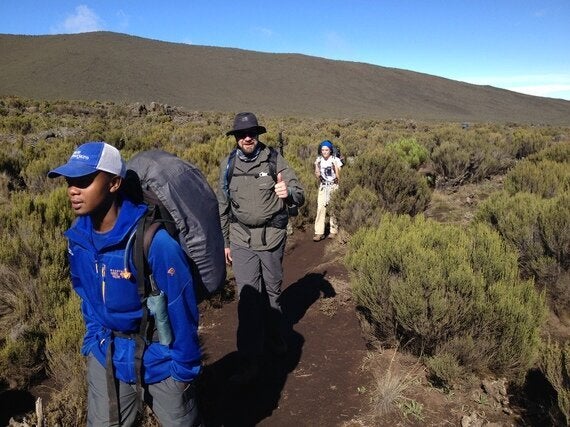 In the upper heath, the trees are draped with moss called "Old mans beard" which comes in two strange shades of orange and lime green. Thanks to a little inspiration from Evance we made wigs and beards out of the stuff and got on with some improvisation, in particular Lauren's "Because I'm worth it" tickled Evance and my impression of Cat Stevens singing Moonshadow on a rock managed to get us all laughing and diverted the attention away from the headaches for 5 minutes. It was always fun to see the boys having such a good time. I imagine they usually have to guide a bunch of intense American accountants called Chad or something and not a troupe of all singing and dancing fools.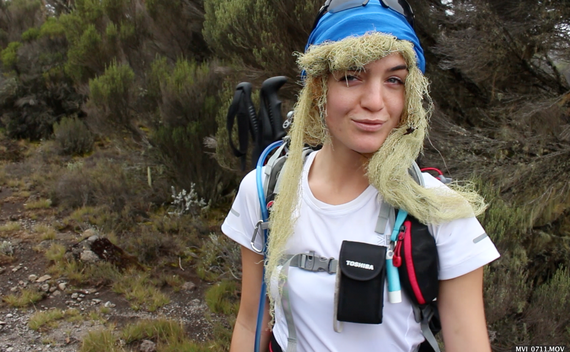 The going remained tough as we made our way into the start of the Alpine desert, the vegetation became sparse and after 5 1/2 hours and 14km, we finally reached Moir Hut, a lesser visited camp on the Western side of the mountain. When we got there, Lauren opened a letter from her Mum, Sue. Kind, loving words so far from home and halfway up a mountain on the other side of the world were clearly difficult to digest, holding back tears from us, she took off to get herself together behind the long drop toilets. I felt for her but I could also see a change in her, she was finding strength within her that she'd never tapped into before and I was really proud of her for the way she handled feeling so rough. It was only us and the Kilimanjaro national park rescue team in training at this camp for the night. I watched them abseiling down a nearby rock face as Lauren and Dan rested after lunch.
After a couple of hours, Meshack and Dan suggested we head up to an outcrop a couple of hours away for an acclimatisation trek. The point being that if we went higher our bodies would adjust better as we descended back and slept at a lower altitude overnight. After the day we had it was not something we were massively inspired to do but we cracked on anyway. It involved hell of a scramble up to 14,500 feet. When we got to the top of the pinnacle we were still engulfed in cloud. The top was covered in cairns, piles of stones, man made, that are traditionally used as markers. As there was nothing to see we decided to build a cairn in the shape of rock horn fingers, a lasting monument to "Team Rock Trek". Meshack, Evance, Dan and I got cracking whilst lauren took some alone time. Then something magical happened.
The cloud broke. Breathtaking doesn't cover it. We stood and watched one of the most beautiful sights I have ever seen unfold around us. As the clouds dropped away we saw the sun setting and realised we were above the clouds, like the opening credits of quantum leap (yes I'm that much of a geek) behind us, a full moon was rising over the peak and we saw how far we had come in a day. The glacier covered peak towered over us and as we jumped around excitedly, Meshack turned to me and said "No one lives here but angels" The comment broke my heart and brought tears to my eyes. All of the worlds beauty wrapped up in one stunning moment.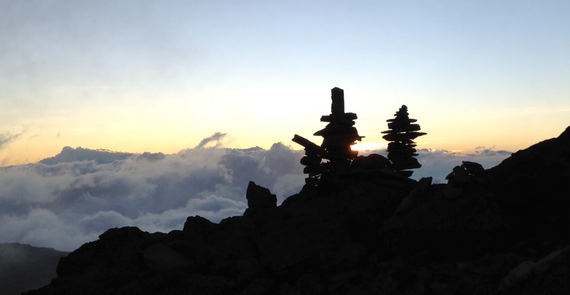 We started our descent back to camp with a spring in our step. It was just what we needed after such a gruelling day. As twilight passed, the full moon lit the way and we reached camp exhausted but content. At supper, Dan had lost his appetite and was showing signs of altitude sickness. The health check showed his oxygen levels had taken a dip on the previous night but we figured everyone would feel a lot better after a good nights rest.
Day 4, Moir hut. 13,800 feet.
Ok, so the much needed sleep didn't happen. During the night the temperature plummeted into the minuses. The tents, ground and our eyelashes froze. I now know what it feels like to be a Cornetto. Itsa nota niceah. Dan came out of his tent and he looked like shit. Slumped over the breakfast table he struggled to move. Lauren's eyes had disappeared into slits in her face and I tried to remain positive about the day ahead although I could see it was going to be a struggle. We were glad when sunshine broke over the peak and started to thaw our bones. Reluctantly we headed off. A beast of a day, we aimed to reach the lava tower at 15,190 feet in 3 hours and then head back down to Barranco camp at 13,034 feet. We started the ascent up into the Alpine desert, as we joined the most popular Machame or "Coca-Cola" route we saw other expeditions creeping their way up the mountain. I found myself slightly jealous that were going to have to give up some of the solitude we had been getting used to over the last couple of days.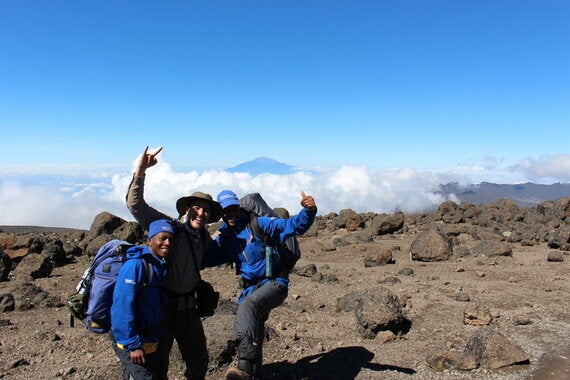 The views that morning were a gift. We could see across to Mt Meru, Kilimanjaros little sister and right across the Shira Plateau as well as the peak of Kilimanjaro towering over us, closer still but yet so far away. I was impressed by how much ground we had covered and acutely aware of how much harder it was getting on a daily basis. We stopped for lunch at lava tower camp and after refuelling in a grim, grey, drizzly setting, started a 3 hour decent into camp. On the way down we trudged in silence. We were exhausted and no amount of dressing up in moss was going to cheer us up. We fell into the tents and that night dined on mashed potato in the shape of a giant boob.
In my next blog, scrambled legs on breakfast wall and trekking through the set of Jurassic Park.