Day 5, Barranco Camp, 13,044 feet.
We woke at 7am and peeled back the tent flap to see an enormous cliff face. Some other expeditions had already set off and you could see people as tiny specks of colour up on the wall. Over our health check, our guide, Meshack told us it would take two and a half hours to scale the wall. Thankfully everyone had slept, something to do with the fact that we had dropped in altitude coupled with the lack of sleep over the past few days. It was great to have everyone back in good spirits and after another couple of cold fried eggs we set off.
The clouds had dropped away again revealing the surrounding mountainside, enormous trees called giant scenacios, dotted the landscape, strange exotic shapes that made you feel like you were on the set of Jurassic Park.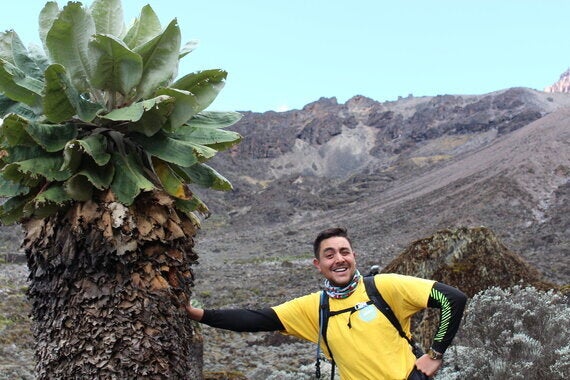 We started up the wall which was treacherous but exhilarating, Meshack pointed out foot and hand holds to make sure we didn't fall into the canyon. Half way up we broke out the slide whistles. Yup, slide whistles. My friend, Claire, had set me the challenge of playing the slide whistle on the summit for a double donation and had sent me five in the post. Evance and Meshack looked at us with confusion, until I gave them one too and they happily joined in with the whistle choir. I'm not sure what the other teams thought but we were too busy laughing to care.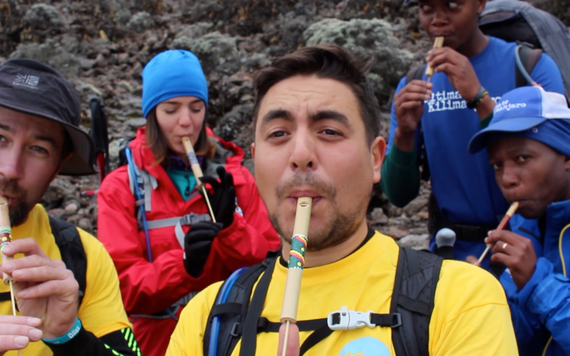 It was a great day and five hours flew by as we made our way to the next camp. The route ascended and descended a few times and finally we went down into a deep ravine before the final push to the next camp. At this point Meshack pointed out the last water supply available. It was ages away, yet you could see the porters carrying 15 litre bottles on their heads. The porters had the unenviable task of not just carrying the water to the next camp but also on to base camp. Evance also told us that the last expedition he led was for a blind woman from Australia. She had climbed the entire route with Evance holding her hand and leading the way. It amazed us and gave us a little burst of encouragement. People can be incredible.
After signing in at Karanga camp, we hung out in the mess tent and spent the afternoon telling stories and laughing. In the distance we could hear the crew playing the slide whistle. We went for a little nap and then before supper we watched a spectacular sunset over Mount Meru. It's funny to think that the sun sets every single day but having time to appreciate it is such a rarity.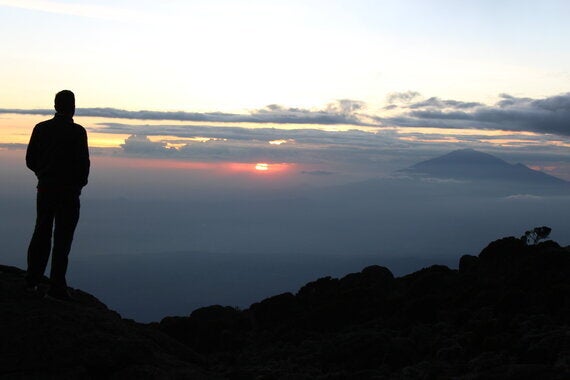 The sunset was quickly replaced by an electrical storm rolling in from the east. Rumbles of thunder were accompanied by forked lightning that illuminated the mountainside. To the south, Moshi, the town we started from is sprawled out in front of us, a mish mash of street lights. Meshack told me that Moshi is the Swahili word for "Smoke". It came from 1912 when the Germans built a railroad to export coffee. As the trains pulled into town the locals saw the billowing white "Moshi".
As the temprature dropped, we donned our base thermal layers and zipped in for the night and as I finish writing my diary for the day my hot water bottle bursts. Fume.
Day 6, Karanga Camp. 13,106 feet.
7am. This mornings view is once again a corker. The porters pack up the mess tent and allow us to eat al fresco. It's a pretty memorable breakfast setting. But the eggs are still rank (and as the picture below shows, so was the porridge).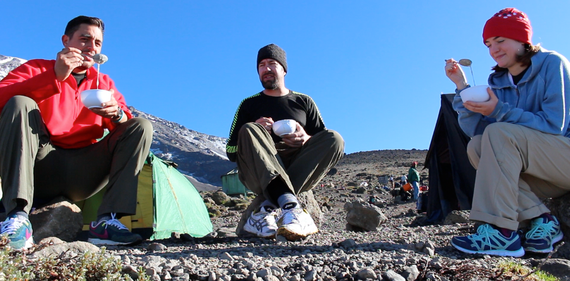 We start off on our four hour trek to base camp, hit the hay at 6pm and then start our final ascent to the summit at 12am. It's going to be a long one. About half way through the day, Dan stops and asks if we can rest. Meshack and Evance then start kicking rocks about. It took me a couple of minutes to realise that they were writing "Bliss" in boulders. I had told them about the charities we were climbing for and what it meant to me so to see them take this upon themselves was a really touching moment for me.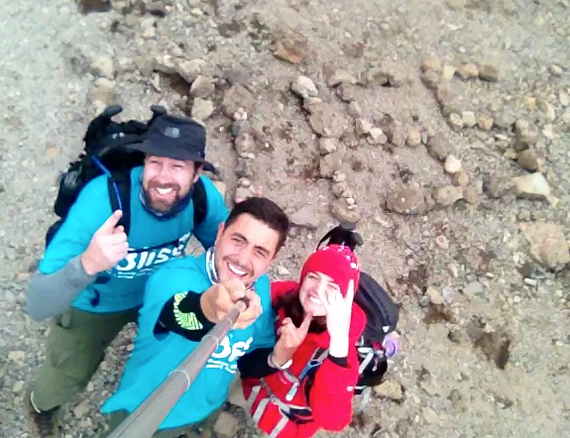 We carried climbing and Dan slowly started to fall behind with Evance. As we reached barafu base camp and signed in I saw one of the rangers had made a draughts set out of water bottle tops and coke lids. Nifty.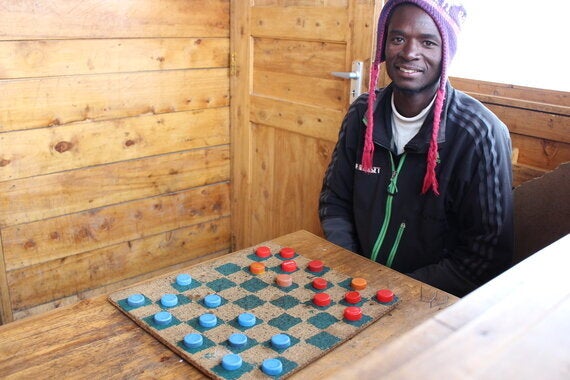 We settled into camp and Dan arrived about 45 minutes later. He said he wasn't feeling so great. After lunch we had our health check. Dan's oxygen level was falling and as we hoped that an evening of rest would sort it out. It wasn't to be. We got into our tents and tried to sleep. It could never happen because the air was so thin that our bodies were working double time to process the oxygen. As I lay there, I could hear Dan in the next tent, he was shallow breathing and coughing constantly. After a few hours we got up to prepare ourselves for the final ascent. We met in the mess tent for our health check and after 10 minutes Evance went to fetch Dan.
When he walked into the tent we could see he was broken. He had lost all colour in his face and he slumped into the chair looking defeated. Meshack measured his oxygen level. 55%. His pulse was resting at 115 bpm. Gravely, we were told it would be too dangerous for Dan to continue the climb. His heart was under tremendous strain and he wasn't absorbing the Oxygen he needed to function properly. We were devastated. He apologised but we told him to just look after himself, go down and get better. We kept a brave face on but when Dan left to get his things together Lauren and I lost it. After all of our training, planning and preparation we would be losing one of our team at the very point we had been working towards for months. It was a kick in the teeth. As Dan started his evacuation, we started our final ascent.
In my final Kilimanjaro blog, will it all be worth it?