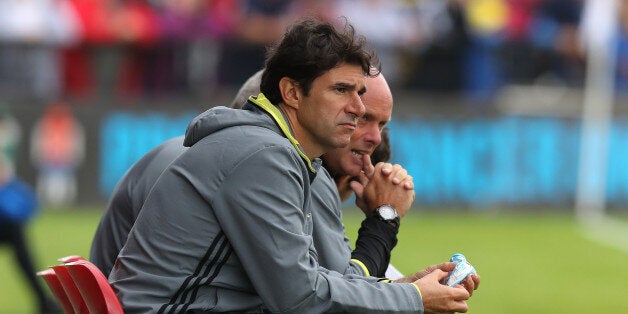 ​The 2016/17 Barclays Premier League season has the potential to be the most competitive and relentless edition since the inauguration of the division in 1992.
Much has already been made of new arrivals Antonio Conte at Chelsea, Pep Guardiola at Manchester City and Jose Mourinho at Manchester United- a group fearsome enough before lining up with the likes of Klopp's Liverpool, Pochettino's Tottenham- and no one is forgetting about Ranieri's reigning champions Leicester.
Add all that to the monster power of Premier League spending in this inflated economic climate, stealing the limelight and making a successful season for yourself appears to be a steep hill to climb- especially when you're a newly promoted club. However, with a winning mentality and bright ambition, the giants of the Premier League are looking smaller with every day that rolls over, which is where Middlesbrough's Aitor Karanka come in.
The Spaniard cut his mustard in the best possible manner - sitting in a comfy chair next to his soon-to-be adversary Jose Mourinho in the dugout at Real Madrid. Three years alongside the Special One gifted Karanka some priceless experience: winning La Liga ahead of an impossible rival in the form of Guardiola's previously unstoppable Barcelona, as well as a handful of cup glories.
Mourinho's heir and protege was supposed to be Andre Villas-Boas, who worked under the two-time Champions League winner at Porto, Chelsea and Inter- but his two stints in English football ended rather miserably with two sackings. After Karanka finally got Middlesbrough promoted at the third attempt, following the debacle of a minor tantrum during the team's dip in form, he now has the opportunity to showcase the traits that won him the position of Jose's trusted confidant at the Bernabeu.
In terms of tactics, the two aren't too dissimilar - there's an emphasis on a structured defence culminating in counter attacking football and using possession intelligently, as opposed to having it for possession's sake. Indeed, Boro conceded the fewest goals in the Championship last season (31) and scored 63 at the other end.
Unlike Mourinho, as the pair do split off in terms of their ultimate deliverance of football, Karanka's teams usually play with a more attack minded philosophy, with 4-4-2 sometimes his preference, but also being flexible in deploying a 4-2-3-1 on a number of occasions last season. He likes to field players with plenty of pace in their arsenal and punish the opposition for any lapses in concentration- something that should certainly serve him well in the forthcoming season.
The classic 4-4-2 formation almost became something of a myth in this day an age of modern tactics, but as we saw from champions Leicester and Watford last season, it can be used to devastating effect if utilised in the right manner. Karanka's adaptability is what won him so many games in the build up to Boro's promotion triumph last year, and claims his line up is ultimately fruitless unless his players follow the game plan and move fluidly.
"Sometimes people think if you play with two strikers you'll have more chances to score more goals. But I always say it's not about how many strikers you play. It's about how many players arrive into the box."
Goalscoring is another luxury his team look to have in their locker for their first Premier League season in eight years. After sealing the loan signing of former Manchester City striker Alvaro Negredo, the jaws of football fans across the UK dropped slightly at the thought of a potential pairing with Scottish goal machine Jordan Rhodes, who himself has already smashed in 185 career strikes aged 26.
That wasn't the first coup Boro pulled off, with six-time La Liga and three-time Champions League winner Victor Valdes linking up with the Teesside club, as well as former Ajax star Victor Fischer and cultured La Liga defender Antonio Barragan. Dortmund defender and former Champions League finalist Neven Subotic came within inches of signing for the club too before the deal broke down, but what is it about the club that is attracting such top dollar talent?
More than ever, Premier League clubs are armed with extraordinary amounts of cash at their disposal. Crystal Palace and West Ham are whipping up £30m bids to lure in top strikers. Bournemouth, who nearly went out of existence less than a decade ago, just demolished their transfer record to secure Liverpool's Jordan Ibe for £16m.
While Boro have more money this time around, they are conducting business in a smarter way. Valdes was a free transfer, Negredo is only being borrowed, while ex-Saints midfielder Gaston Ramirez, who was previously bought for £12million, comes in for free too.
Importantly, these players appear to be charmed by the appeal of Karanka's winning nature, and his vision for the future of the club. While Mourinho, Guardiola and Klopp may steal the headlines in August, it could very well be Karanka who tops them in May.
For more fan views or to join the conversation visit www.90min.com