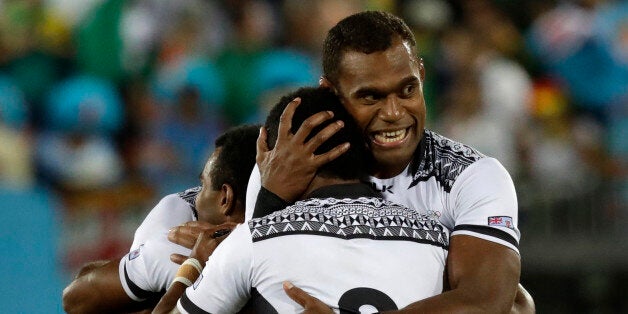 Fiji's rugby sevens triumph at the Rio Olympics provided one of the most absorbing narratives in the history of the Games. Here was a team from an impoverished, tiny island nation in the Pacific Ocean, elevated to giant status by dominating the men's inaugural competition - and in the process winning Fiji its maiden podium finish, sparking wild, prolonged celebrations back home.
Their golden journey climaxed in a sensational 43-7 demolition of Team GB. The manner of their final victory at the Deodoro Stadium in mid-August - which English-born coach Ben Ryan posits was the most-watched game of rugby in history - underlined their superiority, and increased their universal appeal.
Tom Mitchell, the defeated Team GB captain, calls it "the best performance I've ever seen on a sevens field, from any team", and adds: "Sometimes you have to accept the opposition has played better, and on that day Fiji were sublime. When Fiji perform like that, as they have done so often in the past, it makes sevens so exciting."
While their success generated thousands of new admirers - according to Ryan 'Fiji' was the most-searched term on Google for an hour after the final - few familiar with the country's proud and glittering sevens heritage were surprised. After all, they were strong favourites going in to the tournament, having secured back-to-back HSBC World Rugby Sevens Series titles. But how exactly did humble Fiji rise to become the commanding force in sevens?
It is hard to overstate how popular, and important, sevens is in Fiji. The sport dominates both front and back pages of the two main newspapers, Fiji Sun and The Fiji Times.
Representing the country is not just a source of pride; it provides a rare, gilt-edged opportunity to lift individual players, and their nearest and dearest, out of poverty. Youngsters dream of playing for Fiji, and the promise of relative wealth only serves to further motivate them. On the 40-minute drive from the capital Suva to Pacific Harbour, where Ryan lived, he would count over 50 games of sevens or touch rugby being played by youths attempting to emulating their heroes.
Regardless of whether players make the top grade or not, sevens remains a vital element of Fijian life, particularly in village communities; the daily, ragtag games - the majority of which are played barefoot and with plastic bottles or coconuts as a ball - extend for hours, after sunset.
Ryan, who took a punt on Fiji three years ago after his record-breaking tenure as England coach ended acrimoniously, reveals that he would often catch his players flinging the ball about in village matches when they were supposed to be resting after a tournament.
"You can only admire that pure love of the game," he says. "They can't stop playing; they love it and it is a central part of culture in the villages. You'll see sevens everywhere, most of the time being played on uneven surfaces, and very rarely with an actual rugby ball.
"It's unstructured structured, so a player's overall game awareness is of an incredibly high level. It may look like complete chaos, and that the Fiji players don't know what they are doing, but all they are thinking is how to manipulate defenders. That comes from a young age, playing for hours on end with their brothers, sisters, mates, uncles and aunties."
Despite a perennial lack of investment and organised coaching - or perhaps because of it - Fijians are blessed with the key attributes for sevens: physique; speed; and attacking abandon. Discovering the seemingly endless supply of gifted players was reason enough for Ryan to stay committed to his to his new challenge, while not being paid for the first few months, owing to Fiji Rugby Union's financial constraints. He saw an abundance of potential, but the rough diamonds he unearthed needed much polishing, at least initially.
Ryan, who stepped down after the Olympics, has been rightly lauded for maximising the team's potential, with Rio the zenith - an incredible achievement given the modest facilities and budget available. By dramatically improving the team's discipline, game knowledge, fitness and diet, the Cambridge University graduate, 45, contrived to stud a velvet glove with deadly spikes.
After the success of Rio, Ryan was accorded the Companion of the Order of Fiji - equivalent to a British knighthood - given chiefly status in Serra, his home province, and granted three acres of 'Matagali' land, which means he can never sell it. Now he is working with HSBC to promote rugby sevens, and as the new season kicks on in Dubai on Friday [DEC 3] his former side are in good shape to defend their crown.
The new man in charge, Welshman Gareth Baber, has called upon six gold-medalists in his 12-man squad for the opening round of the 10-stop series. In the afterglow of Rio, Fjii's reign of sevens dominance looks set to continue for some time yet.
- Sevens From Heaven - the story of Fiji Sevens Rugby, a film created by HSBC, will be released on November 30