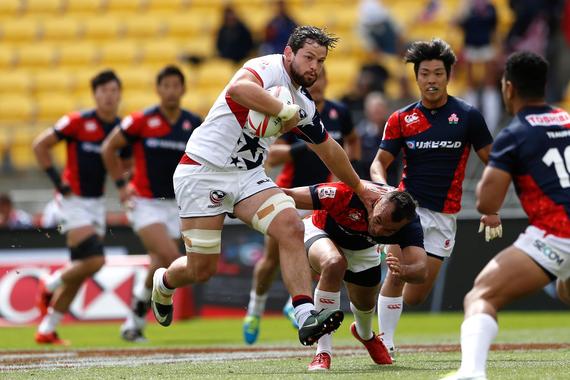 Mike Friday, the head coach of the USA men's rugby sevens team, joked on the eve of last summer's Olympics that if his team managed to achieve a dream podium finish he would anoint fellow Englishman Tom Hardy as the actor he would most like to portray him in the inevitable Hollywood movie depicting the against-the-odds triumph.
Alas, The Eagles failed to hit the heights when sevens made its explosive Games debut in Rio de Janeiro in August. They ended a nightmare campaign in ninth place and any prospective plans for the silver screen treatment were unceremoniously binned.
Friday and his players could only enviously look on, wondering what might have been, as Fiji dominated Team GB 43-7 in the final at Deodoro Stadium to win gold in the inaugural edition. The stylish success of the impoverished Pacific Islands nation provided one of the most absorbing sporting narratives of 2016 and helped generate almost 17 million new sevens fans, according to post-Games figures published by World Rugby.
In truth, gaining a medal was a huge ask for USA Rugby. Indeed, when Friday was appointed in 2014 his priority was simply to qualify for the Olympics, with local rivals Canada ranked above America and in pole position for a berth. However, when The Eagles swooped to a maiden HSBC World Rugby Sevens Series title in London, in the final round of the 2014-15 season, and shortly afterwards bettered the Canadians to confirm their place in Rio, expectations were raised back home, naturally.
And, while the black-and-white results from Brazil show that Friday's boys registered a solitary win - against the hosts, the lowest-ranked team by far - under closer inspection things could, and perhaps should, have easily been more colourful. The Americans were unfortunate to miss out on a quarter-final spot: they lost 17-14 to Argentina in their opening clash in a tough group, after conceding a last-gasp try; and against future champions Fiji they lost 24-19.
Frustratingly for Friday, that USA's Olympic adventure never took flight has dented confidence, understandably, and contributed to a sluggish start to the 2016-17 Sevens Series. Currently, after four rounds, Friday's team is perched eighth in the table; and before the last leg, in Sydney, it was 11th, following three disappointing outings. Having registered a pair of sixth-place finishes overall in the previous two editions, there is much room for improvement. Poor confidence aside, there are additional mitigating factors to consider.
The national training squad, which numbered 25 last season in the run-up to the Games, has been cut to just 14, with some players being switched to a 15s team looking to boost their chances of qualifying for the 2019 Rugby World Cup. Worse, funding for the men's seven programme has been significantly snipped in the wake of Rio.
Notwithstanding America's sub-optimal Games showing, participation figures continue to rise back home. According to the latest USA Rugby statistics, in 2016 there were 119,812 active rugby players, with 30,862 flinging oval balls around at high school, and 34,004 at college. Further, last year 1,525 new coaches were trained up.
There are other reasons to be upbeat, too. In Australia earlier in February USA topped the pool, beating Argentina and Canada, before losing to eventual victors and series pacesetters South Africa 21-10 in the quarter-final. America ended the competition in a credible sixth place. And with the Las Vegas stop coming up on March 3, plus the 2018 Rugby World Cup Sevens taking place in San Francisco next year, 44-year-old coach Friday is gambling on home-turf success and determined to kickstart the season.