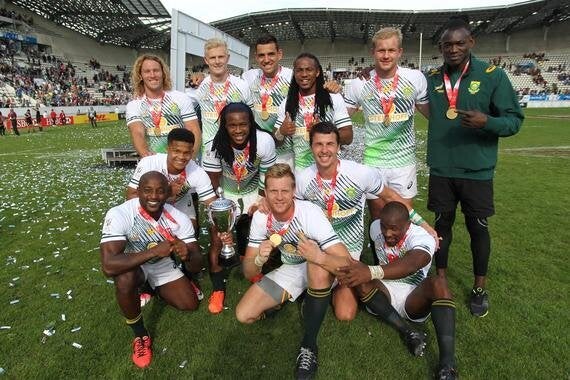 South Africa may have already won the 10-stop 2016-17 HSBC World Rugby Sevens Series, with last Sunday's Paris victory - the fifth in a remarkable season - confirming their first championship since 2009, but on the eve of the London curtain-closing tournament there is still so much to celebrate in a campaign propelled by the golden afterglow of the Olympics.
On Wednesday, before the weekend's Twickenham finale, World Rugby revealed a timely clutch of statistics which prove that sevens is in rude health; moreover, its success is breathing new life in to rugby as a whole.
Top-line findings include: rugby participation figures (for men, women, and children) are now at the unprecedented level of 8.5 million (770,000 more than 12 months ago); and the oval-ball game now has an estimated 300 million supporters across the globe - a number driven by 18.6 million fans converted in six key markets following seven's debut at the Games in Rio de Janeiro last August.
Further, the men's Sevens Series has generated a total attendance of more than 733,000 this term (with projected figures for Paris and London, that's seven per cent more than the 2015-16 season) and sell-out crowds have been achieved in Dubai, Sydney, Cape Town, Vancouver and Hong Kong. With a geographic reach that now extends to more than 200 countries and regions, sevens truly is a global phenomenon. Giles Morgan, HSBC Global Head of Sponsorship and Events, believes there is much more to come, however.
"The stats show that the game is moving in the right direction, and the appetite has grown because of the Olympics, but I think there's a long way to go," he says. "In the USA, and in the Far East, there is a lot more potential for growth. The USA can be a catalyst for growth, and I think we are going to see a seismic shift that will inspire high schools, colleges, and a great deal of new athletes, if the America team does well in one of the next two Olympics.
"Should it do that, two things will happen: you'll see big audience numbers from the general American public; and then what you'll also see in the Far East, and particularly in China, is a desire for investment in the game.
"In 20 years the game's two main powerhouses could well be China and America, and that's because of the nature of the game, the quality of the sport, and the real opportunity for Olympic success."
In April 2016, on the eve of the last Hong Hong Sevens before Rio, HSBC's Future of Rugby report made bold predictions about how Games inclusion would boost rugby in general. For instance, by 2026, it suggested, there would be 15 million rugby players in the world, and that 40 per cent of them would be female.
This week's World Rugby figures show participation is well on track; using the current rate, notwithstanding other post-Olympic spikes, in 2020 and 2024, a figure of 15.5 million should be hit. Additionally, of the 8.5 million currently playing, 30 per cent are female, encouragingly.
The millions of viewers who tuned in to watch Fiji's men and Australia's women climb to the top of the Olympic podium in Rio will tell you how breathtakingly exciting, and social-media friendly, top-level sevens is. Little wonder that China announced a $100-million investment in rugby shortly after the Brazil tournament, and other nations - such as England, Australia, and France - have beefed up their domestic sevens leagues to ensure players have wider pathways to reach the elite level.
Sevens' appeal is not solely about entertainment, though. Vitally, it is simple to understand, which makes it translatable in all sport-playing countries, and therefore just as likely to become a hit in Africa or Asia as it is in Austria, according to Brian O'Driscoll, the most-capped Irish Test player in history.
"The Olympics has done wonders for sevens," the HSBC ambassador says. "It caught the imagination of people that perhaps weren't hardcore rugby fans. There are far fewer intricacies compared to the XVs game, which makes sevens pretty easy to pick up, and brilliantly accessible."
Jason Robinson, another legend of the 15-a-side code, believes that with sevens growing in stature, youngsters starting their careers face a "real dilemma" about which strand of rugby union to commit to. "Having the opportunity to go to Vancouver, Las Vegas, Hong Kong, Singapore, and so on, is incredible; and certainly more appealing than going to Worcester or Bristol on a Friday night, playing in the rain," says the 42-year-old 2003 Rugby World Cup winner now working with HSBC to spread sevens globally.
"Sevens is all about finding space and getting around opponents, with fewer people on the pitch. In 15s, especially in the winter months, you have to run through players, and that's where you're getting a lot of impact, causing a lot of wear and tear on the body. The biggest draw for sevens, though, is the prospect of playing at the Olympics. Simply put, the Olympics dwarfs the Rugby World Cup."
Entertaining, accessible, and a hit at the Olympics; sevens really does have all the requisite elements to be the perfect 21st-century sport. The record-breaking stats released this week by World Rugby are encouraging, and if - or rather when - the game takes hold in America and across Asia, and investment gushes in, sevens truly will be on another level.