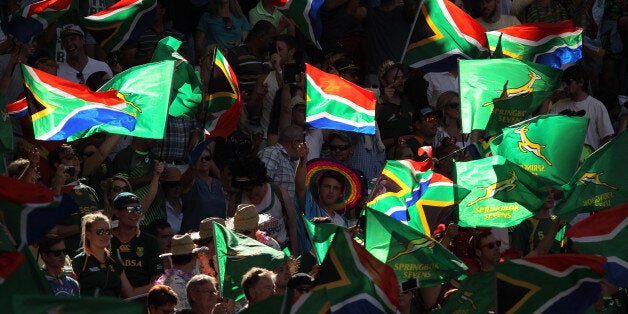 Of all the 133 years since two Scottish butchers from Melrose invented rugby sevens, and hosted a fund-raising tournament for their local club, 2016 will be vigorously ringed as the most sensational, successful, and significant in its long and - until recently - largely uneventful history.
In truth, before 2009, when the International Olympic Committee announced that sevens would feature for the first time at this summer's Rio de Janeiro Games, the game had not been nurtured as lovingly as it deserved. However, seven years on from the IOC's proclamation in Copenhagen, the sport conceived by Ned Haig and David Sanderson in a tiny Scottish Borders town is now fully developed, and a global phenomenon.
During the countdown to the Olympics interest in and exposure of sevens, for so long shunned in the shadow of the elder 15-a-side version, had been growing at a healthy rate - undoubtedly boosted by the considerable investment of multinational banking giants HSBC, who became Sevens Series title sponsors in 2009. And when presented with the gilt-edged opportunity to star on the biggest stage of all in Rio, under the gaze of billions of viewers, it didn't disappoint.
For countless impartial observers sevens was the standout event at the 2016 Olympics. It captured the imaginations of numerous newcomers to rugby, and converted just shy of 17 million fans, according to a World Rugby-commissioned report, published in November, which analysed the impact of the Games. "The Olympics couldn't have gone any better for sevens," suggests Team GB captain and silver medalist Tom Mitchell, whose side were consummately defeated 43-7 by Fiji in the men's final.
Fiji's staggeringly talented yet underpaid players earned their impoverished Pacific Island nation a maiden podium finish, and in doing so provided a fairytale ending to an already compelling narrative. The manner in which they outscored Team GB seven tries to one in their 20-minute finale at Deodoro Stadium in August was breathtakingly brilliant, and a perfect demonstration of how awesome and entertaining top-level sevens can be.
Mitchell calls it "the best performance I've ever seen on a sevens field, from any team", and it certainly inspired a legion of neutral onlookers. Encouragingly, Ben Ryan, the English coach who steered the side on their golden journey and is now working with HSBC to spread sevens globally, says he was informed that 'Fiji' was the top-ranked search term on Google for a whole hour after the final, which he posits was the most-watched in rugby history.
In the women's inaugural competition, the Australian team were just as dominant as Fiji's men, and boasted an equally absorbing tale of triumph, overcoming Trans-Tasman rivals New Zealand - winners of the first three editions of the HSBC Women's World Rugby Sevens Series, founded in 2012 - 24-17 in the final.
While there is no question that interest in rugby sevens has skyrocketed since Rio - and quicker than The Future of Rugby: An HSBC Report, published in April, predicted - newcomers should be encouraged to look back at the whole of 2016, as it's been an epic 12 months with the sport constantly breaking new ground.
In the 10-stop 2015-16 HSBC World Rugby Sevens Series, for instance, five new host cities were included (Cape Town, Sydney, Vancouver, Singapore and Paris). Similarly, the women's competition was expanded to include five rounds, with the additional Clermont-Ferrand closing the campaign in late May. Canada won that leg, while Australia claimed their first overall title, giving them the momentum ahead of the Olympics.
Amazingly, since the Vancouver tournament in March - the sixth stop last term - to Cape Town, the second round of the new men's Sevens Series in mid December, there have been seven separate victors. That statistic is even more impressive when one considers that before 2015 New Zealand had won 12 out of 15 editions of the World Series, which began in 1999. Now every team is willing to give it a good go, and that produces fantastic entertainment, and history-making moments.
In Singapore Kenya's side won their first Sevens Series tournament after 140 attempts. And a month later, at the bookending London tournament, their star player Collins Injera became the all-time leading scorer in rugby sevens, surpassing Argentine great Santiago Gomez Cora's record of 230. In the English capital Scotland, ranked 11th on the eve of the competition, scored their maiden trophy, managing an incredible 27-26 victory over South Africa courtesy of a brace of last-minute tries - one after the final hooter - by Dougie Fife.
When England triumphed in Cape Town in December, a week on from South Africa's glory in the Dubai season-opener, it rounded off 2016 in suitable style.
From the first month to the last whistle, it's been a year in which rugby sevens has provided edge-of-the-seat entertainment, with unpredictable twists and turns on the pitch. After its star turn at the Rio Olympics, the secret is out, and it's being taken seriously off the pitch, too. With interest in the game growing globally at an unprecedented level, sevens is no longer the neglected sibling of 15-a-side rugby, and the world of sport is all the richer because of that.