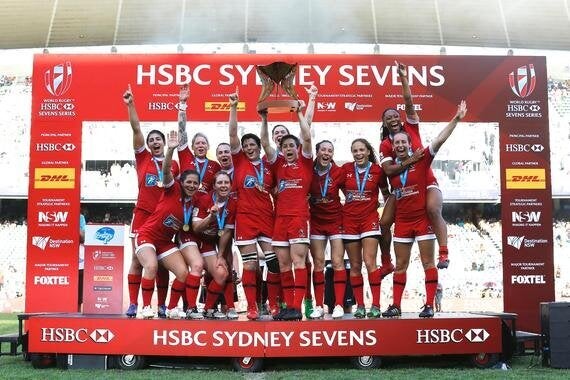 It's indisputable: 2016 was the most significant, epochal year in the long history of rugby sevens, when the awareness and popularity of the sport finally exploded on a global scale.
Admittedly, the phenomenal boom of interest was triggered by a hugely impressive debut at the Olympic Games; almost 17 million new fans were generated by the oval-ball action in Rio de Janeiro, according to World Rugby.
However, beneath the most eye-catching headlines of last year - namely the men of Fiji winning their impoverished Pacific Island nation its first Olympic medal (gold) following a consecutive HSBC World Rugby Sevens Series title, and Australia's women triumphing at the Games after a maiden HSBC Women's Sevens World Series title - there were other key, but less-heralded crowning achievements that fuelled the inexorable growth of sevens on a more localised level.
Canada is a prime example of how the simplicity and excitement of sevens is attracting legions of supporters previously turned off by the numerous rules and nuances of rugby union. (Consider that when the men's 15-a-side team won its 100th test, against Chile, on a Saturday in February, there was a crowd of just 1,509 at Langford, British Columbia - the same city that hosts the HSBC Women's Sevens World Series tournament which pulled in a crowd of more than 6,500 for the two-day event last April.) Although, in such a vast country, where ice hockey and lacrosse are the official winter and summer sports respectively, first capturing and then sustaining the attention of potential fans and new players has often felt like a tortuous struggle.
The wheels of Canada's rugby revolution are gathering pace, though, having been greased by two magical highlights in the 2016 sevens calendar. Firstly, 12 months ago, the inaugural Vancouver stop in the Sevens Series - one of five new venues introduced for the men's 2015-16 season - proved to be a somewhat startling stellar hit. That came before the women's sevens team sensationally earned Olympic bronze in August, inspiring untold youngsters back home.
It's no coincidence that rugby union participation figures in Canada are now at an unprecedented level, and rising. The latest statistics from Rugby Canada show there was a 3.6 per cent year-on-year boost in rugby club memberships in 2016, with 28,966 registered players (including 4,714 minors and 7,390 juniors). That represents a staggering 41 per cent increase on the 2009 mark (20,477), when tracking began.
Sevens has been central to that surge, as evidenced by the men's first-ever Canada Sevens in Vancouver last March when 60,400 spectators (a national rugby record) flocked to BC Place for the two-day tournament. And it was the passionate home support on display throughout which caught everyone off guard, even the organisers. Packing the stadium from the opening whistle until the last, Canadians in their thousands made themselves seen and certainly heard.
Bill Cooper, CEO of Canada Sevens, admits that even he was astonished by a number of ever-present spectators, and expects the second edition of the Vancouver tournament - the sixth round of the 2016-17 Sevens Series which begins this Saturday, March 11 - to attract 75,000 ticket sales.
"Canada is a popular member of the international rugby community, and Vancouver is a very attractive destination for a Sevens Series stop, so we were confident that last year's competition would be well received," he says. "But what really blew people away was just how receptive and enthusiastic the fans were. On the Saturday we had 12,000 fans in their seats within the first hour, which was a big shock; we will make sure we have more staff as well as breakfast options to cater for that demand this time around, for sure.
"Encouragingly, for this year's tournament, we have drawn rugby fans from right across Canada, and some of the most remote corners, including the North West Territories, Nunavut, Newfoundland, and Prince Edward Island. Around 3,000 tickets have been bought by Alberta residents, who I expect will be flying in rather than hitting the road for 10 hours and more; that's incredible dedication."
On the Wednesday before the Vancouver tournament, there was yet more cause for optimism when HSBC and Rugby Canada announced a timely partnership and a three-year commitment to nurturing the game, from the grassroots all the way up to high-performance squads.
Allen Vansen, Rugby Canada's CEO, praised HSBC's "multi-year investment" and added: "[It] sends a powerful message to all of the players in our system, and to those who are considering trying the sport for the first time, that rugby is on the rise, and that we are committed to its growth at all levels."
Additionally, HSBC will sponsor Rugby Canada's Rookie Rugby Program, played in schools, parks, recreation leagues, and community organisations, and has already reached over 85,000 participants across the country. With the multinational bank's support that number is expected to swell to 375,000 by 2020.
More immediately Damian McGrath's men sit 12th in the Sevens Series rankings ahead of their home tournament and will be hoping the BC Place crowd can lift their performance. By comparison, their female colleagues are flying, and it is the Olympic medallists who have arguably done more to raise awareness. In fact, the women have a fair chance of clinching their first Sevens Series title; at the halfway point of this six-round campaign they are third, only 10 points behind leaders New Zealand (with 20 points handed to tournament winners).
The momentum produced by Canada's landmark sevens successes in 2016 is building. This weekend's Vancouver jamboree is predicted to set a new attendance record, and with the women's Langford round to look forward to in May, as well as Rugby Canada and HSBC's newly confirmed long-term commitment to nurturing rugby, there is every possibility that even last year's crowning accomplishments will be eclipsed - and sooner rather than later.