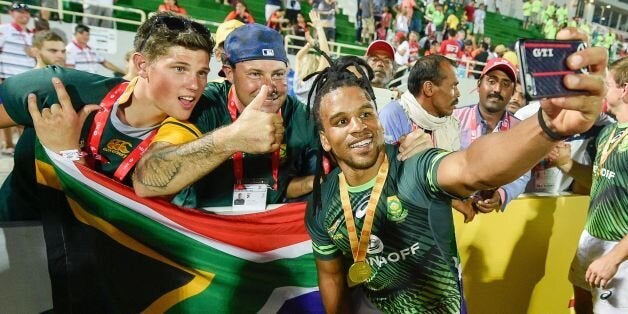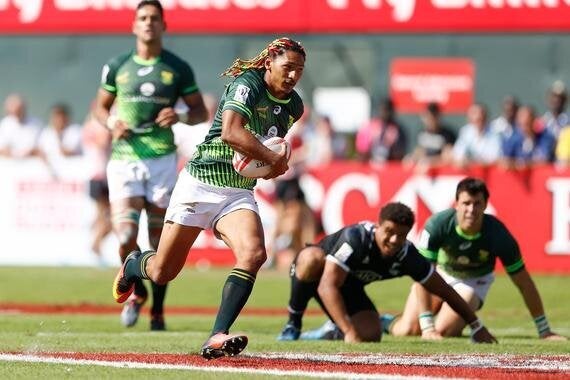 When it comes to rugby sevens, Ben Ryan is worth listening to, as was proven last week in Dubai, the venue for the opening round of the 2016-17 HSBC World Rugby Sevens Series.
On the eve of the Middle East tournament, the English coach, who masterminded Fiji men's golden Olympic triumph in the summer - achieving a maiden podium finish at a Games for the tiny Pacific Island nation - predicted that South Africa would be the country to beat in this campaign.
The 45-year-old, now focused on spreading sevens to a wider audience with HSBC after stepping down following ultimate victory in Rio de Janeiro, reasoned that the Blitzboks would be fuelled by disappointment in Brazil (they won the bronze medal) and finishing the last four editions of the Sevens Series in second place.
Sure enough, in Dubai Neil Powell's troops dominated, bettering Ryan's former team Fiji 26-14 in the final. And now the Englishman's reasoning is worth another look as we jump to the next stop of the 10-round series: Cape Town.
South Africa have won the last four tournaments on home soil, and in the capital - the host city for only the second time - they will be difficult to halt, especially with confidence as high as the Burj Khalifa. Succeed, and they will be one step closer to adding to their solitary Sevens Series title, won in 2009. And one significant factor this weekend will be the home support: the 55 000-capacity Cape Town Stadium is sold out on both Saturday and Sunday, highlight the popularity of rugby sevens in South Africa.
"In the past few seasons the Blitzboks have always been the bridesmaids but never the brides," Ryan said. "They were runners up in last four Sevens Series, and lost by a single conversion to Team GB in the Olympic semi-final - that gives them plenty of motivation and determination to succeed.
"On top of that they now have a settled, established squad, and the best off-field set up and programme of all Sevens Series teams. Finally, they have an outstanding young coach in Neil Powell. For me, all those factors make them heavy favourites to win the series."
The South Africans also have Seabelo Senatla, the reigning World Rugby Men's Sevens Player of the Year, in their ranks. The accolade was just reward for his 66 Sevens Series tries last term (18 more than the next best, America's Perry Baker). The 23-year-old flyer will feature in only four tournaments this time around, barring injury, as he is joining Cape Town XV's club The Stormers in the New Year. But after dotting down an astonishing 11 times in Dubai it's fair to say Senatla is in pretty good form.
Senatla, who managed a brace in the inaugural Cape Town Sevens final, 12 months ago, when the Blitzboks bettered Argentina 29-14, told Huffington Post: "It's been an incredible year for me. After top scoring [with 47 tries] in the 2014-15 Sevens Series, my goal was to reach a half century. To score 66 was incredible, but about four-fifths of those tries were actually created by my teammates, before I got the ball."
And given that, according to World Rugby, over 16 million people have started following rugby sevens as a result of Olympic inclusion, the prospect of South Africa leading the charge in this pivotal season augurs well for the Blitzboks. The likes of Senatla can inspire youngsters and further grow the game, in South Africa and across the world - and series title sponsors HSBC are committed to just that, building the game from grassroots level globally.
When asked what pearls of wisdom he would provide to youngsters looking to play sevens, Senatla continued: "My advice would be to play Tag Rugby; it teaches you the basics and fundamentals of the game. It's a wonderful initiative and because it's touch based, you don't have any tackling or serious contact. In defence you have to be organised, too, and that discipline helps you a lot in your rugby career.
"You learn about running and passing, and it teaches you to run into space, and not at bodies, which is the greatest skill a rugby player can have. It helps your vision, because you have to create something out of nothing."
This weekend South Africans in Cape Town will be willing Senalta to continue creating something out of nothing, and that the Blitzboks march one step closer to realising Ben Ryan's overall prediction by winning in Cape Town. And, with their record at home and buoyed by their Dubai success, who would bet against them?
Popular in the Community