Having been vilified by many Spurs fans in recent day for throwing my weight behind the appointment of Tim Sherwood, I deemed it necessary to write a few words explaining the rationale behind my support. Hopefully those fans who consider him to be too inexperienced, not a big enough name and criticise Daniel Levy's supposedly 'nonsensical' move, will be persuaded to look at the bigger picture after reading this. There are a number of issues to address and I will attempt to lay these out in a logical order.
The first issue to overcome is those within the game who question whether it made sense to sack AVB, simply to install Sherwood. For an outsider, looking in at the Spurs situation objectively, they may have pointed to the fact our league position and points tally was hardly a crisis at this stage. Rest assured, the decision to relieve the Portuguese of his duties was the right one. He is an incredibly intelligent man, perhaps too intelligent for his own good. His brain is full of statistics, analytical data, complex diagrams and tactical theory. Under Jose Mourinho, he was in charge of compiling reports on the upcoming opposition, something he took on with an incredible amount of detail.
However, this does not make him a good manager. I believe in the Premier League, a league full of unpredictability, fast flowing football and at times lacking in tactical acumen, there needs to flexibility in tactics and systems. AVB, as we know, was not flexible, as a character or a tactician. This was particularly evident in the ultimately damaging home loss to Liverpool. He would make mistakes, week in and week out, in both strategy and personnel that beggared belief. His man management of players like Erik Lamela also left a lot to be desired. I appreciate that with a squad of new players, time and patience were needed. However, this was not a man who appeared capable of getting the most out of his players. The problems date back all the way to the last campaign, many of which were masked by Gareth Bale. It is possible, in a more continental league, where the style of football is less gung-ho, AVB could yet find success. He had to go, and if that meant replacing him with Sherwood, so be it.
Now comes the issue of stability. If there is one thing Spurs have not had since I have been a supporter, it is a sense of stability and continuity. Everyone is aware how important this is in the modern game, and how difficult it can be achieve given the demands for instant success and improvement. With heavy investment, owners such as Joe Lewis may not have the patience required. It is an unfortunate by-product of the development of the business side of the game. Tim Sherwood, having been with the club for ten of the past fifteen years, including the past five as a key member of the coaching staff, represents that final thread of stability within the club. As Levy attested to, he understands the values and traditions of the club, has a relationship with the first team players and perhaps most importantly, the youth team players too. There is no doubt he has been instrumental in the development of the likes of Tom Carroll, Andros Townsend and Steven Caulker coming through the system.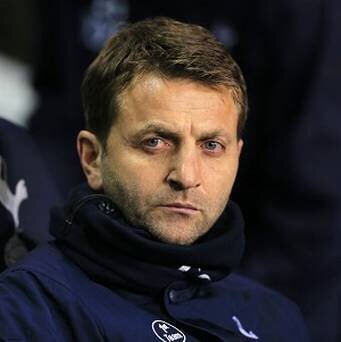 It is all well and good wanting a foreign coach who has enjoyed success on the continent but is the risk in appointing Sherwood actually that much greater than appointing someone who has no experience at all within the confines of the English game? I understand he has had no top-level managerial experience and I do appreciate the risk involved. In fact, he is so highly regarded in the set up at Spurs that the club has denied him that opportunity of top-level experience having rejected the advances of Blackburn and Swansea in recent months. However, he has been involved in the coaching set up for the past five years and been involved with the first team squad on numerous occasions. AVB was a glorified scout prior to entering management. Sherwood knows what it takes at this level, having lifted the Premier League title as a player and understands the rigours of the English game better than most.
It is also worth looking into the character of the man. Lifting the Premier League title as captain is not something to be scoffed at, particularly as Sherwood captained a team comprising the likes of Colin Hendry and Alan Shearer, two leaders in their own right. The role of a manager is more than tactics and statistics. It is also having the ability to manage men and Sherwood has a history of doing so. He speaks with passion, ambition and believes in his own ability, with this level of confidence already appearing to transfer to some of the players. Those within the club talk of a highly opinionated man, with a bright football mind and innate leadership skills.
Many fans are wondering why Levy didn't just hand him the reigns until the end of the season. Had he done so, I believe this would have perfectly captured the essence of what has been a short-term strategy in recent years. Give the manager five months, put him under increased pressure to deliver, then we'll see and if not, we will change again. With the security of an eighteen-month contract, whilst not of great length, it is enough time for Sherwood to put his stamp on a club currently lacking identity.
There is no point making comparisons with the likes of Pep Guardiola and Frank de Boer, two coaches who came through the system at their respective clubs to take control. They are two success stories when plenty of others have failed. Yet in the Premier League, the likes of Sherwood are a rare occurrence and ought to be considered a refreshing change. In terms of the managerial stereotypes, Levy has tried almost all and none have managed sustainable success. This may well be Levy's final throw of the dice and will likely be the appointment for which he will be ultimately judged in years to come.
There is no question this is a risk, though in my opinion, a calculated one. Success is obviously no guarantee and perhaps in months to come I will look like a fool in blind faith. However, all I ask is that those questioning the appointment take a step back and consider the wider context. For now, embrace it, believe in it. After all, it's Tim's time.
Popular in the Community