When Andrew Strauss leads his England team onto the field at Lords on Thursday morning, it should inform the British public that summer has arrived. Even if the weather suggests otherwise. Alongside Wimbledon, Test cricket in the summer is one of our national sporting treasures. There are few more romantic or traditional sights in sport than two batsman and eleven fielders dressed in all white competing on the lush green outfield at the home of cricket.
England will begin the summer as the number one Test side in the world but they are sure to be given a stern examination. First they face an up and coming West Indian side. Then they must overcome a formidable South African team where the number one ranking will be on the line. After a thoroughly insipid display in the sub continent over the winter, amassing a solitary victory over five Tests, Andy Flower's team have some important questions to answer.
The obvious spotlight is on captain Strauss who has not scored a Test hundred in his last 49 innings, spanning some eighteen months. Whilst his record as captain cannot be called into question, his form with the bat certainly can. The Middlesex man will be well aware of his personal shortcomings and although there are no indications from anyone at the ECB that they are looking to replace him in the side, a poor summer could force their hand. He was asked to play some extra games for his county in the Championship and worryingly, struggled to get amongst the runs.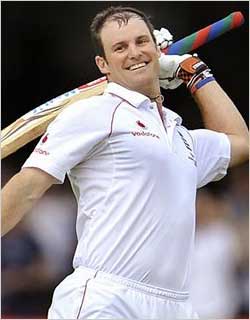 As captain at the top of the batting order, the onus falls on Strauss to lead from the front, something that he has performed with distinction for the majority of his career. At 35, the South African born opener does not have long left to prove that he deserves a place in the team on merit, before the selectors begin to look elsewhere.
Next comes the long-standing issue of our number six batsman, an uncertainty that young Yorkshireman Jonathon Bairstow has the opportunity to answer. The selectors chose Bairstow ahead of another precocious talent in James Taylor to replace the injured Ravi Bopara. Bopara seems destined to never fulfil his undoubted quality and potential at international Test level. Eoin Morgan was dropped after a dreadful run of form that gave the Essex batsman another chance to cement his place in the side. However, injuries have proven to be a major obstacle, unable to play a meaningful part in the series in Pakistan and Sri Lanka and once again absent for at least the first two tests against the West Indies. Bairstow has already taken to international cricket at one-day level like a duck to water. His temperament and talent make for an exciting combination. If he adapts to Test cricket, England could finally be set at the number six spot.
The final question is actually a rather pleasant problem to have, if you are Andy Flower. Which seamer will be selected alongside James Anderson and Stuart Broad to complete the bowling attack? One which is currently considered the best in the world. Flower and Strauss must choose between Steve Finn, Tim Bresnan and Graham Onions.
All three make a compelling case for a place in the side. Finn is the youngest of the three with arguably the most upside and all the raw tools to make a great fast bowler but has struggled for consistency. Bresnan has been labelled by some as the team's lucky mascot, with England victorious in every one of his ten tests. However this is a tag that does not do the burly Yorkshire all-rounder justice. Quick, accurate and powerful with the ball in his hand, he has also worked hard on his batting to become a genuine all rounder. Onions began his Test career in fine fashion but a serious knee injury stopped him in his tracks. Having worked hard on his rehabilitation combined with a very strong start to the domestic season with Durham, he is deservedly in the frame once again. There is a high probability that England will go with Finn although personally I would select Bresnan due to all he offers and the fact he is a more polished cricketer. Either way, the selection dilemma emphasises the strength in depth in the bowling department.
If everything comes together, England ought to have a successful summer and continue to dominate the sport, at least on home soil. Graeme Smith will bring a strong group of South Africans and that will be the defining test. It could well be Andrew Strauss' final Test series, while we could see the emergence of an exciting young player in Bairstow. If they achieve consecutive series victories and continue their unbeaten run at home since 2008, this England team could start to be spoken about in the same breath as that great Australian side of the 90s and early Millennium. At the very least, Test cricket is here. Summer is here too. Just don't look up at the skies for proof.