I'm writing this on the way back from Bali. Back! Boo hoo. Worth noting, however, that I am on a totally connected flight. So technically I could actually upload this post from the air. Which would be very cool. But unlikely - I have around three movies on my watch-list before we land. Priorities... (sidebar - I obviously did not post this from the air. I posted it about three weeks after I got home. Just long enough to forget most of the important details...)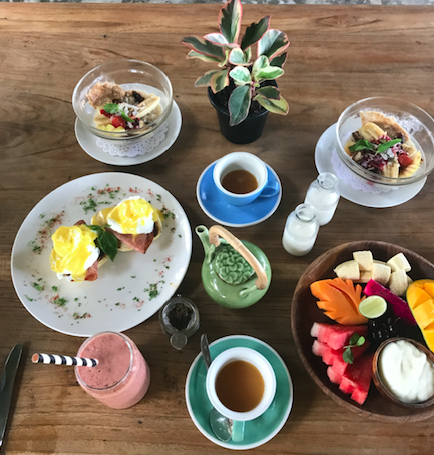 Shelter Cafe (Photo: Blogger's Own)
By the time I left Bali I loved it. But I'll be honest - I really didn't get it at first. The beaches felt grubby (volcanic sand), the roads are more hectic than London, and sanitation isn't really a big thing, which means that swimming riddled with debris dodging. I was hassled by literally every shop / stall / space owner, and by day two had spent my 2million IDR already, thanks largely to some very conniving taksi (that's how they spell it) drivers. The other problem was Bali is simply far, far bigger than I had anticipated. It wasn't until I properly investigated the situation and figured out where to go that I really got it. So here's my Bali Bucket List for anyone in a similar position.
Shelter Cafe - I stumbled upon the Shelter Cafe on my way to a beach club, and ended up staying all afternoon. It's basically healthy, fresh, organic food in a super chill setting. Lots of gluten free and vegan options, and genuinely the best smoothies ever. Highlights: the quinoa porridge is amazing, did I mention gluten-free cookies? I mean!!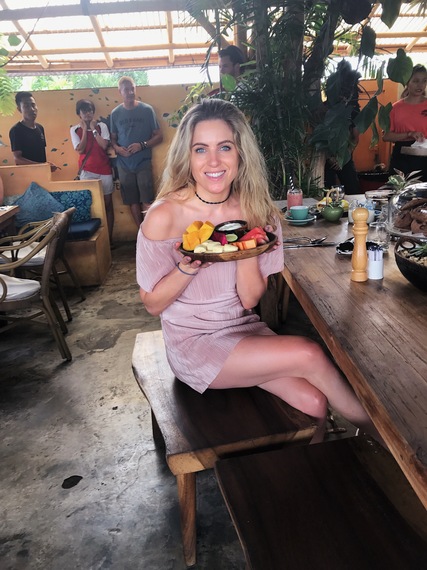 Shelter Cafe (Photo: Blogger's Own)
Sea Circus - Kitsch and fun. You HAVE to go, if only to check out the major mirror in the bathroom and Aesop products (feels like Soho). The standard price for a cocktail in Bali seems to be around 100,000 IDR, which is about £5. This is the case across the board, at the super fancy chains, and more chill places like Sea Circus. The food is very reasonable though - we had a load of little plates, like vegetable rolls and calamari (each around 70,000IDR). Note: it's by the road so good for pre or post-sundowners.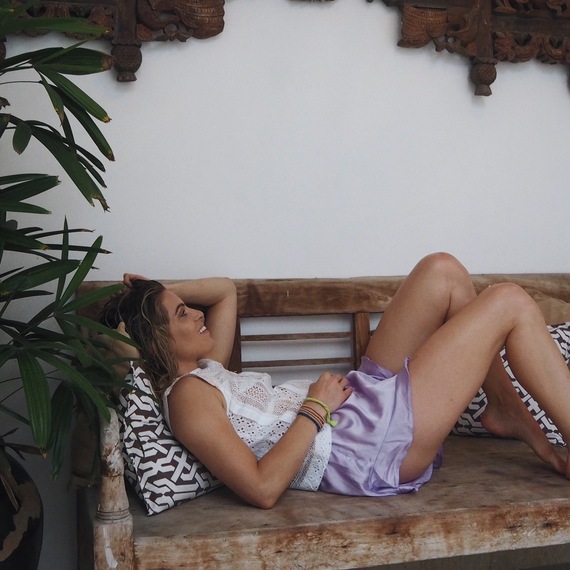 Chilling at Sea Circus (Photo: Blogger's Own)
Motel Mexicola - Probably the best casual dinner I've ever had, in or out of Bali. MM turns into a party as the sun goes down - which is definitely the best time to go as there's no air con. The place literally sprawls, contrasting chill sofas with vibey tables. We started on the margaritas and probably vastly outstayed our welcome. If I could import their dips and chips, I would. They're that good.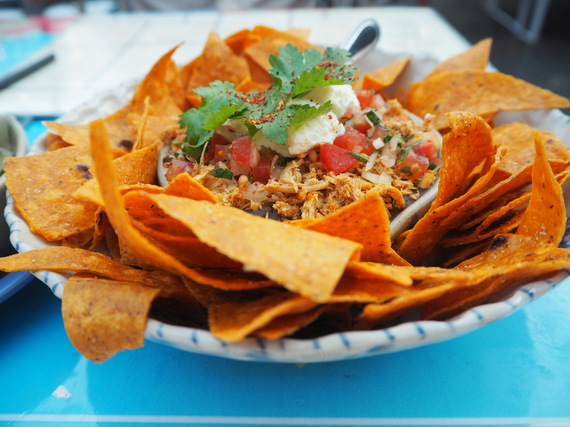 Motel Mexicola's Chips (Photo: Blogger's Own)
Club Med - Paradise. I was a little dubious about spending three nights at an all-inclusive (cabin fever?) but there's literally so much to do. I went sea kayaking, parasailing, snorkelling, and played water polo. I think you can scuba dive too but I forgot to take my PADI so sulked and didn't check... oh, and there's a high wire trapeze thing. Obv. The biggest surprise was the daily-changing menu at the two restaurants. I'll tell you more about Club Med in a separate post because that's where I spent the majority of my time.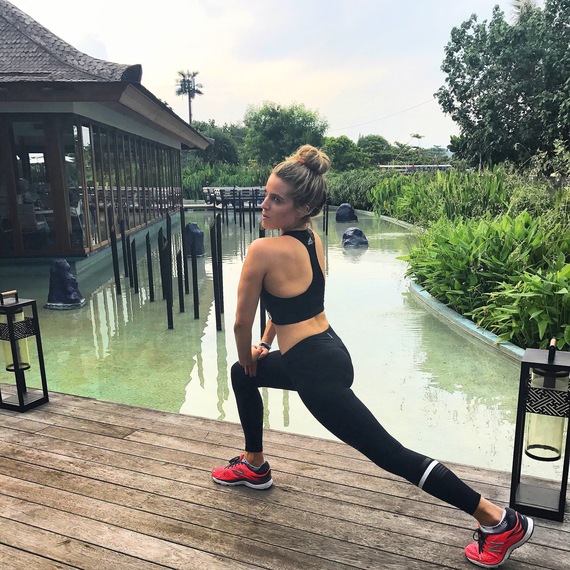 Fitness At Club Med (Photo: Blogger's Own)
The Colony - This is a find I'm really proud of. It's a luxury boutique hotel in Seminyak, and has just the right combination of intimacy and grandeour. As the name might suggest, all the fittings and decor are colonial style, and are arranged like a sprawling white villa, around a rectangular pool. I only spent one night here, and the decision between lounging on the insanely comfy pool loungers and chilling in my kingly bed was a toughie. I'd also like to point out that my walk-in shower was bigger than my bedroom at home. Just saying.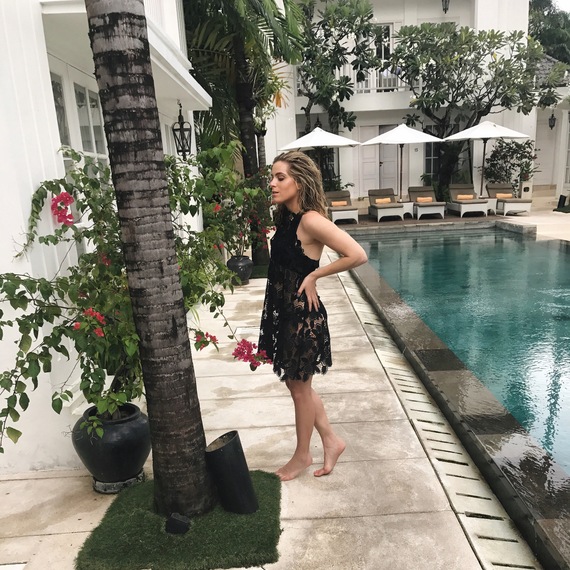 The Colony Hotel (Photo: Blogger's Own)
Azul - The first beach club I visited was sort of like an adult treehouse. We had our own little cabana with direct pool access and constant waiter attention. The infinity pool is the perfect temperature to soak in, and there's a little jacuzzi in the middle. I was fascinated by the little water pools that were landscaped into the gardens below a small waterfall, but I doubt my description is doing it justice. Once the sun went down we migrated forward to a see view table for dinner. And champagne. Don't ask how we made it home.
Azul (Photo: Blogger's Own)
Ku De Ta - So many dining / drinking options makes Ku De Ta hard to classify. On my first visit I had the most mega (gluten-free) corn fritters for breakfast; the next time was cocktails by the pool. I went back (notably the only place on the island I visited this many times) on my final night for sundowners and the chef's tasting menu (all kinds of good) upstairs at their fine dining restaurant, Mejekawi. You go for the food and stay for the drinks. And the espresso martinis are well worth staying up for.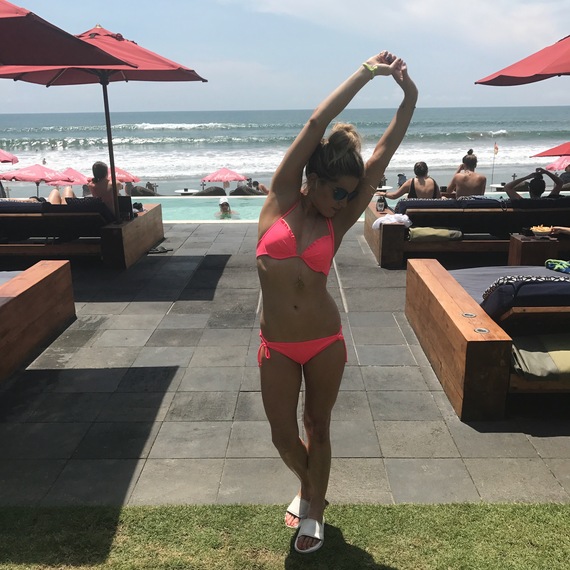 Ku De Ta (Photo: Blogger's Own)
Potato Head - So. much. fun. There's seating areas for lunch and drinks, or you can hire a day bed (11am or 5pm are the two time slots). Around the pool has a party vibe, and you're allowed to take drinks into the pool. For the more calm-inclined, there's a strip just beyond looking over the sea that's reserved for VIPs. The swim-up bar is crazy fun and probably gets quite debauched. And each drink is served in something special - my margarita came in a shell, and the zombie to my left was served in a bamboo tumbler. As you do.
Potato Head Beach Club (Photo: Blogger's Own)
W Hotel - The tree-lined path leading to the W Hotel's entrance has to be one of the most snapchatted routes in Bali. We had a snug in the bar for cocktails and pizza - it was sort of like a very extravagant sleepover.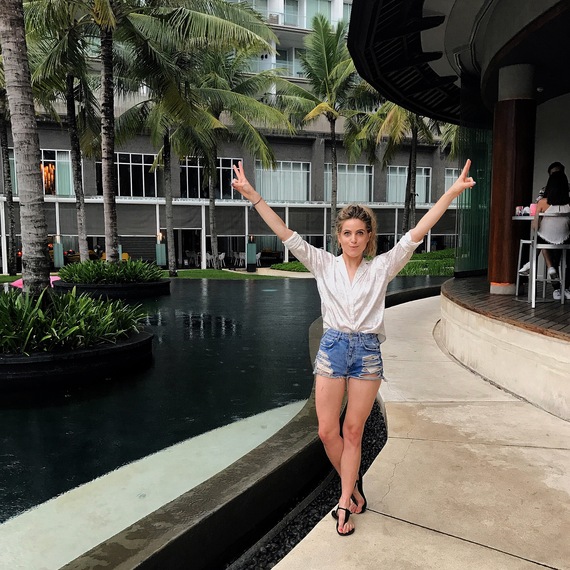 W Hotel (Photo: Blogger's Own)
I realise I haven't really touched upon the fitness side of my trip. I'll fill you in next week - stay tuned!
Olivia x