I recently returned from a trip to Canada. I'd been planning it a while - when your friend decides to relocate to the other side of the Atlantic, booking a flight immediately is essential. As is - for me, at least - completely falling in love with the place, and threatening on a weekly basis to follow her on a more permanent basis. I may have alluded to my slightly addictive personality before... So I landed in Montreal about a month ago and went, "omg this is the best place I've ever been, I want to live here". Then we Air Transat-ed to Toronto (internal flights are kind of a big thing in Canada and the US) and I went, "omg this is the best place I've ever been, I want to live here". You get the gist. Montreal was great (very French), but I absolutely adored Toronto. The best way I can describe the city is sort of like NYC but with less of the hustle. The city is on Lake Ontario, which is huge and beautiful, and really not at all like the sorts of lakes we get here. You can't actually see from one side to the other, so there is literally just miles of nature on the horizon.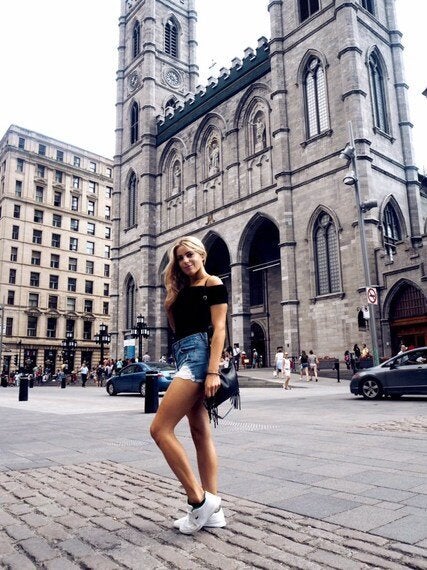 Now. Toronto isn't really somewhere that I've ever really thought of as a holiday destination. I flew to Canada with the Army once to train at BATUS and ride horses in the Rockies. And I figured my 2-night dalliance with Calgary (our RAF flight home was delayed. I'd say typical, but some of you might take offence) had allowed me to see quite enough of the country. Then I got addicted to that Netflix show Fargo and figured I needed to go back.
Getting started: You must now have an eTA to visit Canada. eTA is a new entry requirement for visa-exempt foreign nationals travelling to Canada by air. It will allow Canada to screen travellers before they arrive. The authorization is electronically linked to your passport and is valid for five years or until your passport expires, whichever comes first. It costs $7 and application usually approved within minutes. I applied for mine about a week before I flew, so it's nothing to stress about.
How to get there: Flight time to Toronto direct from London Gatwick is 6.5 hours. Funnily enough, between the four Londoners flying out for the wedding, we managed to fly with three different airlines. Obviously, I think my choice was best - Air Transat have a thing called Option Plus which is like a pimped-up economy. Blankets, drinks, food. From the airport, it is roughly a 30 minute drive into the city, or you can jump on UP train (so-called because it runs between Union Station in downtown Toronto and Toronto Pearson airport) for 20 minutes.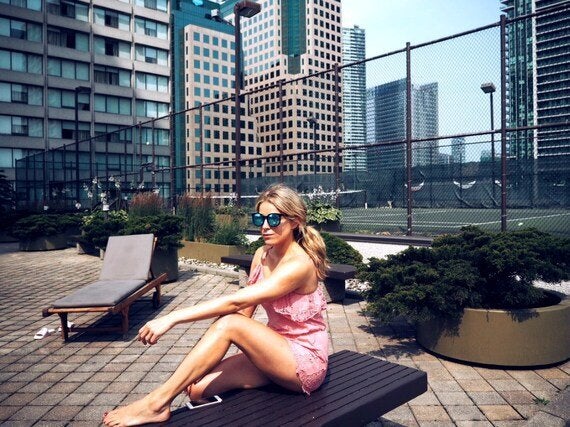 Local transport: Like NYC, Toronto is split into a grid system, which makes navigation pretty simple. Bay street runs from the water-front up through downtown to midtown. And Front Street runs perpendicular, just up from the water.
In the interests of research, I tried out both a street car and a bus, and both were super efficient. The newer street cars have ticket machines on-board, but the easiest thing is to buy a bunch of travel tokens from a subway (underground) station. One token is roughly $4, or you can get three for $10. There's also a Pronto card, which I'm told works similar to the London Oyster Card.
Taxis - Taxis are pretty abundant in Toronto - you can flag a local cab (these are easily spotted by their orange and green bodywork), or Uber operates in the city. According to locals, the latter is the better option.
Where to eat: Ok, so bear in mind that Canadian portions seem to mirror the sorts you find in the States. ie - they're absolutely huge!!
The Distillery is a pedestrianised area near the harbour within original distillery buildings. Cluny is a French restaurant known for its Oysters, and El Catrin does maybe the best margaritas I've ever tried.
Along the waterfront is slightly more tourist-y. Amsterdam BrewHouse is famed for its patio (you may have to queue for a table), and Beaver Tails is awesome. Locals seem obsessed with chain cafe Tim Hortons, but I didn't actually try it. Apparently they are set to hit the UK soon but so far as I could tell they're just a cross between Starbucks and McDonalds.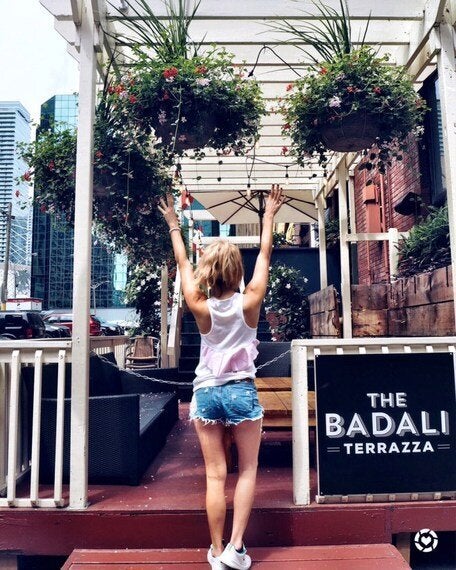 For special occasions, Canoe is probably the best restaurant in Toronto. It's on the 54th floor, so has sweeping views across the city. The bill reflects the exquisite food & service, but during the summer there is a three-course Summerlicious set menu which is a great option and more affordable.
Street food isn't quite as big as it is in NYC but it's still very much a thing in Toronto. Hot dogs and grilled corn seem to be the most popular. Outside my hotel were two competing hot dog vendors with large signs about their 'Mild Polish Sausage' and 'Spicy Italian Sausage'. Made me LOL.
For hangover brunch, Sunset Grill does an AMAZING all-day breakfast. You generally have to wait a bit for a table, but the waitlist system means you don't have to physically stand in a queue - you can tootle off for a wander and come back. If your hangover allows for that....! We also tried Taverna Mercatto, which does the most epic french toast.
Being gluten-free was absolutely not an issue in Toronto. Every restaurant I visited had gluten-free bread (the corn bread at Canoe was next level), and they were happy to tweak dishes to make them gluten-free-friendly. I didn't have quite so much luck on the dairy-free front - many restaurants don't have soy or almond milk, which surprised me. But there's a Starbucks on just about every block, so there's always an alternative!
Working out: Toronto is a pretty active city - there seemed to be a constant stream of lycra-clad runners cruising along the waterfront. At my hotel, a running group met daily at 6am, and the hotel was at has partnered offers kit hire for a daily fee. Great idea if you're travelling light (unlike me. I had two 23kg bags of luggage allowance and I made full use of it). Most hotels and apartment blocks have a gym and pool - mine also had tennis & basketball courts, a vegetable garden and two bee hives. Because why not.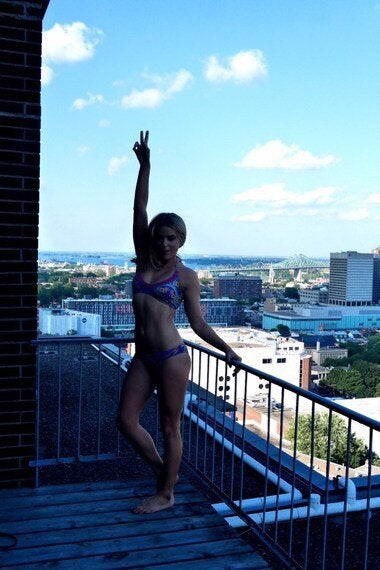 Where to stay: Like any major city, Toronto has many of the global hotel chains but also plenty of boutique ones that are a little more under the radar - sites like Canadian Affair are a good starting point for researching exactly what you want. Where I stayed was a huge site split across the north and south tower. I was on the 23rd floor (which is actually the 22nd - many buildings in Canada and the US miss out the 13th floor for superstitious reasons) with a huge lake view room with a crazily squishy bed and the most efficient air con system I've ever met. Air B'n'B is another popular choice in the city. While we were in Montreal we spent two nights this way, and in Toronto one of my friends was staying in an awesome studio (I think they called it a duplex) in downtown for around $100 per night.
Climate: Depending on the time of year, Toronto's climate can differ drastically. The summer months are warm, and the winter is freezing. Actual weather conditions seem to vary on an hourly basis - on our second day, a sudden rain storm subsided within an hour and the rest of the day was blissfully hot.
Sport: Baseball is a HUGE deal in Toronto. Their team, the Blue Jays, have a boulevard named after them. There's also a huge following for basketball and hockey (we call it ice hockey. Don't try pointing this out to a Canadian).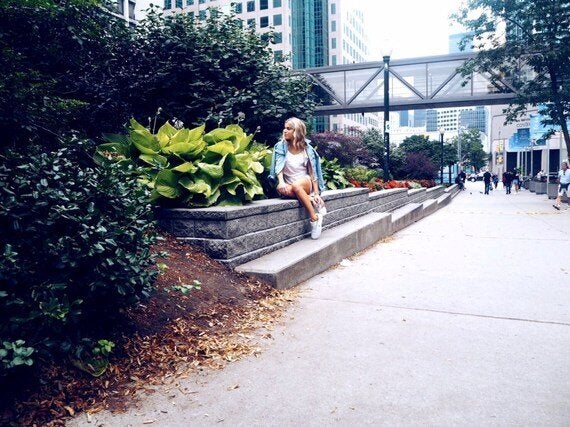 Site seeing: I didn't have time to do much sight-seeing as we were mainly focused on the wedding. Probably the most popular attraction in the area is Niagra Falls. Weirdly, the quickest way of getting to Niagra Falls isn't by rail, it's by car. During the day, regular boat trips go through the actual waterfall (hint: don't take your phone!), and at night there is a stunning light display and fireworks. In actual Toronto, the CN Tower is a cool spot.
Beaches: Lake Ontario is absolutely huge - you actually can't see the other side of it, so it feels more like the sea. There's a couple of beaches you can visit to hang-out, but not all of them have water access. Sugar Beach is the closest to where I was staying on the harbour and very beautiful but not swim-friendly. Woodbine is about an hour's ride on the street car and absolutely stunning.