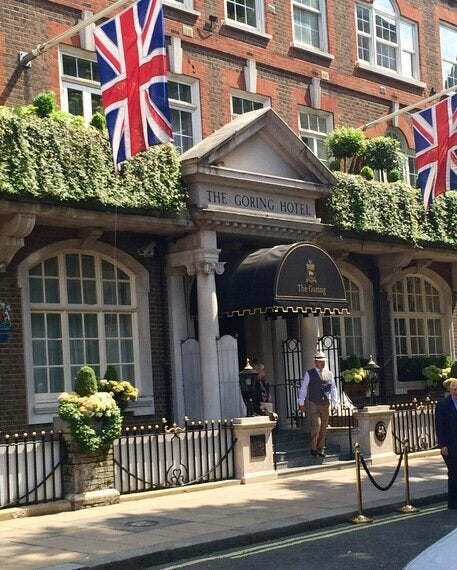 ©Olivia Greenway (The Goring)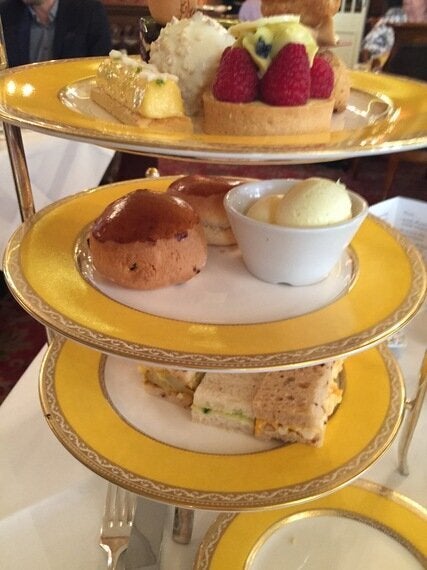 ©Olivia Greenway (The Goring)
The Goring
A favourite of the Royal Family, being the closest luxury hotel to Buckingham Palace, The Goring Afternoon Tea is an elegant indulgence and strictly for adults. Polite tent cards suggest you put business matters to one side and turn your phone off. In comfortable and cosy surroundings - with the veranda open in the summer - it manages to be unstuffy yet quietly delightful at the same time.
If you like a sedate atmosphere, this is the one for you. Attentive staff are smartly dressed in black. The Goring has polished silver teapots and their own special yellow bone china. The silver needle white tea is especially recommended. There are unusual fillings for the sandwiches - for example curried cauliflower - as well as more popular ones; and despite my reservations earlier about patisserie, the slightly sharp sea buckthorn mousse on pâte sucrée is divine. There is complimentary replenishment of tea and food, so come hungry.
Times: Daily 3pm to 4pm plus Saturdays 1pm to 4pm.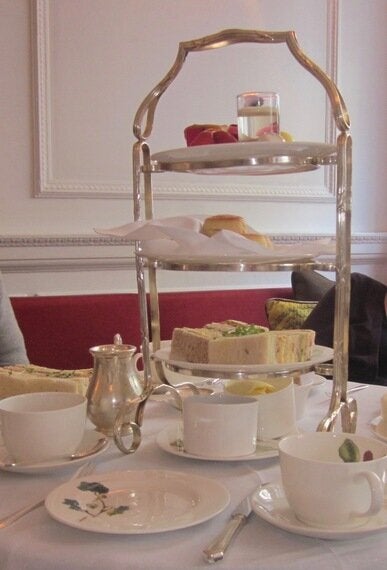 ©Olivia Greenway (Brown's Hotel)
Brown's Hotel
Comprising a series of historic interconnecting rooms, the hotel lounge always has a cosy feel. Antique fireplaces and original wood panelling add to the atmosphere, which is lively but refined. From a large selection, guests may try as many teas as they like. Sandwiches are perfectly fresh and fillings varied to suit the guests' taste. Cakes from the trolley include fruitcake and sponge cake. Patisserie and scones with clotted cream with strawberry preserve are also served. Refills of everything are pressed upon you. Sometimes a delightful pianist is in attendance.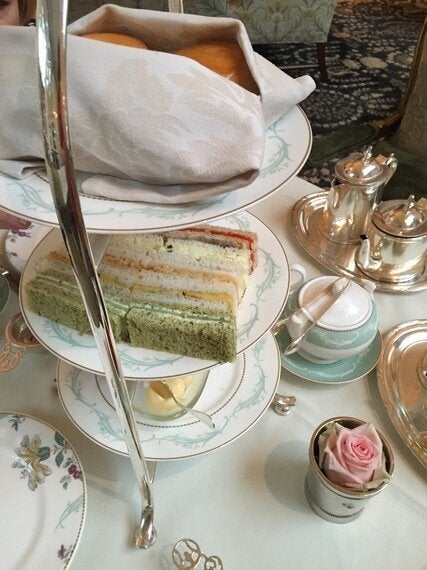 ©Olivia Greenway (The Savoy)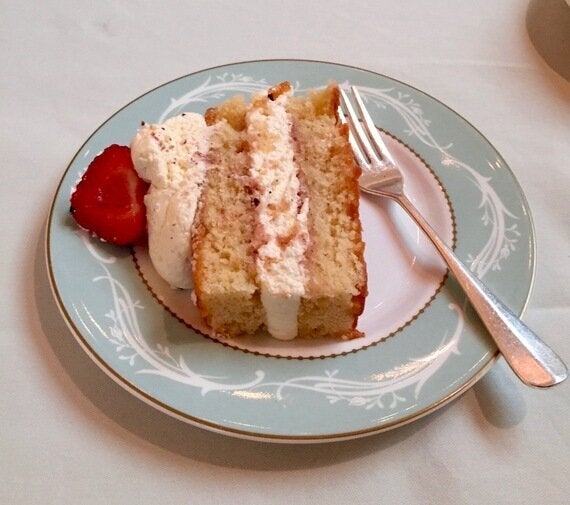 ©Olivia Greenway (The Savoy)
The Savoy
Enter the revolving wooden doors of The Savoy, cross the floor and descend the black and white marble staircase with brass handrail to find yourself at the entrance to the Thames Foyer lounge, where afternoon tea is served every day. In a matter of minutes you have left the bustle of The Strand and are now being seated at a well-spaced table centred beneath a glass cupola, a nearby pianist tinkling on the ivories. First, choose from a wide selection of teas. Your waitperson will help if you are unsure.
Sandwich options include courgette with cream cheese and mint, and red pepper with spicy hummus. Lemon curd is served as well as strawberry preserve, with the scones wrapped in napkins to keep them warm, a lovely touch. I was delighted to see proper cakes - Victoria sandwich or rich chocolate sponge cake. Undecided, I naturally had both. It's nearly always busy, but one never feels rushed.
Times: 1.30pm to 5.45 pm daily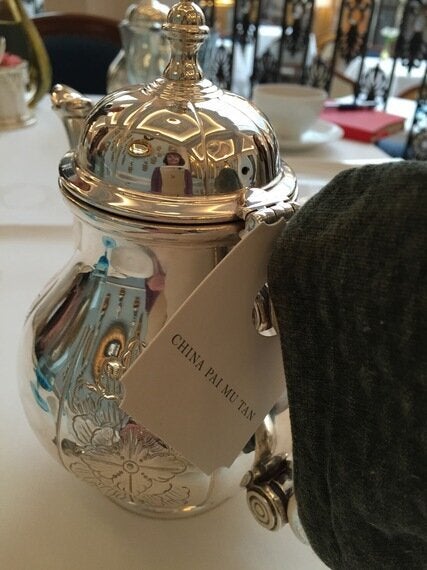 ©Olivia Greenway (The Lanesborough)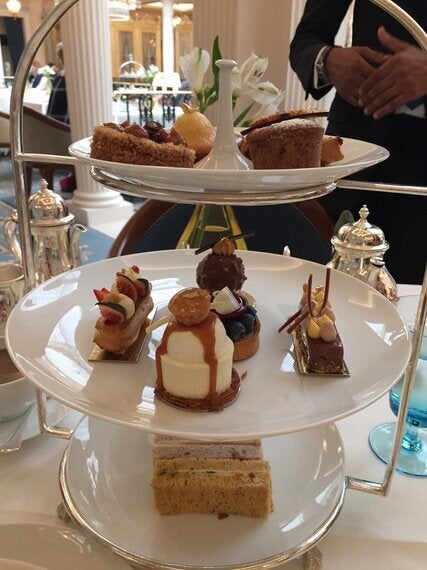 ©Olivia Greenway (The Lanesborough)
The Lanesborough
Proudly sitting on Hyde Park Corner, The Lanesborough re-opened in 2015 after its two-year refurbishment. Afternoon Tea is taken in the Celeste restaurant, a design triumph in Wedgewood blue and lemon with a glass cupola, supported by white columns, flooding the room with natural light during the day. White China Pai Mu tea - taken without milk - is recommended. Interesting, absolutely fresh sandwiches include avocado with chilli; cheese, tomato and ginger; and cucumber and fresh mint, served from a three-tiered plate rack, with delicate patisserie in the middle and more traditional sponge cakes on the top. As well as strawberry preserve, scones are served with lemon curd, a British favourite. Tables are well spaced and service attentive. A pianist may be there to entertain guests.
Times: Daily 2pm to 4.30pm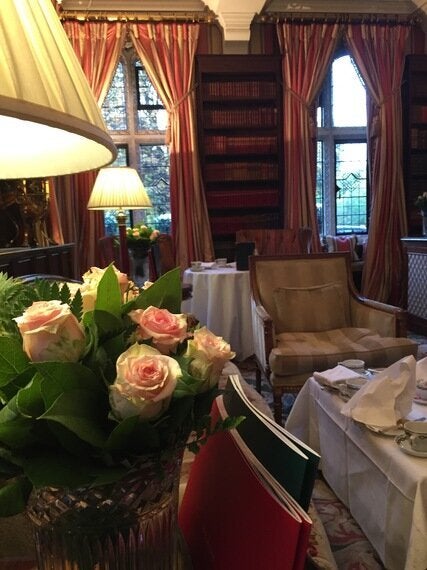 ©Olivia Greenway (The Milestone)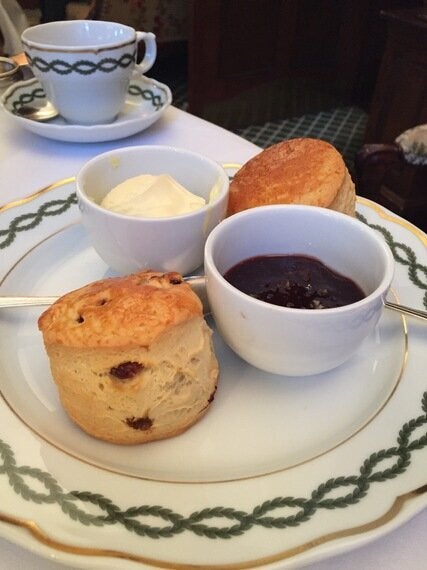 ©Olivia Greenway (The Milestone)
The Milestone
In pretty rooms, filled with roses and comfy chairs, The Milestone public lounges have a friendly and relaxing vibe. Handy for the shops of Kensington High Street, it's an ideal place to take a break from the rigours of shopping. If you have well-behaved little darlings, bring them here for a treat too. The hotel, part of the Red Carnation group is known for its family-friendly credentials. Youngsters under 12 may indulge in a Little Princess or Little Prince afternoon tea, with hot chocolate or a milkshake.
Their signature sandwich here is chicken mayonnaise with almonds and hazelnuts but they also serve old favourites such as smoked salmon and cream cheese. Chef makes four batches of preserve a week and mixes strawberries with raspberries, to give a full flavoured but not too sweet result. Unconvinced about the wisdom of this, I had to eat my thoughts, as the preserve was perfect. Oven warmed scones were excellent too. I can also recommend the carrot cake. With links to South Africa, the food had to be washed down with Rooibos tea.
Opening hours: Three sittings daily at 1pm, 3pm and 5pm.
All these hotels can happily cater for vegetarian, vegan and gluten-free plus other diets by request in advance. Brown's Hotel does a special low fat option too - The Tea Tox.