The most recent news story that crops up on a google search is that she'll be taking a break from music making to get some head space. If you feel indifferent towards that news, you're wrong. Pop music will be greatly affected by her absence and I can't promise that it isn't the start of the apocalypse. The show started with two curtains draped around the stage with 10ft high album artwork images of Ellie, which are apparently not available to buy online. The lights dim, overwhelmingly intense music kicks in which replicates your heartbeat. The curtains are opened to reveal the woman herself and the crowd goes nuts, it's a great start.
Ellie Goulding really is the kind of artist that makes up for her physical distance from the audience with her visual display. It doesn't matter that there are thousands of other people screaming her name, from whatever angle, you get to see something amazing. Bold colours, dramatic visuals and several different types of curtains were used (I know you're not going to go to a gig for the curtains but I'm just saying, it was very pretty). She even stated half way through the show that wished she could zip wire across to the back of the arena to get closer to the audience but admitted perhaps this was the best way to give herself a life changing injury.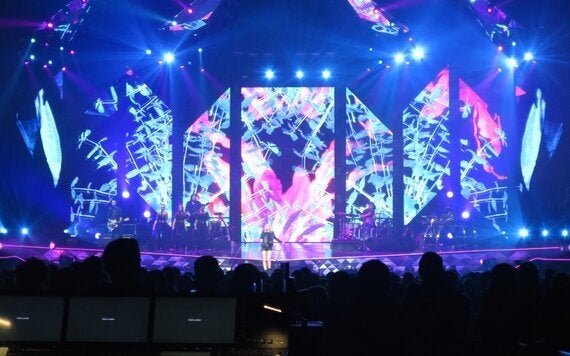 She performed a lot from the new album, which only made me realise how many of them could have worked as singles. Most albums have a few numbers that you skip but quite honestly each of them sounded strong belted out across the arena. Everyone went hard dancing for the American single 'Something In The Way You Move' which was released over there whilst 'Army' was released in the UK. The real surprise for me was how popular 'Army' is. My perception may have been obscured by the hen party behind me who had arms around each others necks, quite uncomfortably swaying but singing every word at the top of their lungs when Ellie started performing it.
Ellie also threw in some of the bigger, older tracks such as 'Goodness Gracious' and her Calvin Harris collaborations which made everybody throw their hands in the air and bend their knees accordingly. Even Ellie cut some shapes on the stage, despite repeating in several interviews, including mine that she can't dance (she's a devil, she can). I can't fathom that after this tour, we won't be hearing from Ellie for a while. After her display in Sheffield, I am going to find another date to see her on the tour, I don't want to give her up, not just yet.