Kids' TV today isn't what it used to be - it's all CGI and 3D.
Back in my day, the most exciting plot twist involved a character opening their lunch box only to realise that their mum had packed them TWO Wagon Wheels, instead of one.
Nowadays, it's all about who's got the most iPhones in their lunch box!
Kids need naff cartoons that make no sense, in order to develop their imagination.
If they don't have any imagination, they are just going to end up as YouTube personalities, or worse, vine stars.
So, on that note, here are 10 Kids' TV shows, from the 90's, that helped save me from a life of internet notoriety:
Hey Arnold! - Teaching kids that it's ok to have a misshapen head or abnormally big hair. Also, teaching girls that it's ok not to pluck your eyebrows if you don't want to (as demonstrated by the character Helga).
I used to love this cartoon, mostly for its catchy theme tune but, also, for its easy viewing, and flawed characters.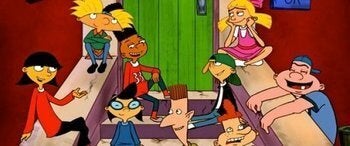 Art Attack - This programme taught you not get too big for your boots by reminding you how rubbish you still are at everything. It was like: 'this is what you'll be able to do in 10 years' time (if you're lucky), now go back to gluing glitter to paper'.
Also, I wonder what Neil Buchanan is up to these days? Probably living happily ever after somewhere with 'The Head', in a house he's made from newspaper and PVA glue.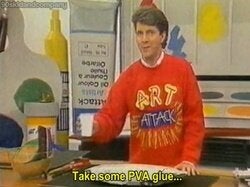 Bernard's Watch - A programme about a boy who could stop time with his watch. And, for any kids reading, no, not an Apple Watch, although give it a few years and I'm sure Apple will release a watch that stops time.
I used to love this show; it was exciting seeing Bernard freeze time and wander round watching everyone.Thinking about it now, it was probably a bit perverted, but still.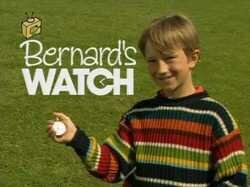 Recess - T.J., Spinelli, Vince, Gretchen, Mikey and Gus policing the playground #SquadGoals. This cartoon was responsible for one of my first crushes as a kid...on T.J. Detweiler. Obviously, I've grown out of that now and have moved on to more realistic crushes like James Bond and the guy floating around in the dingy, in the D&G advert.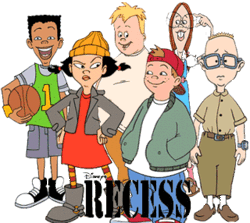 SMTV Live -SMTV Live was home to some of the best sketches for kids (which were also enjoyable for adults) and responsible for making some of TV's best-known personalities famous (Ant and Dec, Cat Deeley, Tess Daly).
So, in a couple of years, expect to see Peppa Pig, Dora and Shaun the Sheep winning TV choice awards, and walking red carpets, in Hollywood.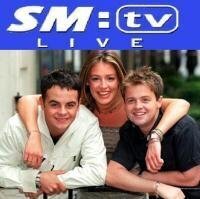 Chucklevision - Britain's favourite double act! This show was like a window into the future; showing us what life will be like for Ant and Dec when I'm a Celebrity...Get Me Out of Here! and Saturday Night Takeaway have dried up.
Anyway, Paul and Barry have done well out of it; last year they released a single with Tinchy Stryder! It's nice to see people you grew up with doing well...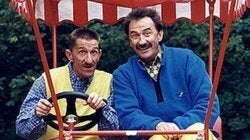 My Parents are Aliens - Three orphans whose foster parents were aliens. If you can get past the completely harrowing bit about them being orphans, their foster parents were basically bonkers and really bad at looking after them.
I think it's safe to say that this was probably the most realistic of all the programmes from the 90's and, possibly, the only one that would still stand up today.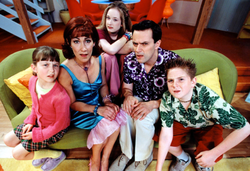 Blue Peter- It was never the same when they started to hire presenters that were squeaky clean - it kind of lost its edge. The show provided parents with a cheap way of teaching kids about death. You didn't have to buy a dog and let them learn about it all when the dog eventually died, no, Blue Peter did all that, so you didn't have to.
The Demon Headmaster - A headmaster who had the power to hypnotise his students with his green eyes, because he wanted to take over the world, which, thinking about it now, is pretty deep. All I took from it, as a kid, was to avoid eye contact with people when they were talking to you...a skill which I have carried on into adult life.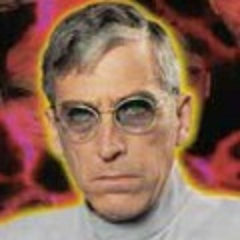 Aquila - Not many people seem to remember this one. It was a story about two boys who found a space ship, while they were digging in a field one day, and had to figure out ways of hiding it from everyone. I don't think it would really do that well if they did a remake of it today; it's not very relatable - I mean, if kids went digging around in fields today, then a space ship is the last thing they'd find; needles, bodies, Nokia 3310's maybe, but not space ships.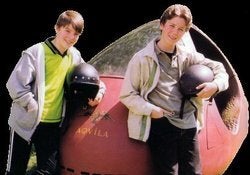 Looking back I still think most of these programmes are the best, even now.
I mean, we didn't learn a massive amount from them, but what we did learn (that Ant and Dec were pretty much the Clare Balding and Sheridan Smith of our generation, and to stay away from men with dodgy haircuts) was valuable.