Food culture is one part of travelling the world that is impossible to avoid no matter how many Western burger joints continue to spring up throughout the developing world. An eating culture is what affects attitudes towards food, social interaction and health that bears a great importance in influencing eating habits. Chances are you have heard this all before. In Indonesia as is the case across South East Asia the street is the kitchen, living and dining room. This influences the eating culture of the local people, convenience and community comes to the fore.
The prominence of convenient and affordable eating spaces can be a vital step in encouraging a social eating culture. The point I mean to make is I've enjoyed many a BigMac with friends, but spending time travelling and seeing how others enjoy food I realised that the concept of fast food has been hijacked by McDonalds and co. revelling in the construction of fast food as a dirty word, an indulgence, a guilty pleasure yet one that is positively defined by the social side of an eating culture (any McDonalds advertising campaign illuminates this). 'Fast Food' doesn't need to be the unhealthy grease party that we're so used to it being. Eating out daily in Asia has taught me fast food is not a dirty word.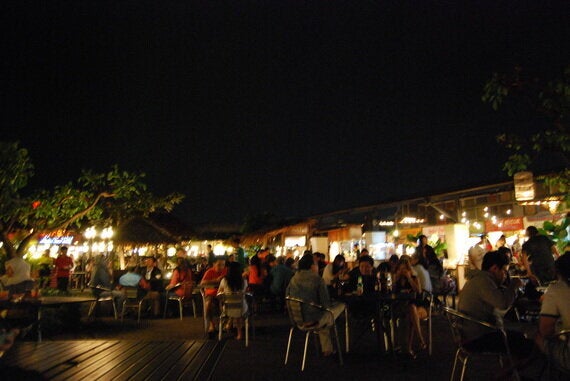 An outdoor food market in Bandung, Northern Java- Indonesia
Walking through Indonesian villages, towns and cities from Jakarta to Kupang in West Timor a vibrant street food and fast food culture flourishes. In sacrificing the capacity of pavements to enable pedestrians to navigate the hectic streets of Indonesian cities, the people have reclaimed the roadside as not only be a communal kitchen but a dining hall. Everywhere you look in the cities of mainland Java, the most populous Island in the world, Warungs are everywhere. A Warung is a small, usually family owned, street stall, cafe, kitchen, serving up food at consistently reasonable prices. These Warung range from individuals with nothing more than some hot coals barbecuing skewers of chicken to small open fronted shops, often with benches sprawling out to the street in front. Often filled with people, huddled under tarpaulins, on one occasion eyes glued to the Indonesian football on an impossibly small tv.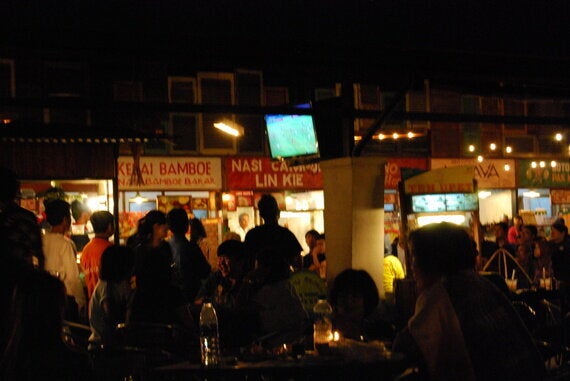 What the Warung therefore enabled was cheap, affordable communal dining. In the Indonesian heat, cooking is impractical indoors, as such come dinner time the streets are flooded with people heading to their local Warung for an affordable dinner, not take away, but eaten on the streets, at tables, sharing conversation with one another. An essential part of Jakartan social life is food. Moving beyond Jakarta across the more rural Nusa Tengarra, street food markets are often the choice eating place for locals and travellers. Fast food becomes redefined.
In some ways in a city that is devoid of much natural beauty or charm, and clearly runs to the beat of an ever growing business heart, it was the communal ownership of the street that gave Jakarta character. As you walk through these Warungs the smells are sensational, garlic, fish, satay, on stone coal fires. I found myself falling for a new form of fast food: street food. Whilst we have seen a rise in good street food around the UK, take for example the great FalFalafel van that has become a staple of the seaside town, or the rise in 'dining al fresco' nights offering an upmarket bending of the rules on what constitutes street food. This still doesn't come close to the Warung.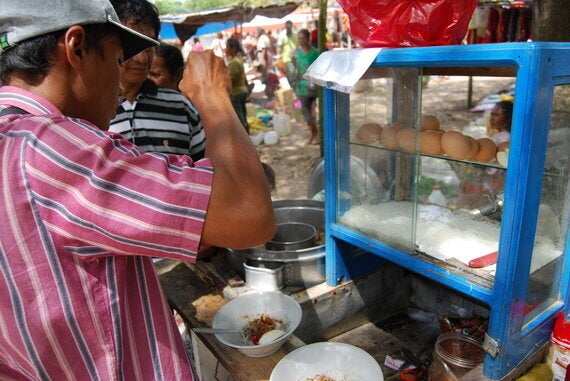 A moped from which this man serves Bakso soup at a market near Kefamenanu in West Timor- Indonesia
Why should street food either be pretentious or un appealing. A greasy hot dog from a pull along cart is not nutritious, sociable or even slightly appealing. A selection of noodles,rice, fresh fish, chicken and all sorts of fresh veg on the other hand, that can be produced quickly, affordably and easily appeals far more. I mean this guy managed to put together a delicious Bakso soup (Beef surimi meatballs in a light broth with Vermicelli/glass noodles, egg and a selection of seasonal fresh vegetables) in under a minute from the back of his moped.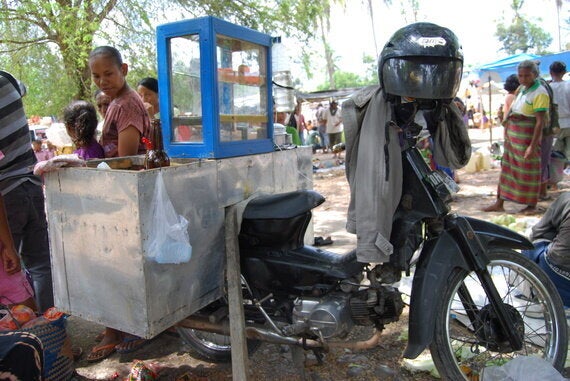 Convenience need not be sacrificed either. Padang food is another popular type of restaurant across Indonesia. Sporting an open front window displaying a selection of what is on offer from potato balls to egg treats, chicken and beef in a selection of tasty sauces, usually accompanied by a mandatory helping of rice and sauce. The Padang makes picking and paying for food arguably easier even than in your local KFC, simply look and point then pay for what you pick, no menus, no bills, no waiting. All the convenience of fast food minus the calorie overload and sensation of giving your stomach a dip in grease.
British rain also need not dampen the party, the street sellers in Indonesia deal with the notorious humid downpours and flooding for half the year. Other wet cities like Hanoi in Vietnam and it's buzzing Old Quarter are world renowned for delectable street food and cheap fresh beer: 'Bia Hoi'.
The famous 'Bia Hoi Corner' in the Old Quarter of Hanoi
Food which is produced fresh daily, each joint only serving a small handful of dishes served in tiny covered spaces at tiny tables with tiny stalls, dotted with local workers in suits catching a quick lunch. Surreal to a Londoner, yet the sight of a suit eating a packet of crisps and a sandwich on a bench outside Tescos is probably just as confusing to the young professionals of Hanoi.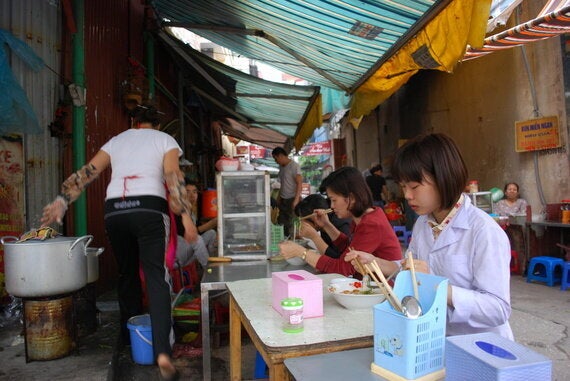 A woman in Hanoi serves up 'Bun Ca Ro Cha Ca' A vermicelli noodle soup with pork and fresh steamed vegetables
I don't expect street food stalls to ever decorate the streets in quite the same way as is seen in Indonesian cities and those throughout my travels in South East Asia and India, but simple seating arrangements matched with cheap delicious food offer the convenience of a fast food restaurant whilst also encouraging 'eating out' defined by sharing your meal with others: a healthy eating culture.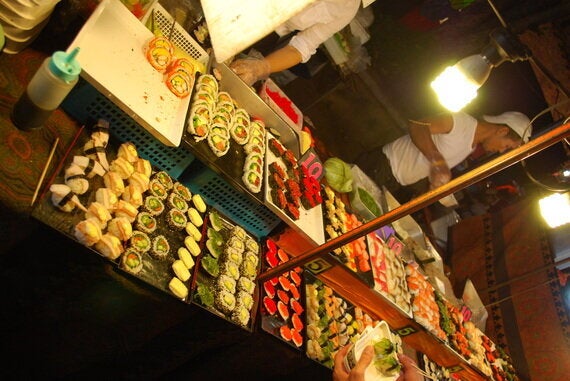 A Sushi stand at the Sunday market in Chiang Mai- Thailand
In London there is now a growing base of street food markets full of independent vendors selling quality street grub and lets hope the trend spreads nation wide. Even outside of the markets such as at the stall by Old Truman Brewery in Brick Lane or the hodge podge of different cuisines that have stalls in Camden Market. The atmosphere is great, grabbing a bite from your choice of stand and sitting on bench seating sipping a cool Red Stripe is as close as you'll get that communal vibe of a Padang, Warung or Asian street market.
I'm not proposing a solution to obesity or expecting budget convenient eateries to open across the country simply proposing an alternative perspective to fast food. What if eating out didn't have to be expensive, and what if fast food didn't have to be an indulgent and fatty treat. Fast food needn't be a dirty word it took 6 months travelling around Asia to realise.