The Friday morning slots at Download aren't generally known for being the ones that make history. Those are reserved for the headliners: Linkin Park playing Hybrid Theory, Slipknot delivering a debut headline set in 2009, or even Metallica surprising everyone in the afternoon back in 2003. Yet this year at Download it was the early morning Friday slot taken by an up and coming band from Osaka, Japan called Crossfaith who made heavy metal history as the first ever Japanese band to play the prestigious main stage at Donington Park.
For those of you who haven't heard Crossfaith before. They're a genre busting band cut from a cloth not that dissimilar from former tour mates Enter Shikari. They mix up hardcore, punk rock, metalcore and electronics from trance to dubstep to produce a sound that's brilliantly fresh, heavy and most importantly unique.
Unsurprisingly this mind bending, genre mangling formula is an absolute riot live as they proved at Download. They had the crowd eating out of the palm of their hand throughout the set. As the trancey opening synths of crowd favourite Monolith rung out like a call to arms the Download faithful went completely crazy and the band join them in losing their minds.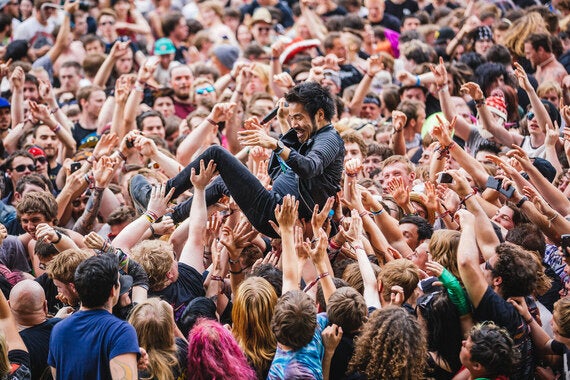 Photo: Derek Bremmer- Download 2014
A whirlwind of energy throughout and complete with what feels like 2 front men due to Termano Terufumi's synth duties being largely programmed. The ability to emulate the sort of reaction received to The Prodigiy, the undisputed kings of the metal electro crossover, with a cover of 'Omen' is also quite a feat. Far from feeling contrived and desperate as covers can often end up, it is the perfect remedy to an early festival set and one that people were talking about for the rest of the day.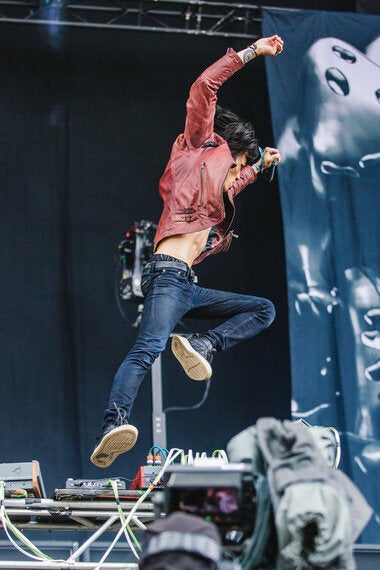 Photo: Derek Bremmer- Download 2014
Crossfaith have proven themselves live time and time again on support slots and in tents at Reading & Leeds, yet today on the biggest of stages they mark their claim as one of the best up and coming metal bands in the game.
Whilst I've already mentioned how many great British bands were playing Download this year in my initial Download review, it's clear that the festival is moving in to the future in more ways the one with their finger on the worldwide musical pulse. Crossfaith are a big deal having played in the U.K. with the likes of While She Sleeps, Bring Me The Horizon and they are returning at the end of the summer for Reading & Leeds main stage performances. The band come from Osaka and after speaking to lead vocalist Ken after their set it's clear that Osaka is one of the homes of heavy music in Japan.
Ken told me of the rich "old school hardcore scene" that exists in Osaka, the prevalence of gangs in the scene Ken even compared to Queens in New York City.
"In Osaka we all have really strong accents, I love the Osaka accent but it means everyone in Japan knows you're from Osaka, we embrace this."
Crossfaith also weren't the first band from their hometown to play the mix of electronics and rock music. They've gone from playing with a whole host of bands varying from pop-punk, to alternative rock and eventually metal. Yet now in Osaka thanks to the rise to prevalence of their sort of band the Osaka scene is flourishing.
The city is also famous for it's local foods and unique cuisine and as Ken insists
"it really isn't like any other state in Japan."
To go half way round the world from their home and step up to the main stage was a proud moment for the band.
"It has been an absolute dream to just play at Download, let alone on that stage as the first Japanese band. It means so much".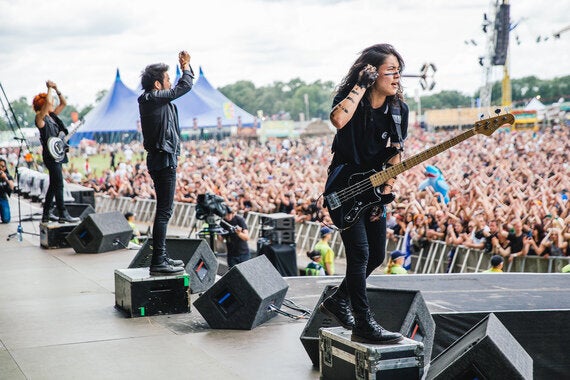 Photo: Derek Bremmer- Download 2014
From the pop world and on this evidence to the metal world a great deal of popularity is moving east. The K-pop and J-pop generation continues to grow ever popular and extend its global reach. Even more locally to Osaka there have been several bands over the past few years who have made significant waves to our shores, bands like Dir En Grey and L'arc En Ciel, who don't sound much like Crossfaith but still demonstrate that, whilst venues across the U.K. continue to shut, the scene in Osaka is in rude health.
"There are loads of awesome venues all over Osaka, it's always great to play in our hometown"
Ken even remembered headlining one of the recently closed British venues close to my heart, the Kingston Peel.
As Crossfaith made history at Download in 2014 being the first Japanese band to play the main stage only a fool would predict that they will be the last. Even just at this weekends Download far more straight forward Japanese metalcore crew 'coldrain' from Nagoya, East of Osaka, played in the Red Bull tent to much expectation and hype. If the theme of my Download Festival 2014 is the future it's an excitingly global outlook, and there was no better band than Crossfaith to be the first Japanese act to take the step up to the main stage.
Crossfaith will play at Reading and Leeds in August, their most recent album Apocalyze is out now. Keep your eyes peeled for more tour news very soon.