When Stuart Galbraith and Andy Copping first created Download Festival back in 2003 as the successor to the Monsters of Rock festivals that had graced Donington Park since 1980 the decision to name a festival after the evil 'D' word had people in the business shaking their heads. Clearly the festival was spot on when it predicted the future of musical distribution, in terms of predicting future trends in music it's been a little more hit and miss. Giving bands like Slipknot and My Chemical Romance opportunities to headline clearly paid off yet the decision to up Lostprophets and Feeder didn't.
There is no point hiding the fact that this year marks the 4th time Linkin Park have played and as you look through the line up there is evidence that metal does still tend to keep one foot firmly in the past. What Download has proven in 2014 is that its other foot is taking one big step in to the future. It's a vital platform not only for bands to cut their teeth in a headline slot but as a stage where a new breed of British rock, metal and alternative bands can move up to the festival scene in style and it really mean something.
Andy Copping's headliner gamble this year was one of success. Avenged Sevenfold brought the pyro, the stage set and the songs as they dominated in the Friday night headline slot. You'd have thought they had been at this for years.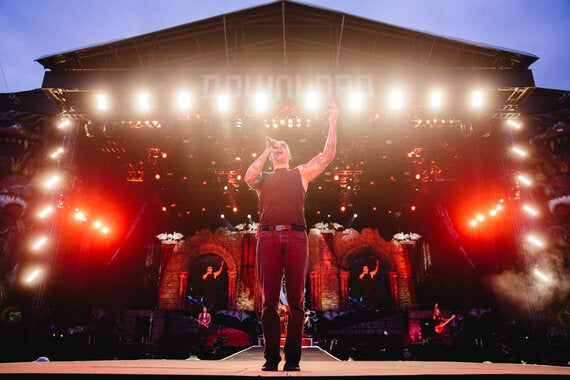 Photo: Danny North- Download 2014
Bring Me The Horizon turned up on the Saturday with their own cargo of flames and Co2 cannons. This is the turf upon which they will need to make the step up to headlining the biggest stages in the U.K. and it's the first time in a long time that a British metal band has been on the cusp of this great leap.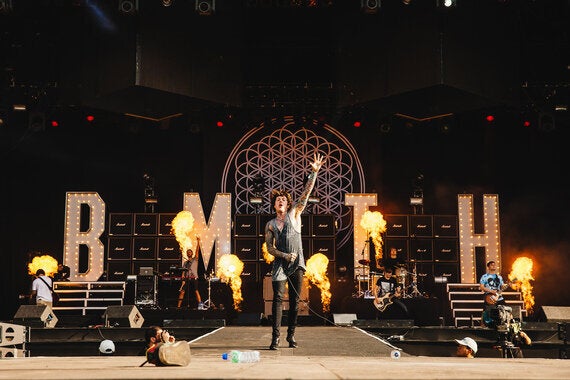 Photo: Andrew Whitton- Download 2014
Linkin Park smashed their Hybrid Theory set and kept the party rolling through some new songs that translate far better live than on record. The Dillinger Escape Plan proved they are the most intense live band that there will ever be. Letlive. didn't let Jason's torn knee ligaments stop them going absolutely wild. Against Me! returned to the U.K. to bring Transgender Dysphoria Blues to life and made their point that no one does heartfelt punk rock better and Fall Out Boy completed their transformation in to bonafide rockstars.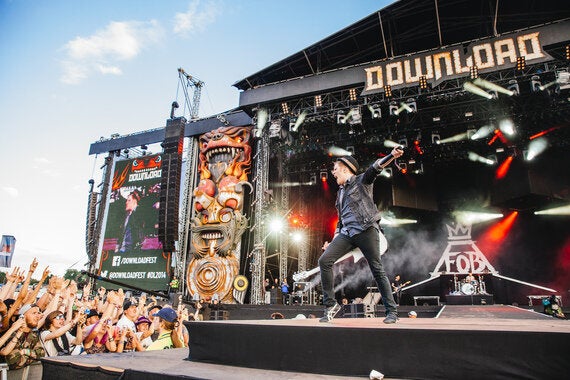 Photo: Andrew Whitton- Download 2014
Across the weekend there was a host of the best up and coming British bands playing across all the stages that brought Download to it's knees. It's this hope and ambition that has renewed my faith in Download as the festival of the future for British rock and metal. I spoke to three bands who represent everything that is bright about the years ahead.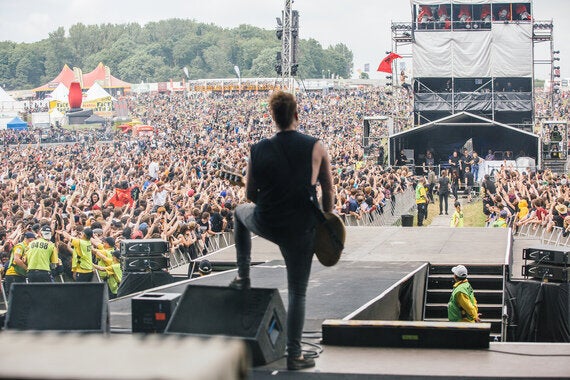 Photo: Danny North- Download 2014
I caught up with Loz and Matt from While She Sleeps, one of the most hotly tipped and promising young British bands ready to reach new heights, right after their afternoon destruction of the main stage.
You've been away for a long time, does it feel good to be back?
"It was so good, as much as we loved playing though we've been up for so long its great to be able to go out, smash it and now be done".
How did you prepare for such a big show?
"We've been practising in a venue and trying and get that feeling of being back on stage together. In all honesty as soon as we went back out it felt like no time had passed. We did a warm up in Grimsby and whilst that felt like nothing had changed you can't really prepare for a show like Download it's just so massive."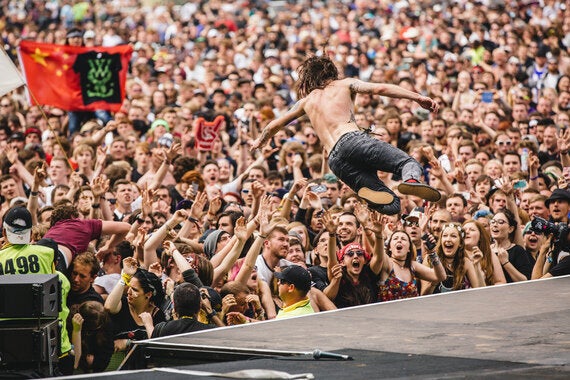 Photo: Danny North- Download 2014
So all this time away, can we expect any new music out of it?
"Yeah we've got a new album ready to go, we just need to record vocals on it"
"Hopefully there will be some new While She Sleeps in peoples ears before the end of the year"
There are a lot of up and coming British bands on the bill here at Download. Now you're moving beyond being 'that' young band, do you feel an affinity to those coming through and cutting their teeth at the festival?
"There is a really cool group in the U.K. you come to a festival like this and you spend your whole day seeing your mates from other bands. Everyone gets along really well there's not really much beef anywhere."
"Everyone appreciates what the other bands do and has a great deal of respect for each other".
"As long as you don't have an ego you're all good and it's nice that everyone knows each other, we're great friends with the guys in Malevolence from Sheffield and they're awesome, we'll be checking them out later".
The follow up to 'This Is The Six' is due some time next year, and judging by how confident the guys were in their new material and the amount of care and attention they put in to their music it's destined to be one of the most anticipated releases of next year. They were on riotous form at Download even if the main stage sound let them down a little and judging by the number of WSS t shirts in attendance their fan base is ever growing. This set will have done nothing to harm that.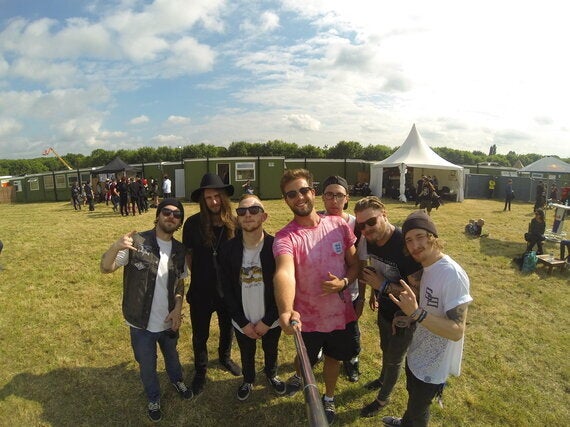 Feed The Rhino haven't ever caught the wind in their sails in quite the same way as WSS yet playing to a packed tent at Download it's clear that their aggressive brand of in your face hardcore has not gone un noticed. Their set on sunday afternoon is a riot, the groove of new songs going down a treat in the live environment Every member of the band is captivating to watch and frontman Lee Tobin finishes the set, as always, down in the pit. I spoke to Lee and Oz from the band after their set about their new album, what it means to play Download and the responsibility they now have to perform.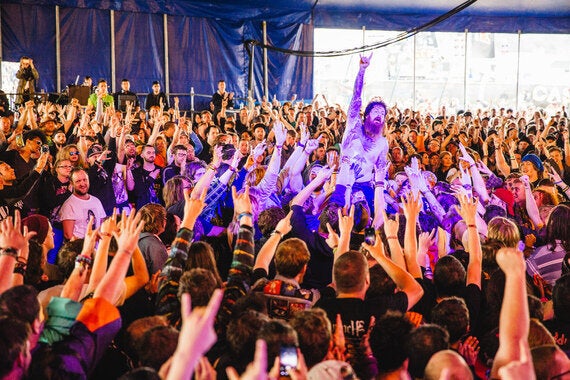 Photo: Andrew Whitton- Download 2014
How was it performing in Download's Pepsi Max tent. Is it a big change going from sweaty basements to relatively large open tents?
"It is very different, I think we just work so much better off a bigger crowd and a bigger stage, that's like fuel for us. The tricky thing was going from the longer set of our headline tour to a shorter 25 minute festival slot."
"There are a lot of songs we want to play at the moment that we can't play. So we had to go straight through, no breaks, just playing what we could".
You were playing to a busy tent, what does it mean to have one of the biggest crowds of the weekend?
"It looked amazing from up on the stage. I mean to even be associated with the sort of bands that are on this festival, let alone pull the same sort of crowd is a really big achievement for us. We just had a great time".
" We've got to this stage with a band now 5 years in, its not really about the reaction or even the size of the crowd. The honus is now on us to deliver and that is what we judge ourselves on"
"It's not just the same as in the past, coming out and giving a raucous performance. With the new songs it's about coming out and transferring that in to the new show and making sure the new songs sound as good as they are. That's really difficult when you're going all out. It's something we've come to master."
The new album The Sorrow & The Sound comes out on Monday are you excited to see how it's going to be received?
"We can't wait. We do all our albums just the 5 of us. Oz produces them and we just have that understanding between us. We all wrote it together and we know how we want it to sound. We all input, we all change for each other and this is what's come out of it. It's certainly got more groove to it"
"We stopped thinking about other people and did it for ourselves. The grooves, the hooks the way it sounds is what we wanted to play and what we wanted to hear live".
It's this confidence that drives Feed The Rhino. Watching them own the Pepsi Max Stage you can tell that they are a band with a love for the music they create and what they do. The band are touring again in October with Night Verses, and another young British band represented at Download Baby Godzilla who will feature in my upcoming New Breed blog and FTR's colossal new album The Sorrow and The Sound is out now.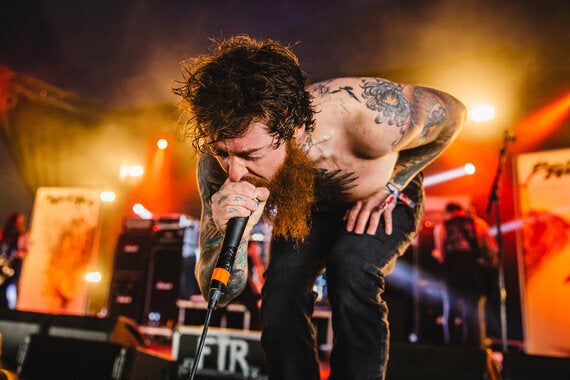 Photo: Andrew Whitton- Download 2014
Polar are another of those bands that have seemingly been touring forever, I've seen them countless times on support slots from bands as diverse as Young Guns to Funeral For A Friend. This weekend at Download the band were chuffed to take up an evening slot in the Red Bull tent and brought their show to the next level in front of an eager crowd. I spoke to Woody and Nick from the band before their set to find out about their progress on the back of recent release 'Shadowed By Vultures'.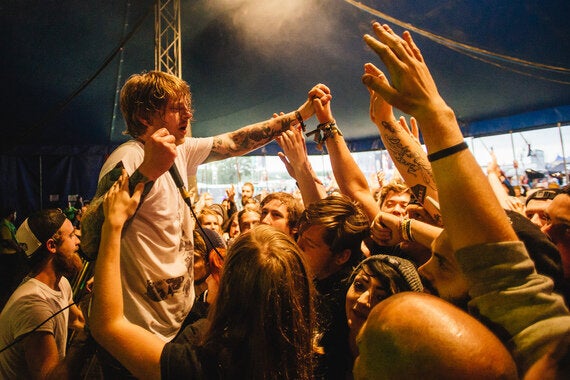 Photo: Scott Salt- Download 2014
You have toured so hard, playing shows with countless bands for so many years now, how does it feel finally being at Download for your own set in the evening on the Red Bull stage?
Adam 'Woody' Woodford (Vocals):
"We're happy to finally be doing Download with material that we're proud of and that is suitable for the festival".
"I think if we'd done it too early we would've had a bad stage time, clashing with the wrong people. Tonight we play in the evening, late on and high up which is really flattering. It's going to be great. There is a saying back home called the 'Guildford curse' and it's basically that bands never get out of Guildford, so we still can't quite believe that we're here at Download, its mental."
The new album is certainly a much more progressive sound than on previous releases. It sounds like you've come on so much as a band. Where did that step up and change come from? Did you have stages like Download in your sights?
"Of course. We did it on purpose. It was a conscious decision. We wanted to go a bit heavier, but a bit more melodic, put some hooks in. Woody worked hard to change his voice and it all just came together."
"We wanted it to be more anthemic, more solid have a bit more impact really and I feel we achieved that on Shadowed By Vultures".
There are so many great British bands on the Download bill, some of whom you've toured with. Do you feel the sense of camaraderie at a festival?
"Oh yeah it's great. We woke up this morning with Aaron from While She Sleeps asleep in our van, he slept upright some how"
"Not only do we have a lot of friends here its always nice to meet people and bands as well, soak up the atmosphere. It's like a summer camp for bands"
Download has accepted its role as the most important platform for these bands to perform and share their music on one of the biggest stages not just in the UK but in the world. The festival is moving forwards in the right direction. The brand new main stage looked amazing lined by 2 huge sculpture totem poles, the site in general was covered with artistic and thoughtful touches and even the decision to introduce a 'Trip Advisor' esque rating system for the food vans is a sign of the times.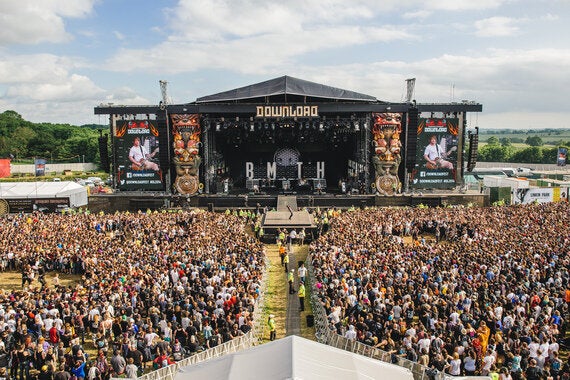 Photo: Danny North- Download 2014
Download 2014 felt like a really special weekend, it's the first time in a long time I've really felt like metal music is taking a bold step in to the future; it's a future that's bright and a future that's most excitingly, British.