The atmosphere of a festival is something that you hear so much about yet is often somewhat harder to find when you're knee deep in mud, you've lost your mates and you're paying a small fortune to eat dodgy burgers and drink watery beer all weekend. Most festivals develop a trademark- Glastonbury has the notoriety for being the peak of escapism, Reading and Leeds for being the coming of age party, yet Sonisphere, still in it's comparatively early days as a UK festival, had yet to find a defining character. Often referred to as the 'other' metal festival in the U.K, lurking in the shadows of the televised Glastonbury weekend that went before it, competing with Black Sabbath's huge Hyde Park shows the same weekend, and returning after 2 years off due to poor ticket sales, the odds were somewhat stacked against Sonisphere.
Yet as the festival was reborn in 2014 there was an air of optimism that hung over the event. An atmosphere of genuine friendliness and camaraderie permeated all corners of the festival site and it was all down to a line up made to please that did exactly what it said on the tin. The music was loud (most of the time), the sun was shining (a lot of the time) and most importantly everyone was having a good time with friends new and old. It was the real Sonisphere atmosphere.
Sonisphere proved that a bare bones festival, it was lacking any of the aesthetic charm that is now essential to many festivals to create the right 'vibes', can still conjure up the summer magic only festivals bring. Simply by obtaining a field, sticking some people in it and having some awesome bands play Sonisphere conquered 2014. No pretentions, no frills, no fuss.
From the big hitters going in hard to the best up and coming bands tearing apart tents, to some 'buzz' sets that got opinions flowing all weekend, sonically Sonisphere ticked all the boxes.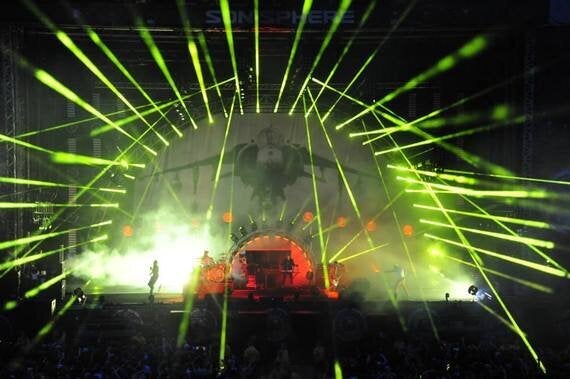 The Prodigy were on top form setting the Friday night faithful in to a dancing frenzy. Airing a few new songs whetting our appetite for their incoming sixth studio LP was a welcome diversion around their back catalogue of bangers.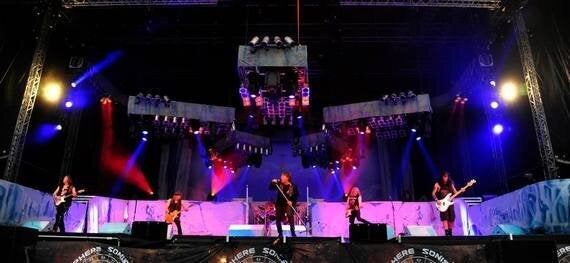 Iron Maiden, were busy finishing off their mammoth 3 year world tour, with fire, Eddie's, and an energy and passion that belies their age.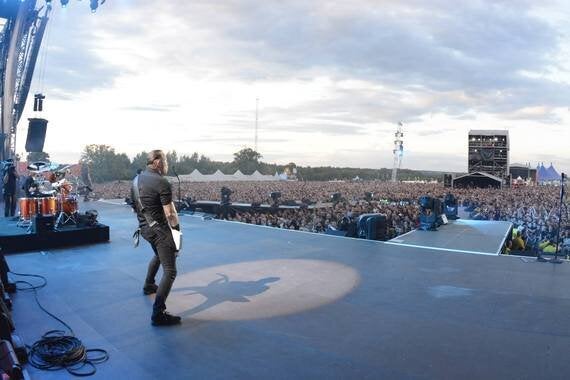 Metallica just perform with unrivalled intensity, an intensity that I didn't feel watching Glastonbury on TV and it reminded me why they are the biggest metal band on the planet. The audience is heaving and whilst their by request set didn't bring out the obscure deep album cuts some wished for it made for a hit packed set that never outstayed its welcome.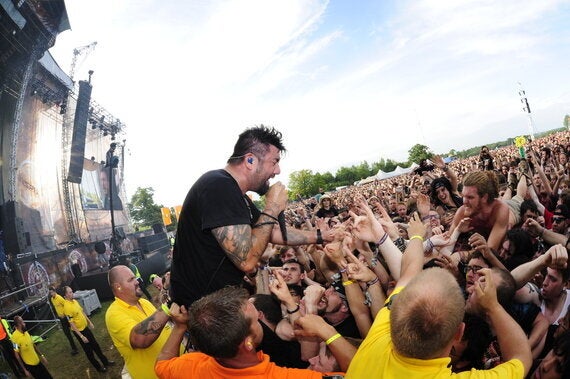 Photo: PG Brunelli- Sonisphere 2014
Elsewhere Deftones were magical in the evening sun, Limp Bizkit brought the nu-metal 'party', Hundred Reasons signed off in style, and Gallows announced themselves to the world once again in riotous fashion.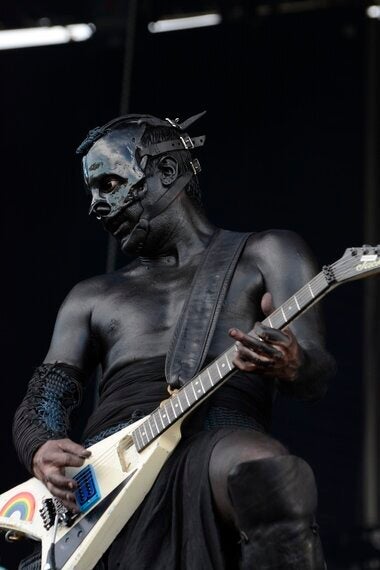 Photo: PG Brunelli- Sonisphere 2014
The talking points of the weekend were the Balaclava totting enigmas The Hell, who brought inflatable dicks and hammers to spice up their in your face hardcore and Babymetal, who were, as expected, a Japanese industry job backed by a reasonable metal band. Bam Margera's new project came with a nude Brandon Novak cameo and little else of note.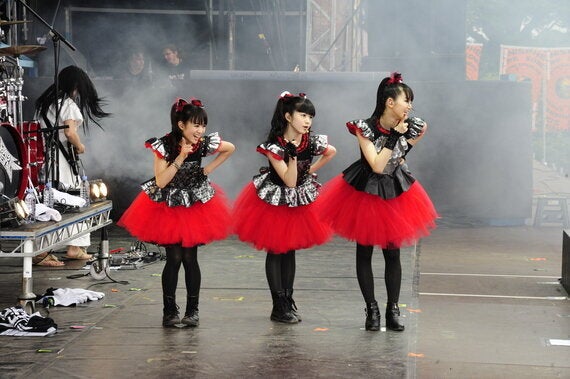 Photo: PG Brunelli- Sonisphere 2014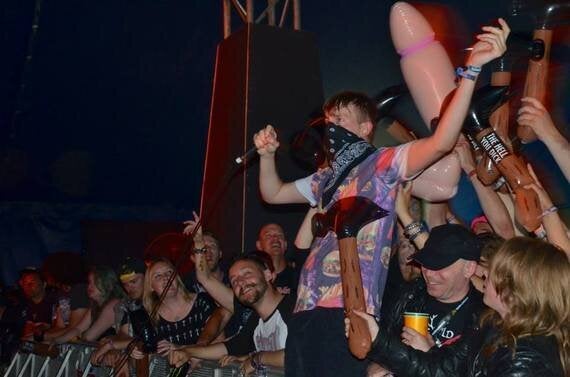 Some of the genuine highlights were the scattering of new and up and coming bands across the weekend playing in tents. Canterbury, Shrine, Calling All Cars, Boy Jumps Ship and The One Hundred all smashed their early afternoon sets.
It's hard to translate the atmosphere of a festival in to writing and often I do feel as though it's something that we take for granted that permeates the air of a festival, yet at Sonisphere it was unavoidable. To try and understand from a different perspective I decided to taste Sonisphere's international flavour and chat to some bands from across the atlantic about what it is that makes this all so special.
Silverstein aren't just a blast from the past. Whilst they undoubtedly rode the wave of post-hardcore over a decade ago this is a band regenerated and they are on fine form in a busy Satellite stage come Sunday afternoon. I spoke to Shane (vocals) about the rich heritage of English festivals.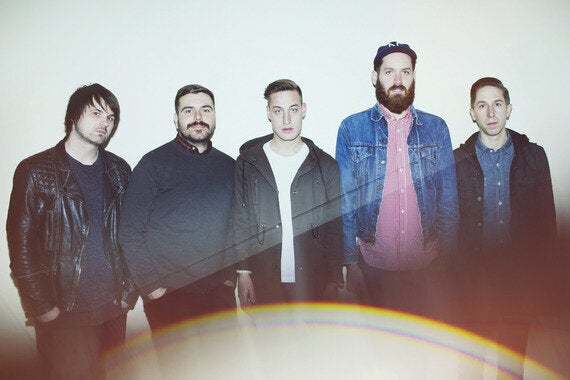 "The festivals in the states aren't this big. We don't have a tradition of festivals like you do in England. It's true Sonisphere is newer but Knebworth, Donington all these places have history. We don't have a tradition of festivals like this in Canada. It's great to be here."
The bands liberal attitude to putting fan favourite old cuts in to the set list also offers itself to the diverse festival crowd that they might not be as used to playing to.
"Some bands make a habit of retiring their old stuff. We've been deliberate in playing something from every record. We always put something from the first album for the hardcore fans, It's important that we give back."
Shane is clearly very aware of the place that Silverstein find themselves in, as he harks back to the days when where you came from defined your sound.
"Nowadays bands don't have a sound that reflects where they come from. Back when we started there was California punk rock, New York Hardcore. Where we grew up there was a definite sound. At the time we grew up in Toronto there was a definite sound, bands like Alexisonfire, Boys Night Out and Grade all had a similar aesthetic, sound and mindset."
I asked if he was proud that they are still going strong playing festivals all over the world (the band have just been announced as sub-headliners to Finch at this years Hevy festival) whereas the other bands from that era are long gone.
"We do feel proud we are still able to do this, we can't compare our bands, it's not a contest of longevity but we're absolutely having the time of our life right now. "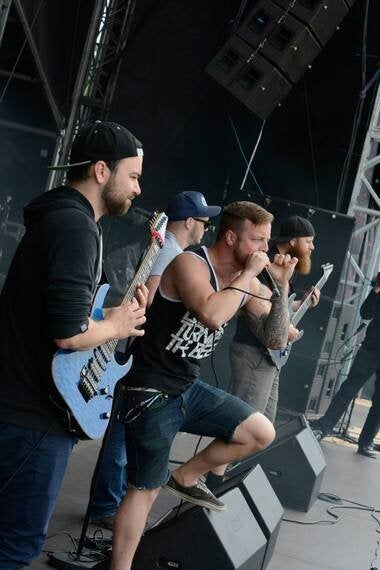 Good friends of Shane's in Protest The Hero weren't on their finest form at Sonisphere, their sound lost in the mire of a muddy mix. Gone was the trademark whirlwind energy, instead we got a witty frontman and a band who looked like they weren't all that fussed for their early morning slot. I assumed that the festival spirit had passed by the Canadians, talking to Rody (vocals) and Tim (guitar) it seems it was just the early morning blues that marred their set as they professed their love of UK festivals to me.
"It's always a pleasure to do these festivals. They're so much better organised than American ones. Warped Tour, playing at the same time as 6 other bands, it's all chaotic, you don't get to see what you want. The early set today, granted, wasn't the easiest, you got to wake up out of bed and try and rock and roll, which just isn't the easiest thing to do at all. But hey it's great being here."
It seems as though it must be the size of the crowds that give the British festivals their famous status globally.
"Even explaining it to our drummer who is relatively new to the band was hard. Telling him at some of the festivals you're going to look out and say this is the biggest amount of people I've ever played to in my life, you can't even estimate how many people are watching you. So there is that notoriety to it."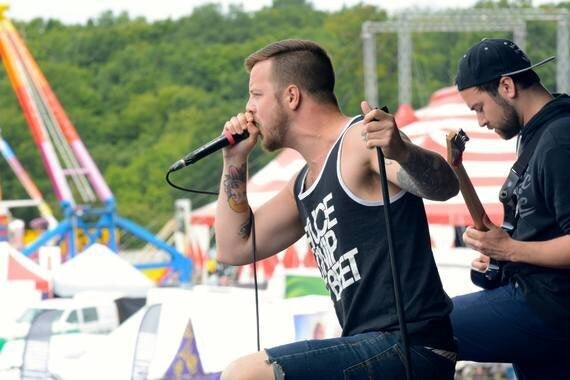 The U.K is also somewhere the band clearly feel they have had a great deal of acceptance and they just can't stop coming back. Another 5 date headline tour culminating in a landmark Koko show on 2nd December.
"On the headliner we did for Volition the 6 UK dates blew the North American ones out the water. We are a sore thumb. We're either not heavy enough or too heavy, for some reason the UK responds very well to that. We've put in a lot of time to the U.K. If you want to be big in another country you've got to put in that effort. There are local celebrities in Canada playing stadiums but they come over here and it's like "hey you've got nothing". It's important to us, to play everywhere."
Chiodos haven't ever really blown the lid off the U.K. despite being some of the hottest property stateside. They are a very "Warped tour" band yet their songs and musicianship has always struck me as a big cut above most others. On Sunday the band are in contrast to a dire evening at Slam Dunk on fine form and clearly enjoying it. I caught lead singer Craig Owens and guitarist Pat McManaman earlier in the day, to get the lowdown on why they think the UK has always received Chiodos a little coldly. They played after Gallows to a noticeably thinned out tent, probably not helped by the emergence of Mastodon on the main stage, yet thankfully they still relished their opportunity to impress a British crowd and put on the sort of quality show Chiodos are capable of.
"It's important to build up a foundation of what it is we do in cultures outside of our own."
"[Festivals] are different than regular club shows, you get a cool base, lots of friends in bands are usually there, I think it grounds you a little bit. I actually look forward to it, as long as there is people, we'll do our best, we'll try win them over, show them who we are, and if they don't like it they can just see the next band."
I can only assume Craig has spent a little too long away from the U.K. music scene as when I asked why U.S. bands seem to tour less nowadays this was his reply.
"It's because of the reception to U.S bands over here, numerous band members have been having trouble with it lately. Trend wise you either need a gimmick or write pop songs, and it's all that works over here. People that won't play in to those things struggle."
Contrary to Craig's comments Protest The Hero who neither have a gimmick nor make pop songs have consciously put great effort in to breaking out in the UK and succeeded. It's time Chiodos really focused on the U.K. instead of making sweeping assumptions about the state of the touring scene. At least festivals like Sonisphere can provide a platform to accommodate these international bands and hopefully convince them we really do appreciate live music so they keep coming back.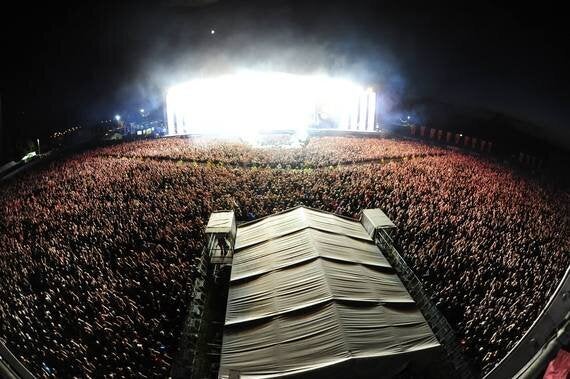 Festivals are something we can still be proud of in the U.K. They are a unique entity, a landmark of our summers that are great in so many ways. What Sonisphere proved in 2014 is that the spirit and tradition of so many years of great music upon this soil lives on across the world, in the passion people still have for live music and the atmosphere it can create. Sonsiphere 2014 was a defining moment for Knebworth's future.