It's very easy to be cynical about festivals. It's becoming ever more popular to criticise the expensive glut of weekend music party's in fields than to appreciate exactly how vital they are to the culture of the UK. I've read on several occasions how the British festival scene is now part of the 'experience industry', the age old critique of dreaded corporatism at big UK events, and just general ramblings bemoaning anything to do with watching music and sleeping in tents. Whilst I can appreciate some naysaying when a ticket to a day fest costs over £70 and it all feels a little Ryanair on arrival having to pay for all your extras, there are still beacons of hope in fields across Britain. One of those is the return of Hevy Festival to Port Lympne Wild Animal Park in Kent, an alternative music festival that celebrates the sounds punk, hardcore, metal and everything in between.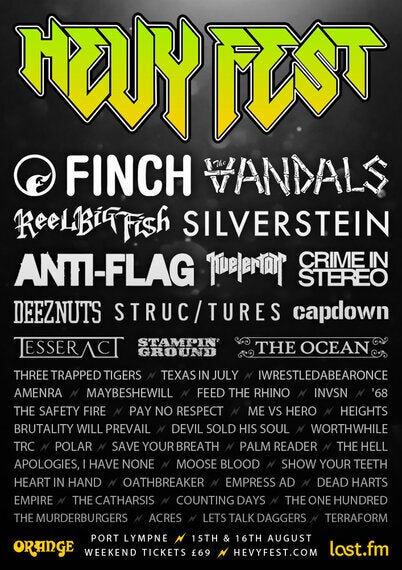 Tickets are reasonable at under £79 (they even started at as little as £59), the line up is eclectic and interesting yet with an attendance around the 5,000 mark it all feels intimate and friendly. Sure it's line up won't be for everyone but it's an example of a genuine festival that still exists for the music and the community of alternative music fans coming together within the boundaries of a field for one reason. Here are 3 more reasons why Hevy will restore your faith in UK festivals.
Everybody loves an underdog and in Hevy's case they've fought through adversity to rise once more in 2014. I first went to Hevy back in 2011 and it was a strikingly small and unique festival that oozed a sense of community like nowhere else I've ever spent the weekend. It's cancellation in 2013 due to issues with licensing and venue trouble was a sad moment for heavy music and to see it back in 2014 boasting an intriguing line up complete with several UK exclusive performances.
A refreshingly eclectic line up.
Hevy has trusted in a line up that spans the past the present and the future of punk, hardcore and metal.
Friday headliners Finch are a proposition with one foot heavily in the past reaching a crossroad in their career. Making their name as the pioneers of post hardcore and emo back in the early noughties their set is destined to be nostalgic, the likes of What It Is To Burn the bread and butter of rock clubs around the country. With a new album on the horizon there is fire left in Finch, will it be well received, can they prove they're still relevant now?
The Saturday headliner on the other hand is stuck firmly in the past. The Vandals are genuine punk rock legends, touring largely with a line up dating back to 1989, this is no half hearted reunion tour. The Californian band aren't exactly household names anymore and it will remain to be seen if they can pull off a festival headline set 10 years since their last original material.
It's in a selection of exclusive performances that Hevy's line up really shines. One of these is the return of Crime In Stereo. A band that pioneered the progression of melodic hardcore from raw, organic punk roots through to the maturity and dynamism of later albums '...Is Dead' and 'I Was Trying To Describe You to Someone'. Crime In Stereo are one of those highly influential and criminally under appreciated bands. After having gone on hiatus back in 2011 it looked like the end was nigh, yet this year at Hevy the band mark their live return in Europe, with the promise of new music on the horizon.
The debut UK festival appearance from ex-Chariot man Josh Scogin in his new incarnation as '68 is also worth getting genuinely excited about. Their debut 'In Humour and Sadness' is a riot of rock and roll fused with punk and an ear for the pure bonkers. Hardcore's answer to The Black Keys, a bluesy edge runs through the sound of this two piece. If the Chariot's live shows, and this crazy studio performance are anything to go by this will be a highlight of the weekend.
Sweden's INVSN are something of a curveball on the heavy line up. The current project from Dennis Lyxzen of Refused fame, is a long way from the influential late '90s post-hardcore of his old band. Their sound is akin to the anthemic side of bands like Arcade Fire and there is a striking similarity with No Devotion, the new project from the former Lostprophets. Their debut self titled album under the INVSN moniker is an intriguing blend of Lyxzens distinct vocals and expansive musicianship that could be received either way on Hevy's main stage.
Norway's Kvelertak don't play on these shores all that often. 2 albums of perfect, party starting punky rage provide a recipe for festival success. In a similar vein Australia's hardcore crew Deez Nuts have built a reputation from their raucous live shows and liberal attitude to getting royally boozy on stage.
Mysterious masked hardcore crew The Hell along with Polar and Feed The Rhino head up a who's who of the most exciting British bands in heavy music on the line up.
The spectrum of genres doesn't end there, the addition of instrumental noise merchants MaybeSheWill along with the electronically drenched sound of Three Trapped Tigers, will bring a flavour of post-rock introspect to the weekend.
Granted it's not a secret garden shangri-la nestled in pristine countryside, nor is it the car park to the Olympic Stadium, or an over crowded London park with snotty neighbours. Set in a small field just next to the famous Port Lympne animal park the Hevy site is pleasantly compact, no more than a five minute walk separates your tent and the music. Spread across three stages, and with reasonably priced food and beer a guarantee, Hevy aims to please the punter on every front. There is no hangover cure better than ogling at the human qualities of baby monkeys while sipping on a coffee before a day of hardcore. The festival has even embraced their location by adopting a severely endangered Javan Langur that the fans named Dillinger after 2011 headliners The Dillinger Escape Plan.
A degree of cynicism towards the corporate Disneyland of U.K. festival season is understandable. Anything that promotes days spent basking in the outdoors listening to music, however, is necessarily a good thing. Hevy has stood as a pillar of the diverse community of punk, hardcore, metal and alternative music. Paired with it's awesome location, diverse line up and reasonable price, it restores hope that the beating heart of U.K. festivals is not lost. Hevy is the perfect remedy to ever encroaching festival apathy.
Hevy takes place from 14-16th August at Port Lympne. Tickets are still available online.