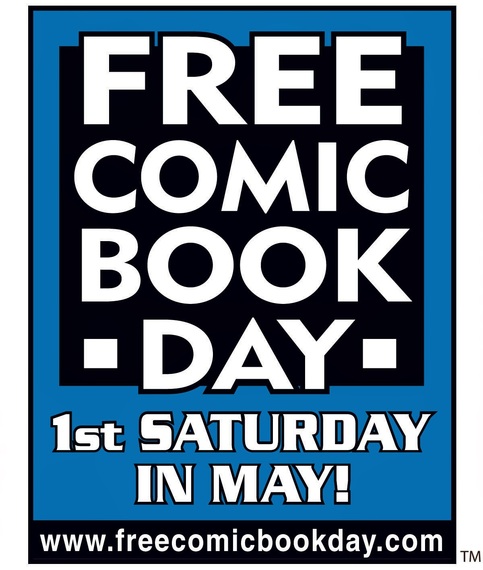 This Saturday across Britain, America and other countries too, comic book shops will be flinging open their doors and celebrating Free Comic Book Day, offering customers old and new a chance to create their own colourful comics pick'n'mix from a large array of books on offer from various publishers. Whether it is comics aimed at enticing the younger reader - an excellent idea given that the industry has to start seriously considering where their new readership will come from - or the more fanatical, such as myself, the thought of a day celebrating a hobby/lifestyle that is now firmly rooted in mainstream culture is one that I look forward to more and more each year. In many shops it has become more than just the giving away of comics in the hope that some newbie will be back the following week and become a collector. It has become a day for the family too; my eight-year-old daughter may even be looking forward to it more than me.
Many who still see comic books as either the anarchic anthologies of their childhood, such as The Beano and The Dandy, or the bulging bicep tradition of the superhero comic as homogeneously produced by the Big Two (DC and Marvel) will be surprised by the diversity on offer. From The Smurfs, The Simpsons and Scrooge McDuck to Britain's own 2000AD and my favourite of the day, Marvel's Rocket Raccoon (soon to be the stand out star of The Guardian of The Galaxy movie this summer, mark my words) there really is something for everyone. Sci-fi, horror and humour are all there. You can find the full list here, but take my advice, if you are thinking of going, go early. Like Superman soaring through the sky, these comics fly off the shelves, so be warned.
My local comic book shop here in Birmingham, Nostalgia and Comics, are once again pushing the boat out and celebrating the day in style. From fancy dress and drawing competitions for children and adults (draw a sidekick for your favourite hero/villain) to cupcakes on the day, produced by the Wonder Woman of the kitchen, Lauren. The prizes aren't too bad either. As well as graphic novels and the like, I have heard on the grapevine that prizes this year could well be donated by one or two of the comic world's big stars. You may not be familiar with Scott Snyder, but the comic community has been lapping up his every word for a number of years now, firstly as the writer of Vertigo title American Vampire (I cannot recommended this title enough to people) and more recently as the mastermind behind the re-launch of Batman. For Scott to offer this one shop a prize (that, at least, is still something of a secret) shows how the creators of the comics we love so much are not too far removed from their fans. Not sure I could say the same for other entertainment industries. This is a big deal and I imagine a high turn out from the Birmingham Comic Massive.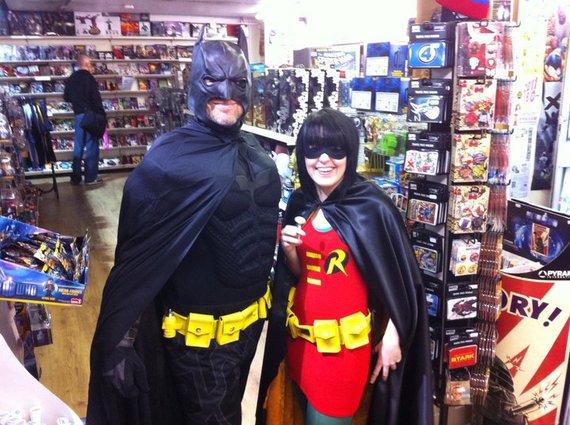 Surfer Dave and @BatsDontKill (Laura) at Nostalgia and Comics dressing to impress
There is always a great buzz to the festivities, with the staff dressing up too and encouraging customers to join in. Looks like there will also be the very talented local cartoonist and illustrator Andy Doodles, drawing punters throughout the day. The whole day feels like a mini comic convention and a bringing together of a community too. Like Christians and Christmas. And this is just one shop! Look out for what your own comic book shop will be doing, if you are lucky enough to live in a city or town that has one. If the weather is as bad as people are already predicting, then indoors always beats outdoors and this may just be the remedy, knowing that a quiet afternoon may also be on the cards, mums and dads, if your kids do come away with comic book booty.
I admit that I still get an overwhelming euphoric feeling when I can get down to my local comic book shop on new comic book day, Wednesdays, and collect that week's titles. My gateway into comics was through yesteryear's newsagents and spinner racks randomly stuffed with DC and Marvel alike. Newsagents don't sell them anymore as the US comic industry took to specialist shops many moons ago now. But with celebratory days like these as well as other events in the year, Batman Day on 23 July and a smaller Halloween Comicfest in October as just two examples, comic book shops can hopefully entice in a new generation of readers through their doors. It's no longer all capes, tights and masks anymore on their shelves. Furthermore, I can't think of many other retailers that would go to the trouble comic book shops go to on such days.
So, what's stopping you? Whether you crave more Adventure Time or The Walking Dead, there's something for everyone. Free Comic Book Day really is a great way for the fans, the industry and retailers to really show off this diversity.