In the time it takes you to read this article, someone, somewhere in the world has become another victim of sexual assault. It may have occurred in your very own zip code, to someone within a couple degrees of separation from you. There is no sexual orientation, demographic, ethnicity, age, colour or social status that can insulate or protect a person from sexual assault. It can happen to anyone, anywhere and at anytime of day. In fact, one in every three women globally is a victim of physical or sexual violence.
Silence. That's how most of us have been programmed to deal with sexual assault. As children we are sheltered from its existence. The first introduction to abuse is when it happens to you, or to someone you know. Not able to comprehend the rude awakening, and ill-equipped to deal with its consequences, young minds learn to shut out the trauma and are taught to suffer in silence. Some survivors may go through their entire lives unwilling and unable to share their stories with even the people closest to them. Can you imagine what this weight must feel like?
We need a way to take away their fears and encourage survivors to speak up and share their stories. Not only so we can help support them on the healing journey, but so, as a culture, we can overcome the stigma and social repercussions that exist, particularly in developing and poverty stricken countries. As the friends, families, colleagues, and peers of the survivors, it is our responsibility to provide the support system that they require. What we need is a way to "Break the Silence" on sexual violence.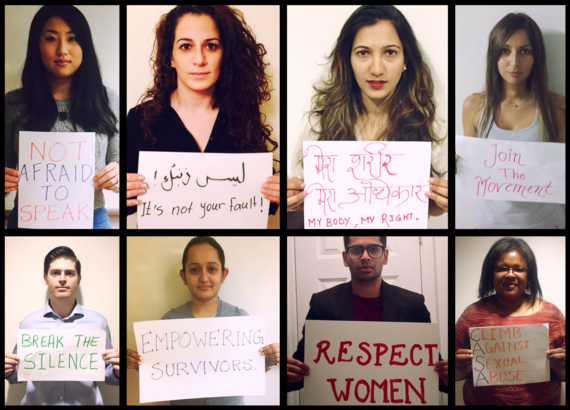 As delegates to the One Young World Summit 2014 in Dublin, we heard several stories of survivors of sexual violence. One story, told by Amanda Dufresne, stood out. Her story was of survival. She embarked on a personal journey to participate in a marathon. While training for the marathon, she was attacked, beaten and raped. Amanda stated that her rape and having to escape from her rapist by rolling off a cliff were the "easy parts" of her ordeal. The real trauma lay in the decade or so of counselling, insomnia, poor grades, and suicide attempts that she had to go through, before being able completing the Marathon she trained for.
Our lives changed the night we heard these survival stories. Unable to escape the horrors they endured, we couldn't sleep, eat or focus. It was then that we decided that supporting victims like Amanda would become our mission. In particular, providing survivors a platform to talk about their stories and get the support they truly deserve. To accomplish this, we started a campaign which aims to get the world talking about sexual violence to support survivors overcome the barriers that exist in the society today. We invite you to join us on our mission.
As a first step towards our plan, we decided that we needed to encourage survivors to share their stories to build awareness in our attempt to change society's views on sexual violence. The plan is to take 15 individuals from different parts of the world for an expedition to climb the Everest Base Camp. This group will consist of victims of sexual violence and several people who support them. Along with a film crew, we will make a video/documentary of our climb and use our journey to create further awareness of this cause.
The idea is to undertake a challenging journey that would symbolize the connection between a survivor and a buddy, the difficulties around opening up about a horrifying experience, and then collectively overcoming a tremendous obstacle in their lives. We are trying to make a connection between the mental and physical challenges that a survivor goes through to the gruelling climb of Everest, the highs and lows and the importance of having to good support system to make it through this journey.
What do we plan to achieve?
Our documented journey will encourage victims to share their stories, seek the support they need and make sexual violence a more comfortable conversation. It will present sexual violence in an unconventional way, combining the grief with the hope and the defeat with a symbolism of achievement. We believe that by sharing our journey and creating greater awareness, we can help break the silence on sexual violence and undo the stigma that is associated with it. Our long term goal is to create an international forum that can continue to spread the word and break the silence on all forms of abuse.
We have a clear plan ahead of us which we are confident will succeed, but we need your help to do this. Our goal is to raise $120,000. We can reach this goal in a variety of forms which include donations, services or equipment. It can also include your expertise - if you are a mountain climber or a movie maker, you can contribute to our cause either in kind or as an advisor. Finally and most importantly, we are also seeking out survivors. This journey is for you and we want you to be part of it.
If you interested in donating to our journey, sharing your story, creating greater awareness or just learning more, please visit our website:
Popular in the Community