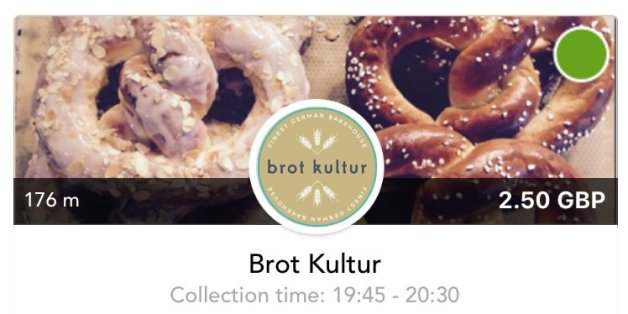 Screengrab
January is all about abstinence. Whether you're cutting down on drinking, meals out or nights in front of the TV, it's a time to readjust after weeks of excess.
So when I told friends I'd committed to spending the last week of the month gorging on restaurant food, they were a bit confused.
There was, however, good reason for the unseasonal decadence - an app that lets restaurants sell leftover meals at discounted rates.
First though, some context.
If food waste were a country, it would be the largest emitter of greenhouse gases after China and the US. Every 12 months, humans chuck out more than a billion tonnes of food, releasing more than 3bn tonnes of CO2 into the atmosphere.
UK restaurants are among the worst culprits. In London alone, eateries bin around 200,000 tonnes of grub each year.
It's a problem Chris Wilson and Jamie Crummie hope their Too Good To Go app will rectify. Launched in the Netherlands, the UK, France and Germany only last year, it was downloaded for the millionth time earlier this month.
So what's it like to use?
Towards the end of the working day, I'd check into TGTG to see what was on offer. You get a list of local eateries, pay for your meal in advance and then go pick it up at the scheduled collection time, which typically lasts 20-30 mins.
Monday - Tobiko, Covent Garden - £3

First stop: Tobiko, the self-described "best and freshest Sushi takeaway in London". Does it live up to its own hype? Well for £3 a pop, it was pretty damn good. We got a selection of salmon and tuna that would've cost double at lunch time. And at 6pm, you'd have struggled to find sushi in central London for less than a tenner. Wasabi is 50p extra.

Tuesday - TY, Seven Dials - £2.50

On the way to an event after work, my girlfriend and I dropped by TY, a trendy cafe in Seven Dials, near Covent Garden. We picked up a couple of wholesome toasties for £2.50 each. The first was basic cheese and ham with a white sauce spread. The second was a fancier take on the former, with pancetta rather than than ham and a posh cheese rather than cheddar. Both were delicious. More filling and cheaper than Pret's equivalents.

Wednesday - Crussh, The Strand - £2.50

A chain of "fit food and juice bars", Crussh is one of the biggest businesses on TGTG, so we thought we'd better give it a try. They had a decent range of a dozen or so options. We came away with a noodle soup and a wrap. No doubt they were healthy, but they weren't the most inspiring of the TGTG meals we tried. If you're on the hunt for something cheap and nutritious to have on the go, though, you'll be happy enough.

Thursday - Reynolds, Fitzrovia - £3

I turned up at Reynolds' Fitzrovia branch just as it was closing up. For £6, I got a pasta box and a salad box, and the server threw in three free wraps for no extra charge. £3 each for the salad and pasta boxes might have felt a bit overpriced for food that would otherwise have been binned, but with wraps included, it was good value.
If you're looking to pick up food in the early evening, you'll end up with leftover lunch. That wasn't a problem for us, but more discerning diners might want to wait until later in the evening (from 10) for bigger meals.
The app is really useful in the early evening in a couple of situations. If you're heading out of work for drinks, it's a great way of finding a decent meal to tide you over. And it's a good source of cheap lunches the next day too.
If, however, you're coming out of an event or a shift later at night, it's worth waiting till 10 when restaurants start to shift larger meals.
In London, the app's only real drawback is that there aren't more outlets outside zone 1.
So this is a plea for more restaurants to sign up. Put aside your preconceptions about selling leftovers and get on board.
Not only is the app raising awareness of food waste, it's also working to make sure people who need food most are getting it.
This month, TGTG is beginning a pilot in Leeds with a leading charity to see how they can collectively tackle food poverty. (We'll write more on this when we can.)
So it's good for the environment, it's good for business and it could be good for society. Restaurants, it's too good to say no.