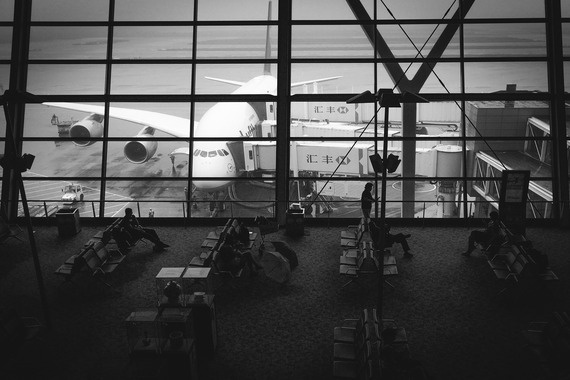 (Image: Pixabay - Pexels)
I love travelling. In fact, I love flying. The flight before the holiday has so much anticipation that I would say it's the most exciting part of the trip. However, for some first-time travellers, the flight and preparation can be stressful.
I remember the first time I flew on my own, I loved it but I'm an experienced flyer lucky enough to go on frequent family holidays. However, when at the airport I've noticed on many occasions plenty of travellers panicking and getting flustered at different points throughout the travelling journey.
To try and help some of you who might be stressing about flying for the first time, I've put together everything I've learned to hopefully help you to enjoy the experience and start your holiday stress-free.
Security Check Points:
A lot of airports, specifically the ones in the US, ask flyers to remove their shoes and belts before going through the security scanners. For those who haven't flown before, the security section is usually filled with long queues, meaning that when you finally get to your turn there is a lot of pressure to speed things up and go through the scanners quickly. Help yourself by prepping whilst in the queue. Take your liquids and electronics out and take off your shoes and any belts you have on; so that when you get to the scanners you'll be able to put them straight into the trays and walk through the body scanner quickly.
Flight snacks:
If you're flying via a budget airline or only on a short haul flight then you'll usually be charged for any snacks on a plane, so pre-plan and pack some in your hand luggage. I'd recommend taking something filling like cereal bars or dried fruit to feed your appetite. Double check online as to what foods you can bring on a plane though as some products are restricted.
Pre-pack in advance:
No one likes packing, or at least I don't because you always get to the other end and remember something you forgot. When it comes to your clothes, avoid having to do a last minute load of washing and pre-pack your suitcase with your holiday wardrobe. I usually pre-pack at least a week in advance sometimes two, this is to allow myself to remember the things I might have initially forgotten to pack and also avoids washing clothes that I've worn recently but want to take away with me.
Travel size toiletries:
Taking travel size toiletries in your hand luggage is a must. I always find my skin to be dry and oily whilst on a plane, as my face is trying to over moisturize itself to compensate for the lack of moisture in the air, so I'll take a selection of travel size products to help counteract this such as REN's Omega 3 Optimum Skin Oil, as it helps my face to rebalance its moisture levels. If you don't have travel size products of your favourite items then you can buy travel size plastic containers in most pharmacies or supermarkets so you can decanter some product into them to take away with you. Remember one important thing though when it comes to toiletries within your hand luggage, some airlines limit the number of liquids you can take through. When I fly to the US it is usually 8 items, so check with your airline before packing your best products and remember to put them in a see through sandwich type bag ready for security.
Germs galore:
There's something about airports that make me feel like it's full of germs. There are thousands of people travelling through them on a daily basis and we all know how we feel after coming off a flight... rather disgusting. I always ensure I have a travel size hand sanitizer in my hand luggage ready for boarding and landing. It's also handy to have on you if the soap in the plane toilet runs out!
Free Upgrades:
The first time I flew solo, my seat was upgraded because the flight was oversold and I was a single traveller. This often happens as a single traveller if the flight you're on is oversold, so you're likely to get upgraded at the gate before you board. Nice little bonus! If you want to try your luck, there is no harm in asking too! When at the check-in desk ask the staff member if there are free upgrades available on this flight - what's the worst that could happen, they could say no and you head off on your holidays as planned.
Visible screen:
Most airlines require you to get to the airport 2-3 hours prior to your flight departure time, which for most people seems like a long time. However, with all of the amenities at an airport like the bars, shopping, restaurants, and sometimes spas - you can easily get side tracked and you don't want to be late and running for your flight. My plan when I get to the airport is to dedicate the first hour to wandering around the shops and picking up any last minute must haves, then for the last couple of hours I park myself in a cafe or bar where a screen is visible so I can enjoy a relaxing meal whilst checking to see what gate I need to head to for boarding.
Comfortable clothes:
I know it can be easy to get worked up about what you're going to wear especially if you are leaving a cold country to go to a hot or vice versa. The best advice I can give is, layers are your best friend. If you're heading somewhere hot, start with layers and when you land you can easily take jackets off to feel more comfortable. I also like to make sure I pack a face mist if I'm going from hot to cold as it just gives your face that boost it needs when you land. If you're going from hot to cold, then save room and pack some additional layers within your hand luggage, so you're able to throw on a sweater the other end. Always go for comfort over style as well. You'll thank me for this advice when you have been sat on a plane for 10 hours in those high heels and skin tight jeans!
Flying for the first time can be nerve wracking but the air stewards understand and if you're really suffering they usually have some products on board to help ease your comfort as well, such as sleep masks, blankets, refreshing drinks (alcohol if that's what works for you) and extra pillows. Just ask and they'll be more than happy to help.
Most of all, just enjoy the experience and have a safe flight!