Are you achieving your Personal Best?
Like many of you I've been watching the Olympics and I've noticed how so many sportspeople have been delighted with their performance, even without winning a medal. Their delight is based upon achieving their personal best on a world stage. In my blog this last month I have been writing about the topic of competition. There is a great quote from a musician about competition...
The biggest competition is myself. I am not looking to follow others or pull them down. I'm planning to test my own boundaries.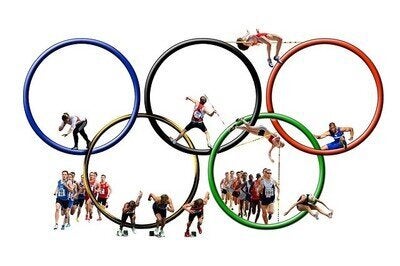 Image courtesy of Sarah Vitale
Those athletes who came in sixth or seventh place in Olympic finals but beat their personal best doing so; are still winners. They set themselves a challenge and their success was achieving that challenge. They conquered their own limitations, handled the nerves of the world's eyes upon them and did not, for one minute, worry about the competition. Some of them achieved the dizzying heights of gold medals, personal bests and world records, but many didn't.
How do you measure your own achievements?
In a fast moving world of 30 second fame and an emphasis on winning, how do you feel you have personally succeeded?
For myself; surviving the train crash was my first personal best. We never really know what we are capable of until we are tested. The ensuing 15 years have been about a variety of personal milestones. Nobody would have judged me if I had given up. The odds on occasion seemed insurmountable, but I am a stubborn woman!
Often, our steps forward are sabotaged by several steps back. You could call that failure; I call it learning. If you only ever look at the times things didn't work out you will never make the breakthrough to success.
Maybe you need to tap into your inner child for this? Babies don't give up when they fall down. They are absolutely determined that they are going to get to that exciting remote control out of reach; your mobile phone; the stairs; whatever their focus. They fall time and time again and then one day they walk.
Setting yourself personal best goals.
Don't measure yourself against others in a punitive sense. Olympic cyclists like Laura Trott have inspired a generation of Hertfordshire girls to get on their bike. A whole leisure centre has been named after her and her picture on the walls serves as constant motivation. Do those girls give up if they can't reach Laura Trott speeds? No, she is a measure of ultimate success, a benchmark but not a deterrent. You are your only measure. If each day or week you can do better than the day or week before you are heading for success.
There will be setbacks. Some days your personal best, whatever that is, will seem way out of reach. Then you have to tap into your "Why", your reason for doing this. Negative whys are not generally very good at helping you succeed. Say, you want to lose weight. If the reason is because of other people's perception of you, you will ultimately fail. You need goals that are for you, nobody else. You need reasons that are positive, delivering an advantage, not simply avoiding a negative.
It is a competitive world whether we like it or not. However, success and the competitive edge come from personal challenge, collaborating with others for support and understanding why you are doing this. It does not have to be a dog eat dog world. You can achieve your personal best and once you have, no doubt you will want to improve on it! Remember, a great quote from Gail Devers, 3-time Olympic champion in track and field.
Every accomplishment starts with a decision to try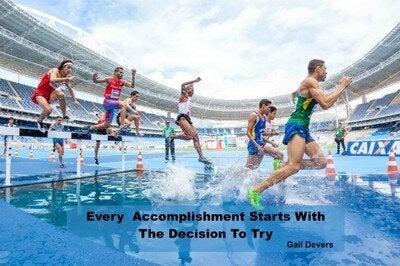 Image Courtesy Sarah Vitale
................................................................................................................................................................................
Paddington Train Crash Survivor known as 'The Lady in the Mask' - Motivational Keynote Speaker :
I use the experiences and lessons I have learnt from before, during and after the train crash to show companies and individuals how to tackle their own obstacles and overcome challenges in a smarter way. I inspire them to think bigger, take on seemingly impossible odds and get results beyond what they might otherwise expect.
To book Pam call 07768 120949 or email info@pamwarren.co.uk.
Read her inspiring, 5* rated autobiography 'From Behind the Mask'.
Get your author signed hardback copy or download the eBook now from Pam's website: www.pamwarren.co.uk.