"The quality of my training is better, with the same number of hours and level of training" explains GB triathlete Victoria Gill when telling me about her experience with the Bowen Technique. Victoria, whom I met during one of her maintenance Bowen Technique sessions with Caroline Kremer, founder of the Caroline Kremer Method, had come straight from swimming training and mentioned that her breathing had improved in the previous few weeks. The main contributing factor to this improvement, she said, was having regular Bowen sessions.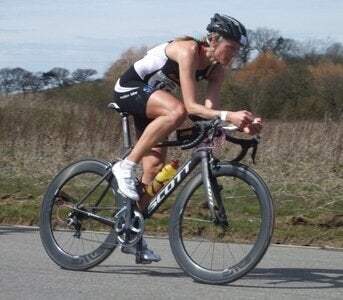 Why is the Bowen Technique appealing to elite athletes? Anything that can help improve performance and help prevent and deal with injuries while keeping the athlete's flexibility can translate into tangible results like knocking off a few seconds from one's personal best.
What is the Bowen Technique?
Created by Australian Tom Bowen in the second half of the 20th century, the Bowen Technique is a gentle hands-on remedial therapy system that works with your whole body to bring its muscular/skeletal, emotional and physiological systems back into balance. It involves a series of moves rolling superficial fascia over deep fascia at specific points on the body. Working through light clothing or directly on the skin, the gentle moves trigger a response in the body to kick-start the natural repair process more specifically; the moves stimulate the nervous system to release tension in the soft tissue. The superficial fascia is like a 3D spider's web and the deep fascia more akin to fine cling-film, both stretching and reaching through the body, transmitting information and lubricating the muscle fibres.
Tom Bowen himself did not have medical training and did not document his trademark moves; his students however, took on the job of documenting and disseminating the Bowen Technique after his death. It is reported that at the height of his career Tom Bowen, who spent over 30 years treating people, was seeing 13,000 patients a year with an 80% success rate.
"Bowen Technique prompts the body to reset, repair and balance itself and clients report the experience of pain relief, improvement of function and recovery of energy" (source: Bowen Technique website).
The body has an innate ability to fix itself (the same ability it takes to mend a cut without interference from the person other than a possible plaster or stitches). The aim of the Bowen Technique is to facilitate and stimulate this process, while ultimately achieving freedom of movement and equal tension through the form.
Research has yet to be carried out on the Bowen Technique but a small study on hamstring flexibility showed "Significant increases in hamstring flexibility were demonstrated in the Bowen group immediately post-test" says the official Bowen Technique website.
GB Triathlete Victoria Gill on Working with Caroline Kremer
When I met her, Victoria already had four Bowen treatments and she was describing to me how the range of motion in her shoulders was much better compared to a few weeks earlier, when her upper back and her shoulders had restricted movement. She had noticed improvements since the second session: her stride felt more balanced, her reach in swimming was longer, her breathing had changed allowing her to run faster. She was looking forward to the upcoming season with excitement.
As a triathlete, Victoria engages her body in different ways for each discipline and coming from an elite running background, swimming and cycling have brought up restrictions in her body:
- in swimming you need to keep your body long and extend your arms and shoulders
- in cycling you are constantly bending forward, rounding your shoulders
- in running you need to be upright and loose in the hip flexors and arms
"Restrictions slow you down," she said, "you are not efficient. When you get off the bike everything feels tight".
"Having worked with Caroline I have noticed significant physical performance benefits as well as improvements in general wellbeing and overall health", she continues. "The effects of each treatment continue to surprise me. My first assessment showed imbalances throughout my body which meant that I wasn't getting the most out of myself on race day as it was not working as an efficient machine".
"I now have regular maintenance visits that have been keeping niggles at bay and act as a mid-week energiser to ward off any issues that may be lurking in the background. Learning the breathing techniques (and being able to implement them on my own) means I get a daily reminder of good breathing technique."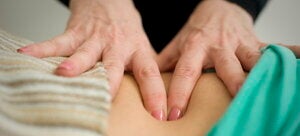 Can Bowen improve Vicky's performance? The results are being assessed in 2014 with the aim to further improve Victoria's results - she already shaved 30 minutes off the previous course record at the Outlaw Triathlon in Nottingham in 2013.
Breathing awareness exercise.
Lie down on the floor, face up with arms laying gently and loosely palms facing up
Have a check in to get an awareness of how the breath feels... Deep or shallow, quick or slow, and where in the body do you feel it?
Focus is on the out-breath: following a regular inhalation, make a strong, slow and consistent hissing ("S") sound.
Empty the lungs fully and pause for a few seconds.
Let go and Just Breathe. Allow the in-breath to happen naturally and engage in the feeling of fullness that it provides.
The idea is for the natural inhalation to commence in the abdomen, with it expanding slightly, and then the action moves up through the ribcage towards the throat.
Leave a minimum 90 seconds gap between breath patterns to allow the body to settle.
Check in again to see how your breathing has changed. How does it feel now?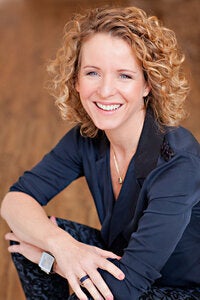 About Caroline Kremer and the Caroline Kremer Method
The Caroline Kremer Method is a drug-free treatment of sports injury, rehabilitation, recovery, maintenance and boosting performance.
Caroline Kremer's mission statement is: "to educate through Bowen and breathing techniques the importance of balancing the body on a regular basis to maintain health".
The main focus of this method which combines the Bowen Technique with specific breathing exercises is to provide rapid recovery from pain and injury while improving physical performance.
Caroline Kremer is London's leading Bowen Technique specialist and creator of Just Breathe method. She works with a range of clients with a multitude of needs and health goals including actors, dancers and professional athletes.
She speaks at the Royal Society of Medicine and has studied at St George's Hospital.