Are we humans or robots? With our constant obsession with technology, are we losing sight of the bigger picture?
We have become so addicted to technology that our judgement and decision-marking may risk becoming clouded by over-exposure to shiny apps and interactive games.
We also need to become more discerning consumers when it comes to lifestyle choices like choosing our holiday destinations and accommodation.
I decided to go on a digital detox for a few days and took myself away from my London urban environment ruled by a computer screen and always-on phone-based social media activity. From obsessing about how many calories I had ingested to how many miles I had walked on a daily basis for a book I am writing, and from checking the weather to checking my calendar, my waking hours and parts of my insomniac nights were filled with screen time. Something had to give.
I went to East Devon's Jurassic Coast on a walking holiday: I wanted to walk my stress away.
To keep my carbon footprint as low as possible, I chose a holiday resort with exceptional green credentials: the multi-award winning Oakdown Park near Sidmouth, owned and managed by the Franks family.
A site owned by seven generations of farmers, Oakdown Park started off in 1856 as a farm, making the transition to holiday park from 1951.
The publication of the Caravan Sites and Control of Development Act 1960 opened opportunities for independent owners to open caravan holiday parks; therefore by 1972 the Franks family turned Oakdown into a fully fledged holiday park with a fleet of 15 static caravans, electricity and running water.
The farming tradition means that there's a culture of respecting the land. The holiday park has solar panels, plenty of recycling collection points for plastic, paper, glass and batteries, and it even deploys a clever way to recycle waste water. In fact, waste water is pumped to a reed bed that provides a filtering function and a contained environment where wildlife from butterflies to birds can thrive.
The park in its entirety hosts some 160 varieties of wild flowers attracting valuable pollinating insects and birds: it is a botanist's dream.
I stayed in a spotless and sparkling leisure lodge and was lulled to sleep by silence and woken by songbird. Owner Doreen Franks explained what to explore in the area and she recommended to stay for at least a week to make the most of it but unfortunately I only had three days off. She has written a walker's guide for the area and is very involved with the local community organising several charity fundraising events.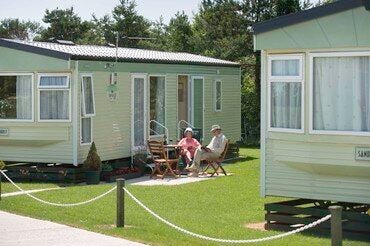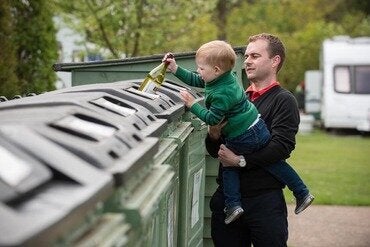 East Devon is not as touristy as the rest of Devon and it boasts an impressive coastline, the Jurassic coast.
The Jurassic coast is punctuated with white limestone and red sandstone monoliths - repositories of prehistoric fossils.
Layer upon layer of desert, river and sea sediments has captured and fossilised living creatures from the Triassic (250 million years ago) and Jurassic (200 million years) ages.
Limestone has been used as a construction material for centuries, starting from Roman and Norman times.
The Romans had a nose for business - and had the locals to start digging for limestone to use in buildings. I went to Beer Quarry caves during my East Devon visit to learn more about it. Beer limestone has been used to build St Paul's Cathedral and Westminster Abbey, as well as nearby Exeter cathedral and, further afield, Canterbury, Winchester, York and Lincoln cathedrals. Blocks of 4 tonnes of limestone were carried to their destination by horse-driven carts and by barges.
Reflecting on what Oliver, our guide, told us about the quarrymen's working conditions, modern day stresses pale in comparison. Workmen endured 14 hour shifts underground in dusty, smelly and noisy caves, the only available light being provided by candles. The picture below features the signatures of quarrymen who left their mark in charcoal (the better-paid stone masons proudly carved their signature instead).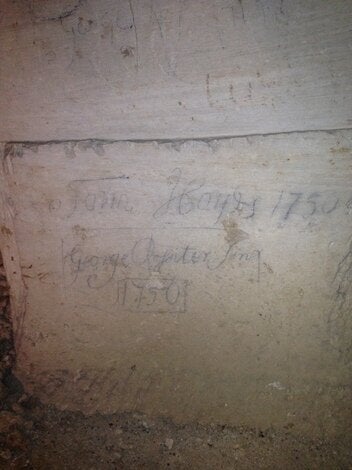 The whole idea of my digital-detox-with-walking-holiday to combat the stresses accumulated over the past few months seemed futile in comparison to what I've learned about quarrymen. How can you compare the stress of working at a computer with the harrowing conditions of miners? You cannot, however it is healthy to gain a sense of perspective.
In those three days away from London I used public transport as much as I could, and walked for miles.
On my way back to London, I shared buses with elderly people, some of whom had never travelled as far afield as the next village, then a train loaded with noisy students mixing conversation and social media interactions on their phones, then work commuters on the final leg of my journey who were replying to emails on their phones. When I changed for overcrowded London Underground carriages, people's faces were all glued to their phone screens, seeking some distraction from their uncomfortable surroundings and trying to forget about the working day just gone.
I wonder what those quarrymen would think about that if they saw it.
Personally, I found uninstalling instant messaging and social media apps from my phone and keeping it switched off to be hugely liberating.
Did the digital detox work? Yes it did. My brain felt less cluttered, my decision-making improved and I managed to really enjoy the sights without the pressing need to broadcast my every move on any social media platforms available.
Call me a Luddite, but now my work routine involves being completely focused on each task without electronic interruptions. Paola 1, technology 0.