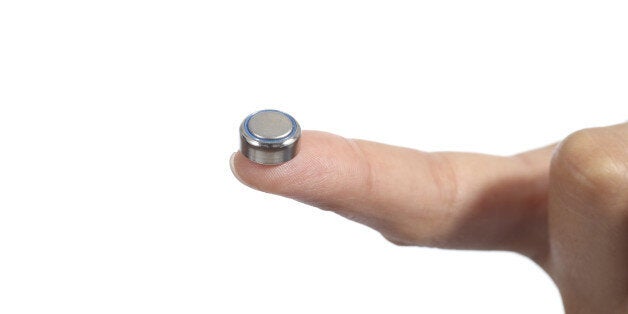 Clocks, television controls, and bathroom scales are just innocuous items around the home the hidden items they contain have the potential to devastate lives up and down the country- button batteries
More and more devices and gadgets around the home are now powered by button batteries. These small batteries - which are about the size of a 1p coin - are flat, shiny and can be very appealing for small children to put in their mouths. As I've witnessed first-hand in the past year, the consequences of swallowing these batteries for young children can be incredibly serious.
If button batteries get stuck in a child's oesophagus (food-pipe) a chemical reaction takes place and the battery is effectively activated in the body. This can cause holes in a child's oesophagus and adjacent windpipe in the space of just a few hours.
These holes affect a child's ability to eat, drink, swallow or breathe and most children need urgent and life-saving treatments, not just immediately but throughout the rest of their life. One of my current patients had to have over 50 procedures in under 18 months, and this is only the beginning for her. A couple of seconds spent swallowing this battery has dramatically changed her life forever
Tragically many children don't survive after swallowing these batteries - their injuries have been too severe.
As the numbers of these batteries increase, we're seeing more children admitted to hospitals all over the UK after swallowing them. That's why we all need to be better at keeping these batteries stored safely up, and away from kids, whether they're new or old batteries. Even used batteries, which have stopped working in our electronics, can cause significant injuries so we need to get better at disposing of them when we're finished with them. Button batteries should essentially be viewed with the same caution as medicines, bleaches, and poisons in the home.
Manufacturers have a key role to play in keeping children safer too. Button batteries need to be more safely packaged and warnings should be obvious on the batteries themselves and the gadgets that use them. Toy makers are beginning to put screws and safety measures on the battery casing on children's toys but we've still got a long way to go in the UK before we're treating them with the caution we should be.
Ultimately, children like to explore the world around them so it's all our responsibilities to keep these dangerous batteries safely out of their reach.
Most importantly, if the worst does happen and you think your child has swallowed a button battery - look out for trouble swallowing, vomiting, coughing, choking -- you should seek medical help immediately. These batteries can start burning tissue in just 15 minutes so it really is an emergency. The quicker these batteries are identified and removed, the less damage they will do to a child. Quick action can save lives.