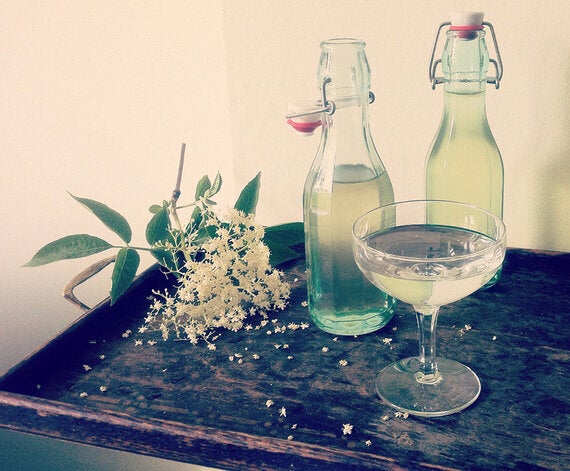 How to make elderflower cordial
If you've ever wanted to make your own elderflower cordial, now is the time. Elderflower begins to bloom in late May and well into June, but withers away by July. Look closely and you'll see the heavily laden branches of elder bushes stretching across the scrappiest of back gardens, blooming defiantly by the roadside, or scattering creamy florets across park pathways. Infused into a botanical cordial, elderflower becomes a delicately aquamarine tincture destined to dance with champagne in elegant saucers, or mingle between the bubbles of San Pellegrino at smart garden parties. Sometimes, it even finds itself cast as jelly, wobbling wantonly with fresh fruits of the forest, or coupled with a cool and tart raspberry sorbet. Simply enchanting, elderflower cordial is a wondrous thing - it's almost a surprise to discover that making it requires no feat of alchemy at all. The following recipe makes four litres.
2 kg white granulated sugar or caster sugar
1.5 litres (2¾ pints) water
25 fresh elderflower heads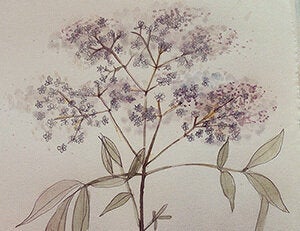 Unlike the similar-looking cow parsley or poisonous cow bane, elderflower grows from bushes, not from the ground. Creamy, almost pale yellow in colour, elderflowers have a distinct fresh and summery aroma. Note the leaves - usually clusters of five - which have a serrated edge. When picking, choose just-bloomed heads (a few green buds are okay) and discard any browning flowers as they will taste bitter. Gather on a dry, sunny day as damp elderflower is prone to mildew. If you find that some heads are smaller than others, pick a few extra. Trim the stalks, right down to the flower head, and throw all the blooms into a bucket of water to loosen any dust or little black flies.
The large quantities of sugar required to make cordial can at first seem alarming. Soothe your nerves by reminding yourself that shop-bought varieties use an awful lot more. Place the sugar in a large saucepan and add 1.5 litres (2¾ pints water). Heat gently, but do not allow to boil, and stir occasionally until all the sugar has been dissolved. Now you can bring your pan of syrup to the boil, before turning off the heat.
This recipe uses two lemons, but over at River Cottage, Hugh Fearnley-Whittingstall likes to use extra - even throwing in an orange for good measure. Extra zest can mitigate excessive sugar, but you'll need to be careful to strike the balance between sweet and bitter. When it comes to preparing the lemons there is no need for tedious grating; the rind can be carved off in swift spirals with the aid of a vegetable peeler. Then, all that remains is to slice the balded lemons into rounds, pips and all.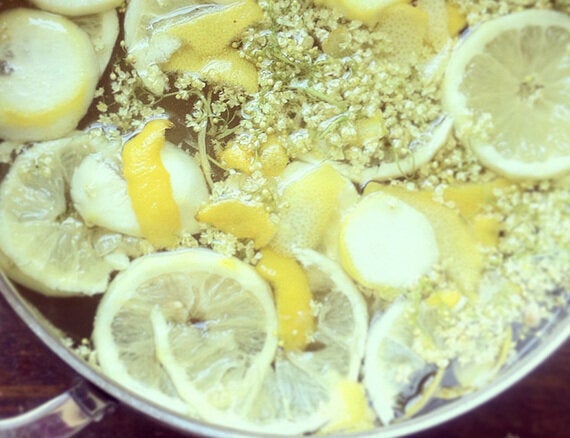 Lift out the flowers from the bucket, gently shaking off any moisture, and add them to your syrup mixture, along with the lemons, zest, and citric acid. The latter is a vital ingredient as it works as a preservative. Recipe books will tell you citric acid is available at chemists or health food shops, but it's actually much harder to track down. I found mine at Sack's Wholefoods in Totnes, Devon. Stir well. Cover the pan and leave to infuse for a full 24 hrs.
Line a sieve with a clean piece of muslin, then sit over a large saucepan. Muslin is an inexpensive material that can be found at most fabric shops, but if you can't get your hands on any, a clean tea towel will suffice. Ladle in the syrup, letting the mixture slowly drip through. Once all the moisture has been extracted, discard the botanical flotsam and jetsam left in the sieve.
Once bottled, elderflower cordial will last for up to six weeks when stored in the fridge. Swing top glass bottles are best, but screw tops are also fine. Just make sure you sterilise the vessels - lids and all - using boiling water and washing up liquid, or running through the dishwasher. Allow to dry thoroughly in a low oven. Now, use a funnel to transfer the cordial into the bottles. The cordial is ready to be enjoyed straight away, or can be poured into ice cube trays and frozen.
Words, images and illustration by Patricia Campbell.