So you've just been bunging a chook in the oven and leaving it to do its magic? In the next few hundred words we're going to change your mind...
There's many a theory about the best way to cook a chicken. Breast side up, breast side down; turned throughout cooking to mimic rotisserie; brining for a day beforehand; keeping it trussed; untrussing and even taking off the legs before cooking... the list goes on. We're firm believers in one simple step for every roast chicken we make.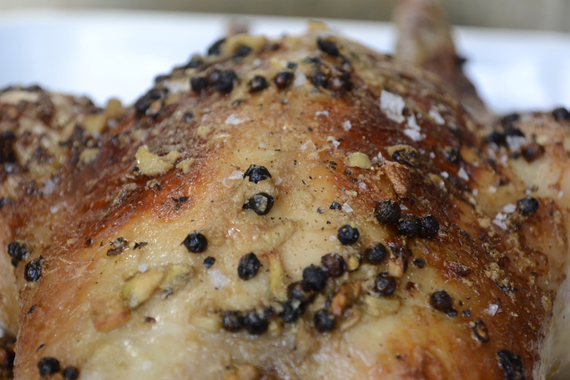 Buttermilk does a number of things: it's known to affect the protein structure, somewhat breaking down the fibres for a more tender taste which is why it's often confused as a 'brine' when this is nothing more than a marinade (though does achieve a step or two towards the former's results). It also adds a sharpness to the taste of the outer layer and the longer you let the chicken steep in this acidic milk, the more it will permeate through the flesh. It also gives a gorgeous burnished colour to the outside, whilst the flesh within is as bright as a full moon against a clear winter night's sky.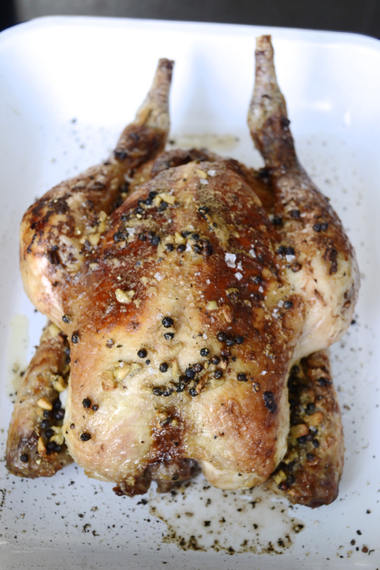 Garlic and black pepper work so so well together, but we don't mean a little hint of allium here and a crack of fresh pepper there. Just like the chicken figuratively drowning in buttermilk, you need to go the whole hog on this; full, spicy, sharp black peppercorns strewn about and one full, large bulb of garlic, roughly beaten about on the chopping board and flung inside the cavity. Some people find garlic a bit overpowering, only using a small amount when cooking. However, we find if you use a larger amount it doesn't ramp up the ability to stave off vampires too much more. Likewise for black pepper, you can leave this out, but let's live on the wild side. This recipe feels both ceremoniously primitive and fabulously fuss-free.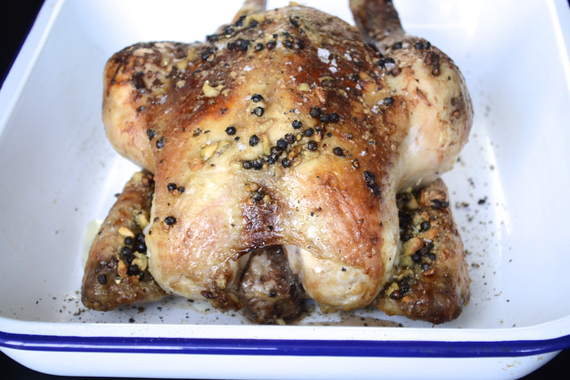 As with anything, spending that little bit extra on the best bird you can find will make the world of difference, not only to the taste of the meat but to the texture as well. If you can only afford a £4 small bird from the supermarket, this will still work its magic, but visiting your local butcher and making a treat of the best chicken you can find makes this all the more special and much more of a joy to devour. You can buy pre-mixed buttermilk, but you can simply use 400ml of fresh, whole milk with the juice of half a fresh lemon added, stirred and left to sit at room temperature for ten minutes until it splits.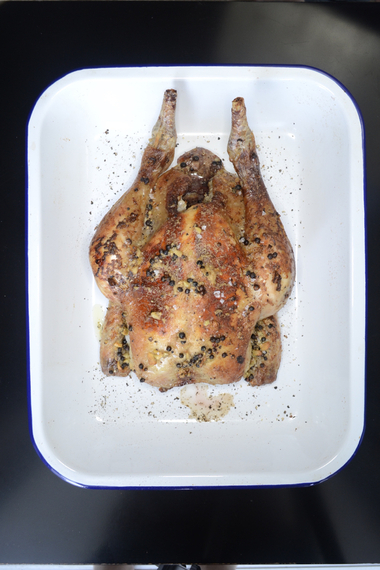 Buttermilk Chicken with Black Pepper and Garlic
Serves four
1 medium-sized whole chicken, free-range or organic
1 large bulb garlic, coarsely chopped
100g black peppercorns
75g melted butter, cooled
400ml buttermilk
generous pinch of salt
1. De-truss the chicken - it's pretty cosmetic and doesn't add anything to the cooking process. It also allows you to move all parts of the chicken while rubbing the flavouring into the bird. Loosen the skin from the breasts with your fingers.
2, Place your chopped garlic, peppercorns and a pinch of salt into a pestle and mortar and grind them until it's a very rough paste. Rub a third of the mixture under the skin and another third inside the cavity. Take a large casserole pot, such as a Le Creuset style one, and place the bird inside it. Don't worry if it is very tightly packed.
3. Pour over the melted butter and rub it under the skin and all around the chicken. Throw over the buttermilk and add the remaining third garlic and black pepper mix. Rub that in too.
4. Cover with cling film and place in the fridge for between two and four hours, depending on how hungry you are but overnight is absolutely beautiful. This will allow the buttermilk to work its magic, tenderising the chicken, and keeping it moist after cooking.
5. When you're almost ready to cook, remove the pot from the fridge and discard the liquid while you pre-heat the oven to about 150ºC. Place the chicken in a roasting tin, suitable for its size.
6. Place the chicken in a roasting tin, suitable for its size and roast for about 1hr 40mins, basting with any liquid that transpires in the bottom of the roasting tin every so often. Then hike the heat to 200C for 15 minutes, just to help crisp up the skin. Remove from the oven, and leave to rest loosely under tin foil for at least ten minutes, if not 20.
7. The final crowning of every roast chicken we make is a very liberal sprinkling of coarse sea salt all over the skin. There's nothing better than crispy, salty chicken skin offset by the supple, pale, almost sweet flesh underneath. Heaven! All that's left is to carve, serve, enjoy!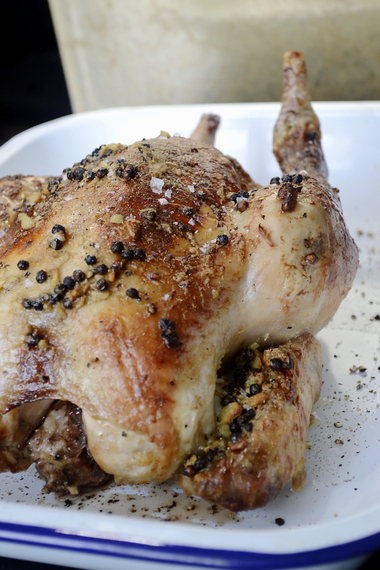 This recipe originally appeared on Gastrogays.com, for more recipes please click through.