As Oscar Wilde wrote perfectly: 'only dull people are brilliant at breakfast'. Give us a big warming bowl of something to hug from within; satisfy us with something from the frying pan; heck, give us toast slathered in butter - all served with the strongest coffee one can find. Gastrogays have eaten their way around the Irish capital to find ten of Dublin's best breakfasts.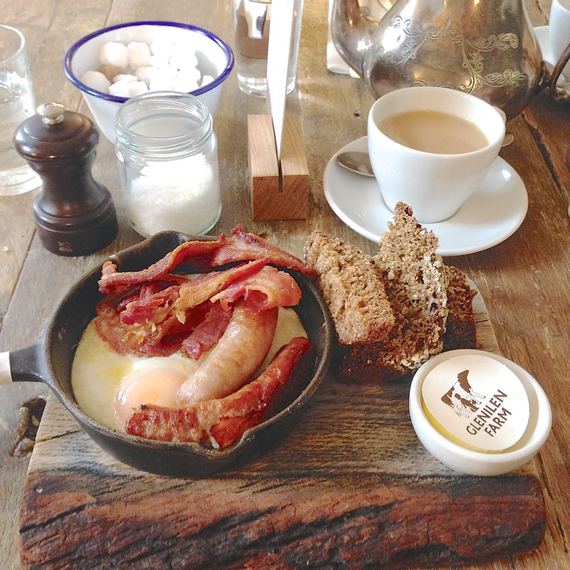 The go-to for a country-style Irish breakfast made modern. Literally across the street from St. Stephen's Green and a second from Grafton Street, Dublin's main shopping thoroughfare, Hatch & Sons is tucked neatly under The Little Museum of Dublin. With acute attention to detail and a fantastic roster of Irish suppliers, you can taste the provenance of the produce with every bite. The full Irish comes served in a piping hot, heavy skillet that has the real breakfast wow factor with baked eggs, bacon, sausage, brown soda bread and roast tomato (€9.50, available all day).
Hipster heaven for the past couple of years, but there's real substance here. A stone's throw from St. Patrick's Cathedral in an up-and-coming area populated by trendy young professionals, the Fumbally has exceptional coffee and a small, well-formed menu for breakfast and lunch. Scrambled eggs on brioche toast with Gubbeen Smokehouse bacon is a plate of sheer beauty (€6.50). Watch the world go by or crunch out a couple of deadlines on your laptop; what Fumbally has in its fibres, Starbucks could only ever dream of possessing.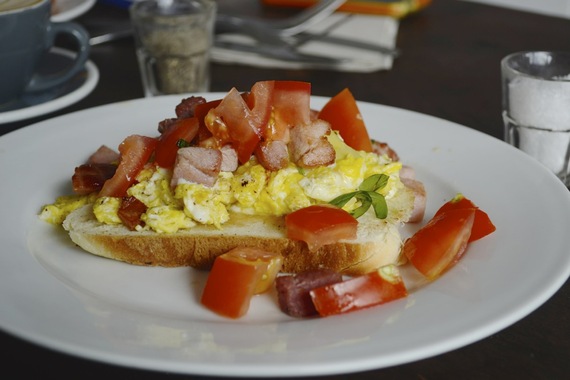 A long-loved vegetarian destination and veteran of the free-from, meat-free set. The vegetarian breakfast served at this Wicklow Street café has been known to entice many a carnivore in its time. Huge portions and traditional pots of tea create a little Irish nook that's as lovely and comforting as the food that's served. Guaranteed you won't miss the meat in the fry-up, there's also a world of options from buckwheat crepes and millet porridge with rice milk to scrambled tofu and fresh fruit salad. (served until noon)
Have your cake and eat it too. Maybe not at breakfast, but you will certainly be tempted here. From head-sized scones to drool-inducing multi-layered cakes, don't be swayed solely by the sweets, people flock here for early morning sustenance. The most popular option is the creamy scrambled eggs and KishFish smoked salmon with homemade, secret recipe Irish brown bread and lashings of real butter (€7.95, until 11:45am daily). Tea, by the bucketload and served in dainty china, is the natural accompaniment.
Hidden away from the bustle of Camden Street is a relaxing haven in the form of Michelle Darmody's Cake Café. Serving comforting breakfasts and lunches, the home-baked beans (€6.90) are a must-try, all smoky and rich with pieces of sausage and fluffy toast dripping in butter. Another stellar wake-me-up is the Portugese sardines on toast (€6.20).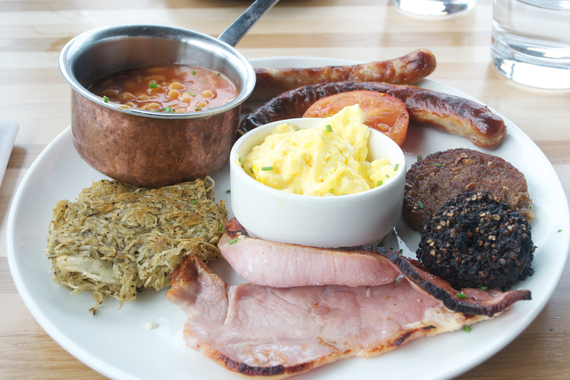 When you said you wanted breakfast with a view you're spoiled on both accounts here. Set six storeys above the city on top of newly-opened hotel, The Dean, Sophies caters from breakfast 'til last orders with a sky-high bar for sunset drinks, wood-fired pizza oven for casual lunches and a quiet hideaway each morning serving one of the best modern Irish breakfasts the city can offer. The rosti is the crispy brother to the silky poached eggs whilst beans - which would be disputed as an Irish fry-up element - come in a dinky little copper pan.
Independently run with a frequently-changing menu filled with seasonal ingredients, Brother Hubbard offers a global selection of dishes with some excellent 3FE coffee and baked treats from the cafe on Capel Street. Chanelling both Middle Eastern and Scandi inspiration, you can find fresh, flavoursome sustenance with omelettes, pancakes or their signature Turkish Eggs Menemen (€9.95) - eggs scrambled with tomato and roast peppers, topped with fresh herbs, chilli and onion alongside a light feta and black olive yoghurt served on sourdough toast with spinach. Add pan-fried chorizo for €2.95. Best yet, it's available all day as they couldn't keep refusing customers' insistence!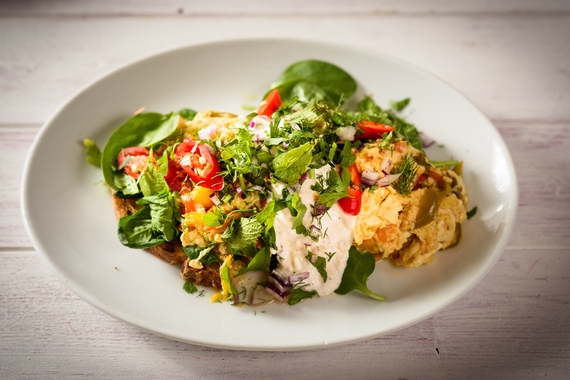 A hidden gem down nestled near the Aviva Stadium on Landsdowne Road, this guest house offers a universally-loved breakfast for locals and visitors alike until 11am every day. Not solely available to guests - though they don't take bookings for walk-ins so there may be a wait - the menu changes seasonally and is packed with the best of Irish produce. Best thing about it is that it's a two and a half course menu for €11 per person, choose one starter - the spiced orchard porridge with grated apple, fruit and nuts is a winner - and one main breakfast dish alongside fresh home-baked goods. The fry includes Clonakilty black and white pudding, Pat O'Neills crispy bacon and sausages whilst another stellar disih is poached eggs and smoked salmon on toasted Arun Bakery brioche drizzled with citrus beurre blanc. Dreamy!
Twisting traditions, Love Supreme in Stoneybatter offers the ideal hand-held breakfast for people on the go. Personal-sized breakfast pies (€5.20) fly out the door every morning at this neighbourhood café. Three flavours to choose from include goat's cheese, egg and thyme; egg, chorizo and mint; or the classic maple bacon, eggs, cracked pepper and tomato marmalade. Keeping the boat being pushed out, they are also making their own limited run cereal (alongside popular homemade granola) like salted caramel and almond nib krispies and honey and dark chocolate malt wheats - truly worth waking up for (though available all day for exceptionally late risers)!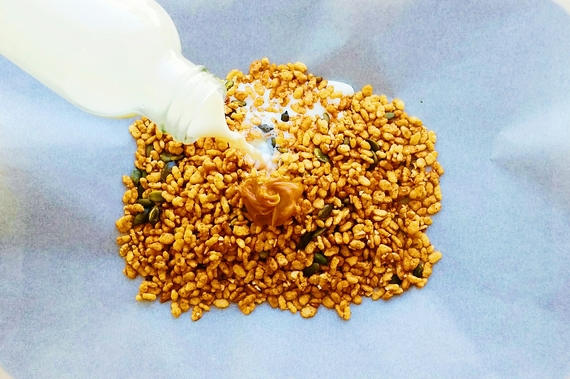 One of the best places for a traditional fry in the city. This tiny blink-and-you'll-miss-it café on Kevin Street sates DIT students, Camden Street grannies and fashionable young families equally with breakfast and lunch. Cheap, quirky and generous portions make this a little hidden gem worth discovering.
What, no Guinness for breakfast? Well... we're not advocating it... but they do say it always tastes freshest at the source.The Guinness Storehouse is open for tours from 9:30am onwards and you get to enjoy your pint with the expansive, 360degree view from the Gravity Bar.
For more Dublin and London food and travel posts, head over to Gastrogays.com